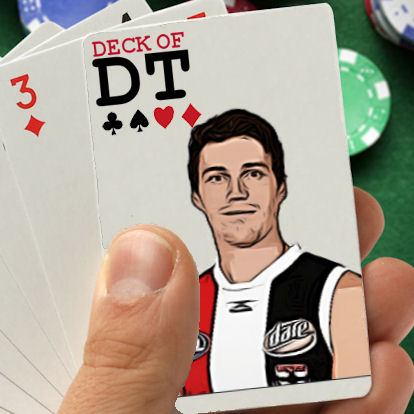 Name: Blake Acres
Team: St Kilda Saints
Position: MID/FWD
AFL Fantasy: $549,000
Bye Round: 14
2017 Average: 77.9
2017 Games Played: 18
Predicted Average: 90
Draft Range: Top 20 forwards (75ish)
Click here for DT Live profile.
Why should I pick him?
Blake Acres is a very interesting prospect in Fantasy this year and one that isn't being mentioned a hell of a lot. The focus remains on his teammate Jack Billings as a popular MID/FWD option, but don't sleep on Acres as a POD (currently 0.65% ownership).
Still just 23, Acres has improved in every one of his four seasons, annually playing more games, getting more touches and most importantly improving his Fantasy score. Averaging over 20 touches a game in his 18 games last year Acres pushed his average towards 80, even though he had a few stints in the VFL as he struggled to carve out a consistent role in the team. He established himself as a part of the Saints best 22 in the latter half of the year though and blew up for a pair of tons in the last month of the season.
The Saints coach Alan Richardson said in Acres' season review on the Saints website he noticed how much better Acres played when he was settled as a midfielder rather than a forward. Even with a handful of players pushing for more midfield time, it's likely that the players with a better goal sense (Billings, Gresham, Weller) are trusted closer to the sticks, meaning Acres carving out a regular role in the engine room is a huge possibility.
DPP makes Acres a much more appealing prospect than his teammate Jack Billings to me as well. At over $100k cheaper than Billings and in a great position to push into one of the most improved players in the entire competition, he should definitely be on your radar.
Why shouldn't I pick him?
Priced at an average of 77.9 there is a question about just how much growth Acres has in him. Even if he pushes his average up 10 points, which would be awesome, it's likely he would still find himself outside of the top-10 forwards. His consistency to score is also a bit of a worry as he bounced between 50's and 60's and then would score triple figures. Yo-yo scoring like that is how players find themselves on never again lists.
This season may be another stepping stone year and with so many young Saints who are improved products nailing the right one is going to be tough. Midfield time will be a premium for those young guns and if Acres struggles to fire he could find himself buried in the forward line, or worse, in the 2's.
Injuries ravaged the start of the young gun's career as Acres only managed 10 games in his first two seasons. Making matters worse, it wasn't the same body part or a serious injury that ruled him out for a whole season, rather foot, ankle, quadriceps AND hand issues saw him miss several different chunks of time. Potential owners have their fingers crossed that this isn't the sign of a pattern.
Deck of DT Rating.
KING – Call me crazy, I think Acres will average 10 points better than he did last season. No worries. Of course, injuries could change that, but all signs point to a huge year for the 5th year pro. He's young, he's healthy and he's poised to go off.
Priced at under 80, Acres will finish the season as a top-10 forward with increased midfield time and eventuate into one of the brightest young players in the comp. And if he doesn't, feel free to abuse me in 7 short months' time.
Peace ✌️
FOLLOW ME ON TWITTER: @alexandergfry for all thing AFL Fantasy (and more). Got something to say about the deck? Use the hashtag… #DeckofDT.