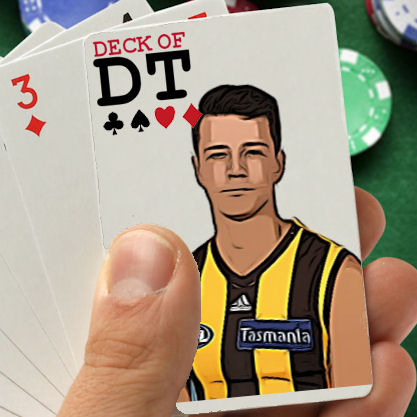 Name: Ryan Burton
Position: DEF
AFL Fantasy: $594,000
Bye Round: 12
2017 Average: 84.4
2017 Games Played: 20
Predicted Average: 90
Draft Range: 30-60
Click here for DT Live profile.
Why Should I Pick Him?
Ryan Burton. Just saying the man's name gives me goosebumps. Yep, that's what he does to me. In all my years of following the Hawks, I'm not sure there have been too many more promising and regarded kids at this stage of their careers; the exception probably being Buddy and Cyril. So right off the bat, he's one of the 3 most regarded drafted kids at the Hawks in 15 years. Touted as a future number 1 draft pick, Burto horrifically broke his leg in his Under 16 year, which wiped off his Under 18 season. Even still, the Hawks jumped at the chance to select him with their first pick, eventually sliding to number 18.
I first realised that this kid had the good when he was selected late in his first season (2016) to make his debut, and in just his 4th game, played in the Qualifying Final against the Cats. Clarkson is renowned for his draft and develop strategy, generally giving kids 2-4 years to apply their trade at Box Hill. Not Burto. As soon as he was fit, he was playing. And crikey jingoes, he looked bloody good. Unfortunately a severe corky ended his night early against the Cats, and he missed the following week, but I think we all saw how good this kid looked, even in very limited game time.
In 2017, he missed the first game against the Bombers, but ended up playing the next 20 games, before being rested in Round 23, averaging 84.4 points over that period of time. He went bang in Round 2 against the Crows, scoring 112, and also had scores of 118 (Round 11 vs Port) and 111 (Round 22 vs Carlton).
He also showed his confidence and ability as the season wore on, which included him running off Taylor Walker in the Hawks round 14 shock win over the Crows, kicking 2 bombs of goals in the 3rd quarter. I can only imagine what another preseason has done for his body and confidence.
Widely tipped to take out the Rising Star in 2017, he was robbed unlucky to finish runner-up to Andy McGrath. Despite this highway robbery finish, it was clearly that he had announced himself to the competition.
A kick: handball ratio of nearly 1.7 also shows that he likes to get the ball on his boot. None of this piss-farting around with dinky-die little handballs, he's got a beautiful kick, so the coaches want him to have the ball to distribute to his teammates. He's got a clean set of hands and wheels to boot – he's going to improve, the question is – by how much?
Why Shouldn't I Pick Him?
My main concern would be his role. He played a majority of the 2017 season as a 3rd key/loose defender (even though at time he was asked to play on the oppositions best key forward) and was able to collect a lot of loose ball, chipping the ball around and picking up those juicy +6's. But that was in a Hawthorn backline that didn't have the likes of Frawley, Birchall and Stratton for most of the season. You'd think those 3 will automatically slot straight back into the back 6, which might mean that Burton's skillset is utilised elsewhere on the ground – especially with the likes of Hardwick and Sicily showing promising signs as defenders. How that will affect his score, ultimately we just don't know. We haven't seen enough of him as a roaming half-forward or wingman to know how he might score in that role. There's no doubt Clarkson will look to utilise him to the best he can, given the promise that Burton has showed, but perhaps it might be a bit much to think a 20 year old can change role in a changing side and still maintain a high average.
I'm sure some of you might be cautious given some of his scores in 2017 (8 scores below 79), but you have to remember, he's still only played 24 games in his career! I would expect to see a few other low scores this year as well, hopefully not as many as he did in 2017!
Deck of DT Rating.
Queen. He is the 19th most expensive defender, however if he improves again in 2018 (which I absolutely expect him to), he might be a top 10 defender come seasons end. So why not give him King status? The risk is the way the hawks may use him. I see him as a Gunston type, but the Hawks already have a Gunston type (Jack Gunston). So it just leaves a bit of a question mark as to how the Hawks will use him in 2018; but I'll tell you this – they'll find a way. He's just too good not to use him to his potential.
Loading ...
FOLLOW ME ON TWITTER: @cruttonhutton for all thing AFL Fantasy (and more). Got something to say about the deck? Use the hashtag… #DeckofDT.