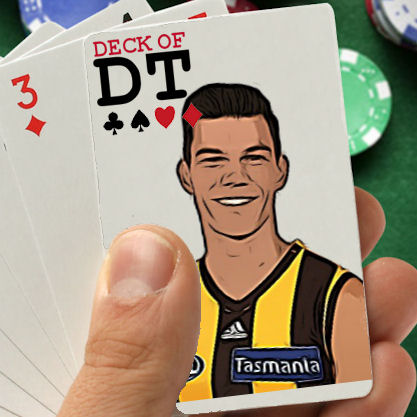 Name: Jaeger O'Meara
Team: Hawthorn
Position: MID
AFL Fantasy: $438,000
Bye Round: 12
2017 Average: 70.67
2017 Games Played: 6
Predicted Average: 94.6
Draft Range: 15th Round
Click here for DT Live profile.
Why should I pick him?
I could not preach the upside of JOM anymore to you guys than I have previously. I think I mentioned him in my Ripe for the Picking articles on three separate occasions last season, and he's just as much value this season, provided he actually gets on the field. The kid was always talked up to be an all-time great before the injuries wreaked havoc upon his young career. Lucky for us, in 6 games last year Jaeger showed us that he's still made of the good stuff when he plays. Fantasy-wise, O'Meara only gave us one decent game, hitting the 100 mark in the last game of the season, with 25 disposals and 11 tackles. He also showed some good signs in Round 2 where he amassed a huge 36 disposals in just his second game back. Unfortunately for us Fantasy coaches, 30 of those 36 were handballs, that's a 1:5 kick-to-handball ratio, yuck. Kick it JOM!
Take it back to 2014 however, just Jaeger's second year of football, and you can see the real reason as to why I'm so excited by the bloke. In that year he played all 22 games and averaged 92.7, including 10 scores of 100+. That backs up his 2013 rookie season, in which he averaged 89.2, once again from 22 games, and he only went under 70 twice and that was his first year of footy! These scores show promise for the young Hawk, not only does he have the runs on the board for Coaches to know what he's capable of, but he's also got a much better team around him than those two years up at the Suns. The question is, why isn't this epitome of value an instant lock for all our teams? And the answer is crystal clear.
HAWKS IN NZ | full gallery: https://t.co/opR8g3s6NN pic.twitter.com/EvRClEfUTC

— Michael Willson (@MichaelCWillson) December 13, 2017
Why shouldn't I pick him?
It comes down to your faith in the Hawthorn medical staff. You may have noticed that Jaeger's numbers were WAY down last year in comparison to his first two seasons. The reason being that Jaeger couldn't get any consistent football last season, accompanied by the fact he missed two seasons before that. The Hawks medical team were extremely cautious with their new recruit last season, and rightly so! But unfortunately for us, this meant that Jaeger's Fantasy season was stilted and essentially ruined. Good news is this means he's still cheap this season! O'Meara did finish the season with two consecutive games and gave us a look at what he can achieve in Round 23 especially, however I feel like grasping at two consecutive games as a positive isn't a great sign…
Whether you pick him or not is entirely down to whether you think his injuries have subsided and, if you think they have to some extent, you have to weigh up the risk and how that fits into your team set up. JOM is insane value, he's priced about 20 points below what I think he will average and that's being extremely conservative in my opinion. A 20-point price increase is way too good to pass up. But Jaeger was also this much value last season and we all saw what happened there. The risk is very real, if O'Meara gets back to what his potential has always showed then all his owners will be rewarded immensely. If he has a repeat of last year however, then owners will have to cope with the same headaches all over again. I know he will be on some Coaches "Never Again" list, and he's certainly not for the faint of heart, but for those with the guts to go with him, be prepared to reap the rewards. I know I am!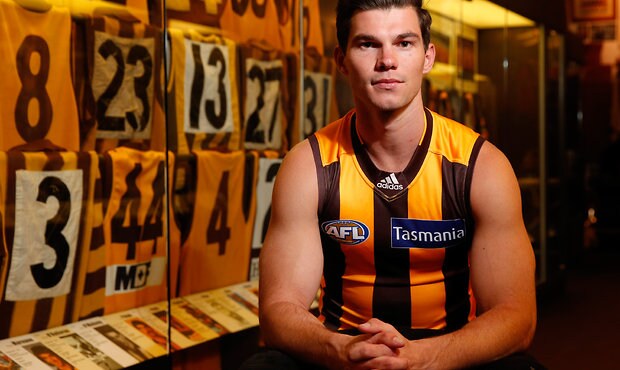 Deck of DT Rating.
JOKER – It's a bit of a cop out I know (or just using my creative license well, call it what you will), but I truly feel that Jaeger's season will be a huge focal point throughout the year, and probably the most difficult to predict season output for any player that I can remember. He's like a Draw 4 card in UNO. He presents a great opportunity to get a leg up on everybody else, however if that opportunity doesn't go to plan, he's going to cost you big time in the end. I'm starting with him, and I'm sure a bunch of others will take the risk too. One thing's for sure, I can guarantee you that Jaeger's season will make or break a lot of the top teams this year.
Loading ...
FOLLOW ME ON TWITTER: @SparksyDT for all thing AFL Fantasy (and more). Got something to say about the deck? Use the hashtag… #DeckofDT.