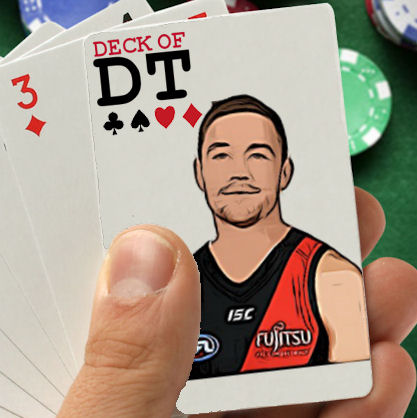 Name: Devon Smith
Team: Essendon
Position: FWD
AFL Fantasy: $575,000
Bye Round: 13
2017 Average: 81.6
2017 Games Played: 16
Predicted Average: 95
Draft Range: 3rd-4th round (top-tier of forwards)
Click here for DT Live profile.
Why should I pick him?
Yes, I am speaking with red and black glasses on here, but the trade of the trade period with the most Fantasy relevance was Devon Smith heading to Essendon. The Giants are so stacked that even the best of them struggle to hit the numbers they're capable of achieving due to the massive depth at the club. Smith was certainly one of those.
In his third season, Smith averaged a career high 94 from 21 games. He kicked 26 goals for the season and averaged 22 disposals with five tackles per game. This included top scores of 147, 137, 133 and 128. He predominantly played forward as he has for most of his six-year career at AFL level.
If we rewind back to his junior days, Devon Smith was a MID/FWD. He averaged 103 fantasy points in his final year of TAC Cup and has always been a ball-winner, being one of two players to average 20 disposals, 10 contested possessions, one goal and five clearances per game in 2011. He played 20 games in his debut season at an average of 67.9 and then 18 games at 74 in his sophomore year.
The last three seasons has seen Smith knock out 20, 12 and 16 games at averages of 85.9, 80 and 81.2. This isn't a lot to write home about, however, as mentioned he has spent most of his career as a  small forward without the opportunity to run through the middle. Smith's move to Essendon should see the ball-magnet get midfield clock and in turn scores should start flowing again. Those matches he did play through the midfield or up on the wing were when we saw the better scores.
Essendon has added Smith to add midfield depth, not to play as a small forward. There's already Fantasia, McDonald-Tipungwuti and Green up there… plus Stringer. Of Smith and the former Bulldog in Stringer, the midfield minutes would be going to Smith.
Why shouldn't I pick him?
The main reason would be his body. Devon Smith has been hampered by knee injuries in the last three seasons, including one that required surgery this year. This kept him out of the side for six weeks and it flared up again later in the season, missing a final and not being selected in the others. It does sound like the knee issues are behind him and Smith admitted that he could have managed it a lot better.
Another concern would be that he's just an 80s guy. You know, not going to be a real premium player that busts out the 90+ scores that justifies selection.
If the last three seasons are a guide, then that's where he'll be. Will he actually get the midfield time that he would need to take his game outside of the low-to-mid-80s range? The Bombers have a solid list of midfielders – Heppell and Merrett aren't being moved out of there, it's Zaharakis' best position, Goddard will still have plenty of time in there and there's no doubt that Parish and McGrath will increase their minutes. While it may not be the best in the competition, there's still a lot of talented names in there.
In Cal Twomey's best 22, Smith has been named on a forward flank.
At the end of the day, these concerns are warranted, especially with Smith still managing his knee. He will be back into full training when the Bombers resume after the Christmas break but could that also mean that he starts the season as a small forward and the best thing could be to wait on him?
Deck of DT Rating.
KING – I'm backing in Devon Smith to be a top six forward. He'll average in the mid-90s with the role that he's touted to be playing and with injuries behind him, he'll embrace the opportunity he'll get at his new club. Smith is a midfielder and will be treated as such by the Bombers.
Only 10 of the players available as a forward averaged more than 90 in 2017. One was two gamer Jacob Townsend, a couple are key position players and only two played all 22 games. I don't have him at number one, but he will be among the top forwards I will select in draft. I think that we can possibly hold off a little in selecting our forwards on Draft day (get those 110+ mids and get a decent defender) due to being able to throw a blanket over a group in the forward group.
At the moment, picking Smith priced at the low 80s with at least 10 points upside means I'll start with him. I'm keen but I know others aren't so… hot tip, everyone will have him at some stage.
Loading ...
FOLLOW ME ON TWITTER: @WarnieDT for all thing AFL Fantasy (and more). Got something to say about the deck? Use the hashtag… #DeckofDT.