Tom Rockliff – Deck of DT 2017
In the final Deck of DT for 2017, Roy looks at his boy Rocky.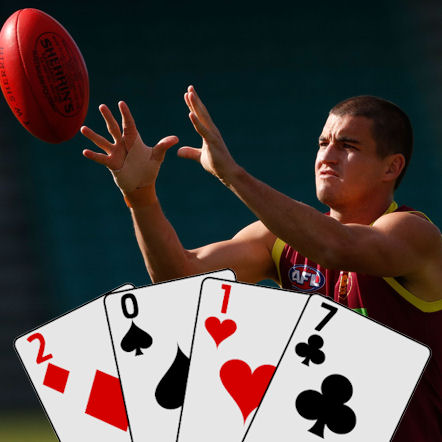 Name: Tom Rockliff
Team: Brisbane Lions
Position: MID
AFL Fantasy: $704,000
Bye Round:  11
2016 Average: 117
2016 Games Played: 17
Predicted Average: 125
Click here for DT Live profile.
Why should I pick him?
I could go on all day in this section, but I will keep it tight so I leave you with enough spare time to log on and make sure you have him with a permanent C clicked beside his name.
He is the Fantasy GOAT, a controversial statement I know, but it's not that hard to justify. He is the world record holder of the highest average in a season after his 2014 season saw him pump out 134.7 points per week… I wonder how many players that season even recorded one score of 130?!
Last year he was almost the highest averaging player with 117 per game despite two injured scores of 33 and 28. Without those injuries he would have been the clear season leader, however now we are left with an under-priced superstar as a result.
Last year he had three scores over 170 including a ridiculous score of 184 which he scored after returning from injury and following an interview with us where he said he would top 180… Come on, who even predicts 150, let alone scores it.
In his last 12 games of the season he dropped under triple figures on just one occasion and finished with scores of 127, 174, 123 and 127 through the Fantasy finals… scores you obviously don't want to miss at that time of year.
People who talk down Rocky's defensive game obviously don't check his tackle count, the guy is a beast on the +4's. Last year he had nine games with nine or more tackles with a season high of 12 (48 points).
When I did Carpool Fantasy Karaoke with him at the end of last year, we spoke about his projected average for 2017. He had caught wind of my cautions, early prediction of 115 and was nothing short of offended, flagging a possible 130.
He is the fittest he has ever been, there is no crackle on the Pig this year and his increased fitness will not only help him cover more ground, but may also help avoid soft tissue injuries.
Roy and Rocky do carpool karaoke… without the singing #AFLFantasy https://t.co/tDVYFnxO5k

— Adam Roy Davey (@RoyDT) December 15, 2016
Why shouldn't I pick him?
Maybe you are tanking or just hate winning?
Or, some coaches may want to start with just one big dog and pick the 'safer' option in Patrick Dangerfield. The reasons Danger could be considered safer is because of the recent durability comparison and the off season stability at the Cats compared to the changes at the Den give coaches a comforting stability when trying to project 2017 averages.
It is common knowledge that the Lions will focus on improving their defence this year and some are worried it will hurt Rocky's scoring output.
There is a lot of mid priced bargains surfacing in the midfield.
With Dayne Beams fit, some coaches are concerned there will not be enough ball for Rocky to rack up 30 touches a game.
Deck of DT Rating.
Ace– There is only one live Fantasy Pig in play and it is Rocky. I would be willing to pay a lot more for a player capable of pumping out scores like he does and the upside well outweighs the risk in my book, especially given his fitness level and positive relationship with the new coaching department. I don't think you can win if you start without him… There I said it! Oink.
Loading ...
FOLLOW ME ON TWITTER: @RoyDT for all thing AFL Fantasy (and more). Got something to say about the deck? Use the hashtag… #DeckofDT.
That's it for the Deck of DT for 2017. Thanks to checking it out every day. Judging by the hits, people are very excited about the upcoming season. It's safe to say we are as well and the pre-season is really just starting for us with the JLT Series starting this weekend. Stick with us here at DT Talk as we have plenty of great content to come!!