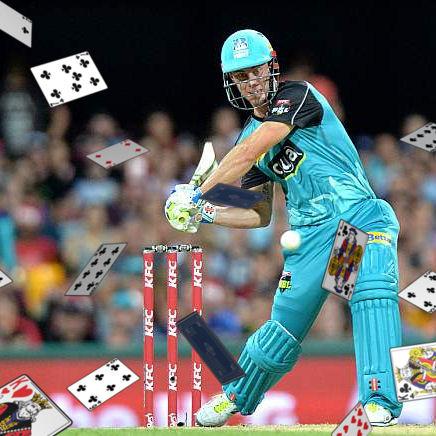 With the real Deck of Dream Team around the corner, here is an abbreviated version for BBL Fantasy. Of course, T20 cricket is a little more erratic than AFL and so these ratings are simply based on previous form and batting order/bowling workload predictions.
For the sake of simplicity, players in the test team will not be looked at.
Batsmen
Chris Lynn ($123,700) – ACE
It's still unclear whether Chris Lynn will be healthy for the start of the BBL season but at his best, he is THE ace of the competition.
Aaron Finch ($113,600) – ACE
Like Lynn, Finch may have the odd poor performance, but there is no questioning his status as one of the absolute elite players of this tournament.
Shane Watson ($100,100) – KING
At that price tag and given he hasn't been playing a lot of top-level cricket, I can't give him the ace tag, but Watson should still be a very strong option in this year's competition.
Glenn Maxwell ($93,800) – ACE
Maxwell is over $90,000 and is still, somehow, underpriced. Expect him to be among the highest scoring players this summer, no matter where he bats in the order.
Brendon McCullum ($92,600) – ACE
McCollum falls into the category of international guns who will bully Australian domestic bowlers and he should be a safe option at the top of the order for the Heat.
Dwayne Bravo ($91,200) – KING
Bravo bats a little too deep and has a few too many quality batsmen above him in the order to earn an ace ranking, but this guy will probably finish the season as one of – if not THE number one scoring all-rounder.
Tom Cooper ($78,600) – 8
Cooper's value as a batsman is next to zero given he'll probably bat at seven for the Renegades, but his bowling last season – somehow – was very effective. There are definitely better options in this price range.
Daniel Hughes ($73,300) – JACK
Hughes should open the batting for the Sixers and boy do they need him to fire if they want to have a successful tournament. Hughes is a quality batsman and a good option in this price range.
Michael Klinger ($70,900) – QUEEN
Klinger has been playing a lot of T20 cricket internationally in preparation for this tournament and will continue to open the batting for the Scorchers. He's always a reliable option.
Jason Roy ($68,000) – JACK
I don't know whether you can trust Roy at the top of the order for the Sixers. Any international opening batsman at that price seems like good value, but be wary.
D'Arcy Short ($67,100) – JACK
Short blasted the Sydney Sixers in a practice game a few days ago and will open the batting for the Hurricanes. He could be an underpriced gem if he gets going early in the tournament.
Colin Ingram (65,000) – KING
Ingram might prove to be the piece of the puzzle that propels the Strikers deep into the tournament. Ingram has dominated the English T20 scene and could very easily do the same here at the top of the order for the Strikers.
George Bailey ($60,100) – QUEEN
Bailey is in good form with the bat at the moment and is at the point of his career where you know what you're going to get from him. He's another player who could provide some great bang for your buck.
Travis Head ($59,900) – QUEEN
Head is another player who had a poor tournament last year, but has all the talent in the world. He is genuinely capable of doubling his price if he hits the form we've seen from him in the past.
Ben Rohrer ($46,100) – 2
Rohrer is a name pretty synonymous with the BBL at this point, but he won't be batting any higher than six or seven in this Thunder team and might end up being no more than a specialist fielder most weeks.
Nic Maddinson ($35,600) – JACK
There is no chance in hell Maddinson should be priced here, but his poor form in recent years has seen quite a fall for a batsman who was once the Sixers' most dangerous weapon. He'll bat at three for them again and is worth a punt.
Hilton Cartwright ($30,000) – JACK
Cartwright should get plenty of opportunities for the Scorchers given the current make-up of their squad and could even bat as high as three with the Marsh brothers on international duty.
Adam Voges ($30,000) – 5
Stay away from Adam Voges until we know exactly where he'll be batting. Before his injury last season, he was batting in the lower order for the Scorchers and not getting a look in at all.
Aiden Blizzard ($30,000) – 9
Blizzard may be in a battle with teammate Jay Lenton for a spot at the top of the order. You may have to decide last minute which of them to flick onto your bench. Blizzard is a more proven commodity at BBL level, however.
Matt Renshaw ($30,000) – 6
Can you trust Matt Renshaw in this format of the game? Will his terrible form carry over to T20? Where will he bat in the order? There are so many question marks around Renshaw right now that you, again, might have to make a last minute decision before picking him.
Do you agree/disagree with any of these ratings? Leave your thoughts in the comments below or hit me up on Twitter: @NicNegrepontis.