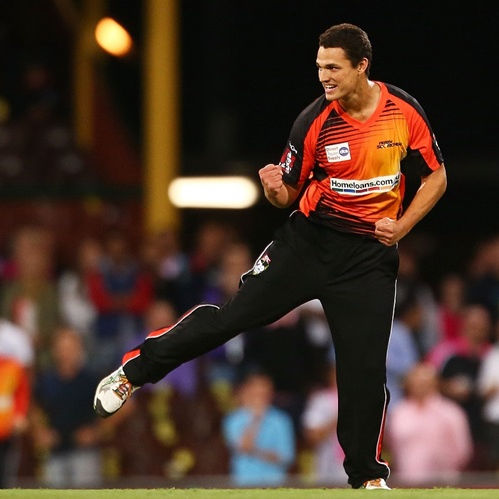 The hardest part about BBL Fantasy is the limited amount of time you will have to react to team selection. You probably won't know who's batting where until Channel 10 flash the graphic up five minutes before the game starts. Because of this, part of the challenge is minimizing risk and knowing which players you should already be putting a line through.
So from the obvious names to the high-risk options, here are the players you should be avoiding.
Everyone in the Test team
If you're new to BBL Fantasy, it's as simple as this. Players in the test team or even the test squad will miss most of the season and should be completely avoided. You'll experience this later on too with the ODI international players as well. Just avoid picking anyone involved in international duties. For now, this includes Peter Handscomb and Mitch Marsh who are seemingly fighting for the one spot. It's just not worth the risk.
Rob Quiney ($81,000)
Quiney might get some opportunities later in the season, but as of right now, it's hard to see him fitting into the current Melbourne Stars line up. Even if he does, it'll probably be deep in the order and he's far too risky for that price tag.
Yasir Shah ($75,000)
Let's make this as clear as possible. Shah is a replacement player. He will NOT be allowed to play unless one of Shadab Khan or Brendon McCullum is called up for international duties for Pakistan and New Zealand respectively. BBL clubs can only use two international players per game.
Nathan Coulter-Nile and Jason Behrendorff ($65,000)
Both are currently injured and injury prone – may I recommend you visit Paris instead?
Marcus Stoinis ($55,900)
The Stars adding Ben Dunk to their line up hurts Stoinis' value, assuming Dunk will now open the batting with Luke Wright. This probably means Stoinis will bat at five behind Maxwell and KP. Given the Stars have a plethora of all-rounder options (Faulkner, Hastings, Maxwell and Wright), it's unlikely he'll get consistent bowling opportunities either.
Moises Henriques ($55,500)
Henriques was incredibly frustrating in BBL06 and his position on this list is more a gut feeling based on his performance last year. Henriques was named captain of the Sixers last season and for some dumb reason, he decided not to bowl himself. Adding this to the fact he will probably bat at five again, he really isn't underpriced at all. Prove me wrong, Moises. Prove me wrong.
James Pattinson ($37,500)
Pattinson is injured – so thumbs down.
Adam Voges ($30,000)
As mentioned in my previous article, I'm very worried about the #VogesTrap. At that price, he seems like a steal, but even if Mitch Marsh is called up to the test squad, it's hard to see Voges batting above five in the order. He took a back seat last year for the Scorchers and until I see something different, I'm staying away.
Peter Nevill ($30,000)
Nevill will probably bat six or seven in the order for the Sixers behind Roy, Hughes, Maddinson, Henriques, Billings and potentially Botha. Even at that price, he'll probably go through games without batting at all.
Jordan Silk ($30,000)
Silk simply isn't in the Sixers' best team. They have too many players of a similar style and unless they suffer injuries, it's hard to see him getting many games.
Who else are you avoiding this season? Let us know in the comments and good luck!