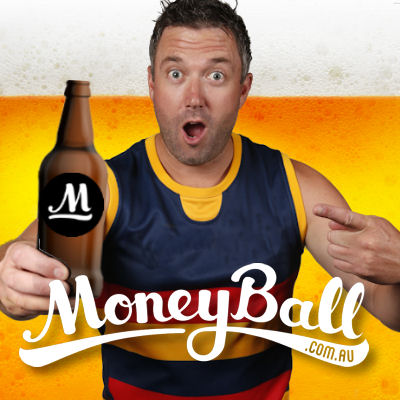 Welcome to my Moneyball family…. It's the big $5,000 with the winner taking home a cool $650. Round 23 promises to have some ripping games, but also some bruise free footy with teams packing up shop early heading into the off-season. This mean… points galore!
Collingwood v Melbourne 1:45pm AEST
Brisbane v Kangaroos
Sydney v Carlton
Geelong v GWS
Port Adelaide v Gold Coast 7:40pm AEST
Dayne Beams (MID, $9,800)
Beamer under $10K is a steal.
He has basically had 4×140+ scores in the last 5 weeks and this week meets the easiest team in the game to score against at the moment in the Kangaroos at home who have given up 18 tons in the last 3 weeks.
They do not tag! If they do it will be with a 'kid' like Mountford but I can't see anyone stopping him in a game where the recent is basically irrelevant.
We all need a premium today who can go 140+ and this guy is obviously the right man to do that.
Patrick Ryder (RUC, $8,500)
When Ryder rucks against 'bunnies', he gives them a pasting. Just look at what he has done to the ruckless Eagles this year (131 & 135).
This week, he meets not Witts, not Currie… but Brooksby. Who you might ask?
He's the Suns third listed ruckman and with the other boys out injured, Ryder will gives this kids a flogging in front of his Port fans at home, coming off the back of a 115 last weekend against the Dogs.

Click here to subscribe on iTunes. (Please leave a rating and review as a thank you for the year!!).
Matthew Sharenberg (DEF, $6,600)
Need a score of 95 from a defender? Then ol' mate Berg is your man.
With previous scores of 97, 95, 96 and 98 not only has he proved he can't take that little extra step to reach triple figures but he has proven himself a dead set lock at this price for what he can produce.
Kade Simpson (DEF, $8,600)
Of course, Docherty is the right answer here, but by picking Simpson you will save you $2K in your salary cap, meaning that you can spend up elsewhere.
Kade Simpson is still a viable picking. He scored 160+ on the Swans earlier this year and last week, Rory Laird (116) scored well on Sydney thanks to 10 marks.
If Simmo is let off the hook here then he's certainly unique against all other Moneyballers and just might sneak you a handy 120+.
Sam Menegola (MID, $9,100)
I seem to writing about Menegola every week, but as long as he's pumping out solid numbers for under $10K, I'll be on board.
We all know he's a monster when he receives the mid-clock and he hasn't disappointed with scores of 132, 110 and 120 in recent weeks, ranking him as the 4th most inform player in the game.
Now, against GWS this will be a little trickier but I can still see a 115 on the cards and at his price, I'll be taking him again.
Chad Wingard (FWD, $8,700)
Most expensive forward listed today but I think he's worth his weight in gold.
Firstly, there aren't many forwards that take my fancy here, so spending up on Chad is well worth it. He's at home to the Suns who have been bleeding points in recent weeks. In fact, this game has the ingredients to be the highest scoring game of the weekend with both teams conceding the most 120+ scores over the last three weeks.
At home Chad is a new man. Averaging 125 there this year this 'hermit' transforms into something special.
He scored 98 on the Suns in China earlier this year and could be anything today from 120-140.