Preliminary Finals – Ep. 149
The penultimate round of footy is ahead of us. Get top notch advice from Roy, Calvin and Warnie.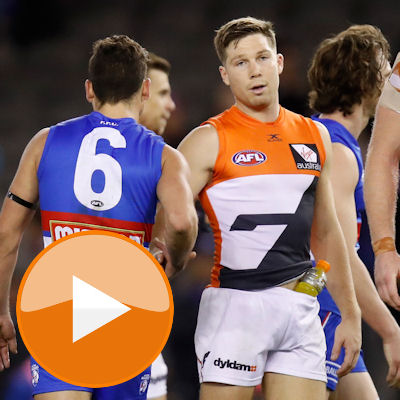 Round 22 is the preliminary finals weekend for AFL Fantasy leagues. The remaining four teams battle it out in a do-or-die clash, aiming for a spot in the Grand Final.
There is no tomorrow after this week.
(Well, you can obviously keep playing and there is Fantasy Match Day with a chance to win $1000 each weekend that continues throughout September).
Most coaches were faced with a couple of forced trades ahead of the semi-finals. Whether it was the suspended Brodie Grundy or injured Joel Selwood, there were issues left right and centre with a range of trades made, adding plenty of variation to teams for the Fantasy final series.
Hopefully this week is a little easier.
Selby Lee-Steere is watching the Fantasy scores each weekend and what the moves coaches at the pointy end of the rankings are doing. His team, Moreira's Magic, is the No. 1 team overall and following a score of 2209 on the weekend, holds a commanding 374 point lead over second place.
While Selby may have one hand on the car keys, but as we know with Fantasy footy, there is no such thing as a sure thing… just ask Calvin.
The Traders discuss all of the issues ahead of round 22 and the Fantasy preliminary finals to help you get one step closer to holding up your league's premiership cup.
Also in this week's podcast:
Fantasy news including injuries, suspensions, "Magoos news" and more
Roy's rolling best 22
Your burning questions answered
A look at potential skippers for the preliminary final
Click here to subscribe on iTunes. (Please leave a rating and review to help us move up the charts).
2017 averages – Fantasy points for and against (season)
| CLUB | PTS FOR | >100 FOR | >120 FOR | PTS AG | >100 AG | >120 AG |
| --- | --- | --- | --- | --- | --- | --- |
| ADE | 1680.1 | 4.6 | 1.3 | 1576.4 | 3.5 | 1.1 |
| BL | 1547.8 | 3.4 | 1.5 | 1610.2 | 3.6 | 1.1 |
| CAR | 1608.6 | 4.5 | 1.7 | 1594.6 | 3.5 | 1.1 |
| COLL | 1722.9 | 5.1 | 1.8 | 1612.8 | 3.1 | 0.8 |
| ESS | 1664.5 | 4.1 | 1.5 | 1600.5 | 3.4 | 1.2 |
| FRE | 1543.6 | 2.9 | 0.8 | 1691.4 | 3.9 | 1.3 |
| GC | 1616.9 | 3.8 | 1 | 1641.7 | 3.8 | 1 |
| GEE | 1613.4 | 4 | 1.5 | 1573.6 | 3.7 | 1 |
| GWS | 1629 | 3.4 | 0.8 | 1540.3 | 2.8 | 0.6 |
| HAW | 1672.6 | 3.6 | 1.4 | 1679.9 | 4.3 | 1.5 |
| MELB | 1651.8 | 3.8 | 1 | 1608.7 | 3.7 | 1.1 |
| NM | 1542 | 2.4 | 0.4 | 1645.8 | 4.5 | 1.5 |
| PA | 1613.7 | 3.3 | 1.2 | 1607.7 | 3.8 | 1.1 |
| RICH | 1531 | 2.7 | 1 | 1606.8 | 3.1 | 1.3 |
| STK | 1653.8 | 4.3 | 1 | 1646.1 | 3.9 | 1.1 |
| SYD | 1597.9 | 3.8 | 0.7 | 1610.9 | 3.5 | 0.9 |
| WB | 1619.9 | 3 | 0.5 | 1643.3 | 3.8 | 1.1 |
| WC | 1604.3 | 3.3 | 0.8 | 1632.7 | 4.1 | 1.1 |