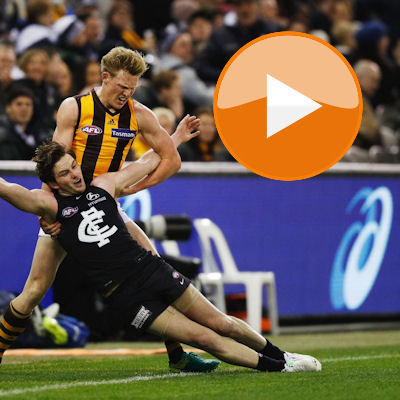 Here it is, the culmination of the 2017 season; round 23 and the AFL Fantasy Grand Finals.
After 22 weeks, 45 trades and thousands of Fantasy points added up it all comes down to this last game of the season for the two combatants featuring in your respective league grand finale.
What do you do with your two trades this week?
Chasing players with a favourable match-up is a preferred move. During the last three weeks, North Melbourne, Fremantle, Gold Coast, West Coast and Fremantle have been giving up the most Fantasy points. Their opponents this week, in order, are Brisbane Lions, Essendon, Port Adelaide, Adelaide and Collingwood.
The Traders discuss the best moves to make so you can claim the bragging rights that will last all summer by being your league's champion.
Roy, Warnie and Calvin look at the numbers of the past as they project the top scoring 22 for round 23. Can it beat Cameron's team "Inhuman Rampage" that finished with 2702 points on the weekend? The boys are up and about for the big dance on this week's episode of the Official AFL Fantasy Podcast.
Also in this week's podcast:
Fantasy news including injuries, suspensions, "Magoos news" and more
The players you need to have in your side for the Grand Final
Your burning questions answered
Click here to subscribe on iTunes. (Please leave a rating and review to help us move up the charts).
2017 averages – Fantasy points for and against (last 3 games)
| CLUB | PTS FOR | >100 FOR | >120 FOR | PTS AG | >100 AG | >120 AG |
| --- | --- | --- | --- | --- | --- | --- |
| ADE | 1781 | 6 | 2 | 1467 | 2 | 0.3 |
| BL | 1582 | 2 | 1.3 | 1560.7 | 3.3 | 1.3 |
| CAR | 1627.7 | 4.7 | 1 | 1484.3 | 1.7 | 0.7 |
| COLL | 1723.3 | 4.7 | 1.7 | 1588.3 | 1.7 | 1 |
| ESS | 1614.7 | 2.7 | 0.7 | 1595 | 3.7 | 1.3 |
| FRE | 1416 | 2.3 | 1 | 1750 | 4.7 | 1.7 |
| GC | 1471.3 | 2 | 0 | 1731.7 | 4.3 | 2 |
| GEE | 1609.7 | 3 | 2 | 1568.7 | 2 | 0.7 |
| GWS | 1662.7 | 3.7 | 1 | 1509 | 3 | 0.7 |
| HAW | 1635.3 | 4 | 1.3 | 1629.3 | 4.3 | 1 |
| MELB | 1648 | 4.3 | 1.3 | 1651 | 3 | 1.3 |
| NM | 1524 | 2.3 | 0.7 | 1794.7 | 6 | 1.3 |
| PA | 1542.3 | 2.7 | 0.7 | 1632.3 | 4.7 | 2 |
| RICH | 1670.3 | 4.3 | 2 | 1461 | 2 | 0.3 |
| STK | 1746.3 | 5.3 | 1 | 1530.3 | 2 | 0.7 |
| SYD | 1625.7 | 2.7 | 0.7 | 1531.7 | 3.3 | 1 |
| WB | 1497.3 | 2.3 | 1 | 1623.7 | 3 | 0.3 |
| WC | 1419.3 | 1 | 0.3 | 1688.3 | 5 | 1.3 |