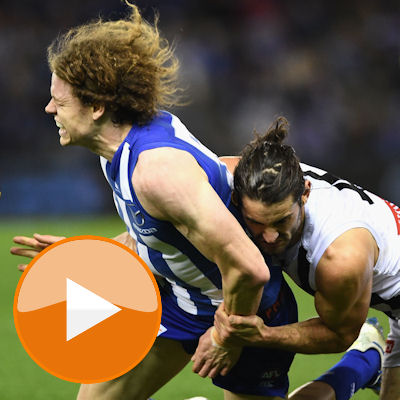 Two teams were knocked out of the Fantasy finals race on the weekend, two now have the week off and wait to see who they take on from this weekend's do-or-die semi-finals.
Almost every week coaches are faced with new challenges.
Joel Selwood has been a highly sought after player in the last few weeks since dipping below $500,000. 64 per cent of the top 250 coaches own Geelong's skipper and will be faced with a forced trade this week. Unfortunately for Selwood owners, his price is $466,000 and it may require some creative thinking to get the most out of the move.
Enter the Match Review Panel.
Brodie Grundy can accept two weeks for his tackle on Ben Brown, while Zach Merrett and Mitch Duncan can take a week with a guilty plea. Draft owners of Tom Hawkins could be without him for two weeks if he accepts his penalty.
Add to that a few injuries and the carnage that is bound to find us when teams are released on Thursday night, you will have to earn your win if you are to get through this week.
The Traders help you with your semi-final match up this week and also give out their advice for those hunting a high ranking or sitting back waiting for their preliminary final.
Also in this week's podcast:
Fantasy news including injuries, suspensions, "Magoos news" and more
Top 250 ownership data
Roy's rolling best 22
Your burning questions answered
Click here to subscribe on iTunes. (Please leave a rating and review to help us move up the charts).
2017 averages – Fantasy points for and against (season)
| CLUB | PTS FOR | >100 FOR | >120 FOR | PTS AG | >100 AG | >120 AG |
| --- | --- | --- | --- | --- | --- | --- |
| ADE | 1675.5 | 4.6 | 1.3 | 1577 | 3.5 | 1.1 |
| BL | 1542.8 | 3.4 | 1.4 | 1619.3 | 3.7 | 1.1 |
| CAR | 1609.3 | 4.5 | 1.8 | 1606 | 3.7 | 1.2 |
| COLL | 1729.6 | 5.1 | 1.7 | 1612.5 | 3.2 | 0.8 |
| ESS | 1669.7 | 4.2 | 1.6 | 1591.7 | 3.3 | 1.1 |
| FRE | 1562.1 | 2.9 | 0.8 | 1684.4 | 3.8 | 1.3 |
| GC | 1625.9 | 3.8 | 1 | 1641.9 | 3.8 | 0.9 |
| GEE | 1618.2 | 4.1 | 1.5 | 1577.4 | 3.8 | 1.1 |
| GWS | 1627.2 | 3.4 | 0.8 | 1548.1 | 2.8 | 0.6 |
| HAW | 1668.6 | 3.5 | 1.3 | 1685.9 | 4.3 | 1.6 |
| MELB | 1651.1 | 3.8 | 0.9 | 1609.7 | 3.8 | 1.1 |
| NM | 1540.8 | 2.3 | 0.4 | 1640.4 | 4.4 | 1.4 |
| PA | 1613.5 | 3.4 | 1.2 | 1608.4 | 3.8 | 1.1 |
| RICH | 1532.6 | 2.7 | 1 | 1611.2 | 3.1 | 1.3 |
| STK | 1657.2 | 4.4 | 1 | 1645.1 | 3.9 | 1.1 |
| SYD | 1585.9 | 3.6 | 0.7 | 1632.9 | 3.6 | 0.9 |
| WB | 1631.8 | 3.1 | 0.5 | 1642.2 | 3.8 | 1.2 |
| WC | 1616.3 | 3.4 | 0.8 | 1634.7 | 4.1 | 1.2 |