Finals Time – Ep. 145
It's the first week of the Fantasy finals and of course, there are issues to deal with!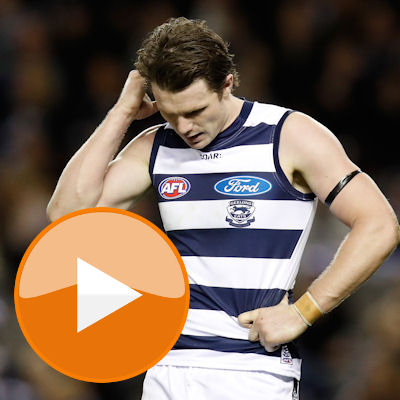 Fantasy coaches are reeling from the news that Patrick Dangerfield has been offered a one-week suspension from the Match Review Panel. The second most selected player in Fantasy Classic was cited for his rough conduct on Matthew Kreuzer on Saturday night.
If he accepts the one-match ban with an early plea, down from two weeks, 56 per cent of coaches will be making a big call this week on what to do with the Brownlow Medallist.
The Fantasy finals work in the same way that the AFL ones do. The top four have a double chance this week, while fifth to eighth face elimination.
Strategy for this round can be different from team to team.
Curveballs like the Dangerfield suspension, injuries to key players and decisions on who to field or bench will play a key role in shaping the way in each league plays out. Not only for Classic, but for Draft leagues. Picking the right free agents in a time of need can go a long way to deciding upcoming head-to-head battles this weekend.
Join Roy, Calvin and Warnie as they help you get the edge over your opponent whether you're aiming for a week off or trying to avoid elimination… or even battling it out in the plate final like Roy is!
Also in this week's podcast:
Fantasy news including injuries, suspensions, "Magoos news" and more
Roy's rolling best 22 and the best players from the Fantasy finals last season
Your burning questions answered
Click here to subscribe on iTunes. (Please leave a rating and review to help us move up the charts).
2017 averages – Fantasy points for and against (season)
| CLUB | PTS FOR | >100 FOR | >120 FOR | PTS AG | >100 AG | >120 AG |
| --- | --- | --- | --- | --- | --- | --- |
| ADE | 1668.3 | 4.4 | 1.2 | 1593.5 | 3.6 | 1.2 |
| BL | 1546.6 | 3.6 | 1.5 | 1620.4 | 3.6 | 1.1 |
| CAR | 1610.9 | 4.5 | 1.8 | 1613.5 | 3.8 | 1.2 |
| COLL | 1722 | 5 | 1.8 | 1620.3 | 3.3 | 0.8 |
| ESS | 1680.7 | 4.3 | 1.6 | 1592.3 | 3.3 | 1.1 |
| FRE | 1551.7 | 2.8 | 0.7 | 1692.8 | 3.9 | 1.3 |
| GC | 1631.2 | 4 | 1.1 | 1635.9 | 3.7 | 0.8 |
| GEE | 1617.4 | 4.1 | 1.4 | 1581.9 | 3.9 | 1.1 |
| GWS | 1621.2 | 3.3 | 0.8 | 1542.8 | 2.7 | 0.6 |
| HAW | 1675.1 | 3.6 | 1.4 | 1689.8 | 4.3 | 1.6 |
| MELB | 1651.5 | 3.7 | 0.9 | 1602.8 | 3.7 | 1.1 |
| NM | 1544.7 | 2.3 | 0.3 | 1627.8 | 4.3 | 1.4 |
| PA | 1632 | 3.4 | 1.2 | 1597.5 | 3.6 | 0.9 |
| RICH | 1527.9 | 2.6 | 0.9 | 1614.4 | 3.1 | 1.3 |
| STK | 1644.8 | 4.2 | 0.9 | 1659.3 | 4.1 | 1.2 |
| SYD | 1590.9 | 3.8 | 0.7 | 1633 | 3.7 | 0.8 |
| WB | 1633.6 | 3.1 | 0.4 | 1651.3 | 4 | 1.2 |
| WC | 1628.8 | 3.6 | 0.9 | 1621 | 3.9 | 1.1 |