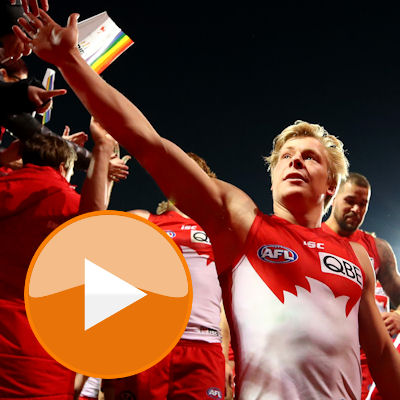 Fantasy footy can be a guessing game. You can use the past to help you make decisions on what will happen in the future, but we don't always have a crystal ball to predict what will happen this week or a few weeks down the track.
That hasn't stopped Roy putting together his best 22 for the last few rounds.
The coach of destROY has looked at the top players per position and has made a call on who have been the best of late and who is likely to keep it going for the remaining five rounds.
In defence, Sam Docherty and Taylor Adams quite easily sit in at one and two, but new DEF/MID Connor Blakely also gets a gig with his excellent late season form. Kade Simpson and Rory Laird have been consistent throughout the season with Michael Hibberd showing some great form to round out the back six.
The midfield picks itself.
Tom Mitchell, Patrick Dangerfield and Zach Merrett are the big three that are must-haves. Josh Kelly has enjoyed a stellar season and we can purchase him in Fantasy for much less than he may be offered in a couple of months when it comes to the trade period. Dustin Martin, Bryce Gibbs and Marc Murphy have rarely put a foot wrong. Brad Ebert, who is often seen as a first half of a season specialist, is among a group of players you could throw a blanket over the be among the best for the next month.
The best ruckman, and bargain buy at the start of the season, Matthew Kreuzer is a safe option in the ruck line while Brodie Grundy, sans Mason Cox in the side, slots in at number two.
Up forward, despite a lowly showing last week, Roy ranks Steele Sidebottom rank at the top with Jack Macrae, Isaac Heeney and Lance Franklin the go-to guys. He also suggests Elliot Yeo and Travis Boak are safe picks.
The Traders discuss Roy's best 22 on this week's episode of the Official AFL Fantasy Podcast and name up some other players in the mix.
Also in this week's podcast:
Fantasy news including injuries, suspensions, "Magoos news" and more
A look at Cal's Scale of Hardness for the last five rounds
Last hurrah trades before finals start
Your burning questions answered
Click here to subscribe on iTunes. (Please leave a rating and review to help us move up the charts).
2017 averages – Fantasy points for and against (season)
| CLUB | PTS FOR | >100 FOR | >120 FOR | PTS AG | >100 AG | >120 AG |
| --- | --- | --- | --- | --- | --- | --- |
| ADE | 1672.7 | 4.5 | 1.2 | 1580.2 | 3.4 | 1.1 |
| BL | 1535 | 3.4 | 1.5 | 1615.9 | 3.6 | 1.1 |
| CAR | 1625.9 | 4.6 | 1.9 | 1601.1 | 3.6 | 1.1 |
| COLL | 1716.2 | 4.9 | 1.8 | 1621.9 | 3.4 | 0.8 |
| ESS | 1683.9 | 4.3 | 1.6 | 1593.5 | 3.3 | 1.1 |
| FRE | 1546.6 | 2.7 | 0.6 | 1699.2 | 4.1 | 1.4 |
| GC | 1640.6 | 4.2 | 1.1 | 1639.4 | 3.8 | 0.9 |
| GEE | 1605.3 | 3.9 | 1.4 | 1595.2 | 4.1 | 1.2 |
| GWS | 1623.4 | 3.5 | 0.9 | 1537.2 | 2.6 | 0.5 |
| HAW | 1671.8 | 3.5 | 1.5 | 1702.5 | 4.4 | 1.6 |
| MELB | 1657.9 | 3.7 | 0.9 | 1609.9 | 3.8 | 1.1 |
| NM | 1548.4 | 2.3 | 0.4 | 1632.8 | 4.3 | 1.5 |
| PA | 1640.3 | 3.6 | 1.3 | 1605.3 | 3.6 | 1 |
| RICH | 1525 | 2.7 | 1 | 1622.9 | 3.2 | 1.4 |
| STK | 1655.4 | 4.3 | 1 | 1669.2 | 4.2 | 1.2 |
| SYD | 1597.8 | 3.8 | 0.8 | 1627.3 | 3.6 | 0.9 |
| WB | 1637.2 | 3.1 | 0.5 | 1652.8 | 3.9 | 1.2 |
| WC | 1625.1 | 3.5 | 0.9 | 1614.5 | 3.8 | 1.1 |