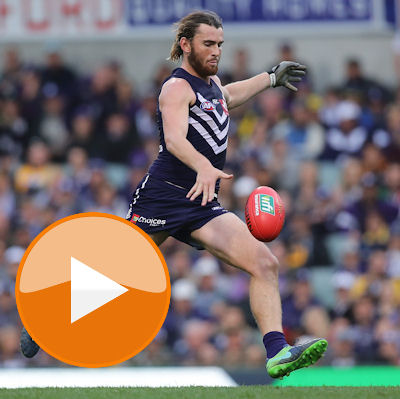 The third and final round of dual position adjustments rolled out on Sunday evening. A group of 15 players holding a single position status were awarded a secondary position based on a changed role in their team in recent weeks.
Champion Data, the official stats gurus of the AFL, keep tabs on every player in every game and have highlighted those who are playing in a different position to their initial Fantasy position allocated.
Fantasy coaches find most value in players who are originally listed as midfielders and acquire either forward or defender status. That's not to say the flexibility of a forward or defender adding midfield status isn't a good thing, but at this stage of the season it's all about fielding your best 22.
Collingwood's Steele Sidebottom ranks second at the club for disposals inside 50 since round 12 and shares his time between the wing and forward line. At $635,000 it is going to take a decent upgrade to grad the new No. 1 Fantasy forward who is averaging 108.8 this season.
It'll be worth paying the big bucks for Sidebottom as he has score 100 or more in each of his last nine games.
Connor Blakely's role playing across half back has seen him gain defender status. Averaging 110.8 in his last five matches, and top scoring in the Western Derby on Sunday with 149, Blakely is relishing his new role and his Fantasy owners are enjoying the ride!
On this week's episode of the podcast, The Traders discuss all 15 DPP additions and give their take on the Fantasy relevance as we head towards the last six rounds of the season.
Here are the round 18 dual position players. These will be added to the game soon after lockout. Who do you have on your radar? #AFLFantasy pic.twitter.com/wicyBjZy0q

— AFL Fantasy (@AFLFantasy) July 16, 2017
Also in this week's podcast:
Fantasy news including injuries, suspensions, "Magoos news" and more
What to do with Patrick Dangerfield
The best Fantasy run home
Roy's rolling best 22
Your burning questions answered
Click here to subscribe on iTunes. (Please leave a rating and review to help us move up the charts).
2017 averages – Fantasy points for and against (season)
| CLUB | PTS FOR | >100 FOR | >120 FOR | PTS AG | >100 AG | >120 AG |
| --- | --- | --- | --- | --- | --- | --- |
| ADE | 1681.9 | 4.6 | 1.2 | 1590.9 | 3.4 | 1.2 |
| BL | 1522.9 | 3.4 | 1.5 | 1638.6 | 3.8 | 1.2 |
| CAR | 1647.8 | 4.9 | 2 | 1593.9 | 3.6 | 1.1 |
| COLL | 1724.6 | 4.9 | 1.8 | 1625.8 | 3.4 | 0.9 |
| ESS | 1694.3 | 4.4 | 1.7 | 1589.7 | 3.3 | 1.1 |
| FRE | 1550.8 | 2.8 | 0.7 | 1690.3 | 4.1 | 1.4 |
| GC | 1653.8 | 4.3 | 1.1 | 1631.9 | 3.8 | 0.9 |
| GEE | 1617.6 | 3.9 | 1.5 | 1599.6 | 4.1 | 1.2 |
| GWS | 1626.8 | 3.6 | 0.9 | 1548.4 | 2.6 | 0.5 |
| HAW | 1661.2 | 3.4 | 1.4 | 1716.4 | 4.6 | 1.8 |
| MELB | 1651.4 | 3.8 | 0.9 | 1615.5 | 3.7 | 1.1 |
| NM | 1541.8 | 2.2 | 0.3 | 1640.1 | 4.4 | 1.6 |
| PA | 1647.8 | 3.5 | 1.3 | 1595.5 | 3.6 | 1 |
| RICH | 1535.4 | 2.8 | 1.1 | 1626.3 | 3.3 | 1.4 |
| STK | 1659.4 | 4.4 | 1.1 | 1681.1 | 4.4 | 1.3 |
| SYD | 1605.2 | 4 | 0.8 | 1629.6 | 3.6 | 0.9 |
| WB | 1629.6 | 3 | 0.5 | 1666.7 | 4.1 | 1.3 |
| WC | 1629.3 | 3.5 | 1 | 1616.5 | 3.7 | 1 |