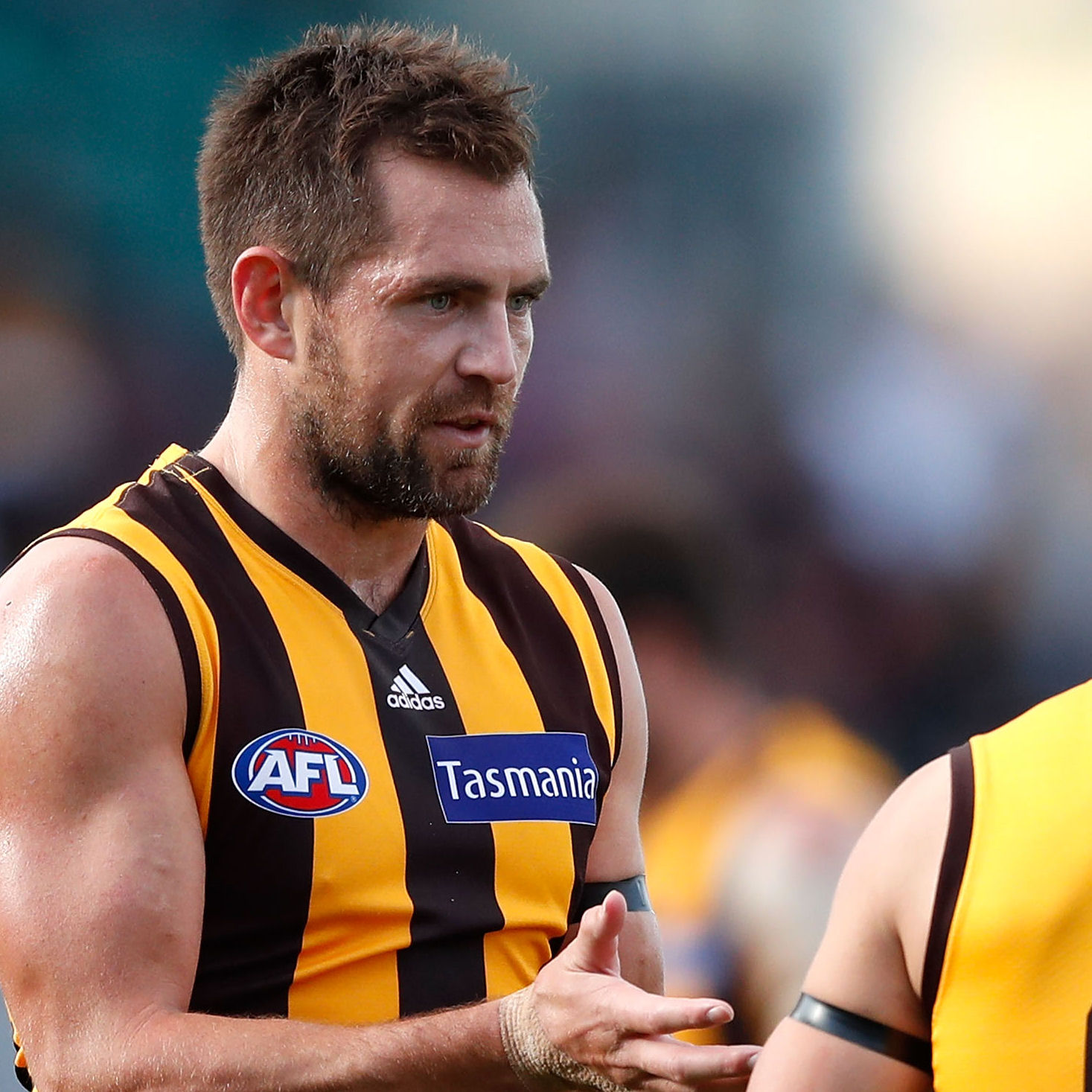 On Monday, Hawthorn veteran Luke Hodge announced his retirement from AFL. He will play out the last seven rounds.
This weekend's match against the Cats will be Hodge's 300th in what has been a career full of amazing highs. Four flags, a couple of Norm Smith Medals, multiple All-Australian nods and most importantly, a Fantasy footy staple of our sides for more than a decade.
The former Hawthorn skipper has a career high of 159 Fantasy points scored against the Western Bulldogs in 2015. That same year yielded his best Fantasy return. An average of 111 from his 17 matches.
Hodge's career average is currently 89.7.
This season the 33-year-old has knocked up four tons so far for an average of 90.4.
Roy, Calvin and Warnie pay tribute to one of their favourite footballers on this week's episode of the podcast. They discuss his career and thank him for the insight he has given the Fantasy community over the years.
Also in this week's podcast:
Fantasy news including injuries, suspensions, break evens, "Magoos news" and more
Interesting trade scenarios
Social media questions answered
A look ahead to what Calvin thinks will be another high scoring round
Click here to subscribe on iTunes. (Please leave a rating and review to help us move up the charts).
SHOP NOW: Tom Mitchell beanie | Tom Rockliff beanie
2017 averages – Fantasy points for and against (season)
| CLUB | PTS FOR | >100 FOR | >120 FOR | PTS AG | >100 AG | >120 AG |
| --- | --- | --- | --- | --- | --- | --- |
| ADE | 1682.6 | 4.5 | 1.2 | 1597 | 3.4 | 1.3 |
| BL | 1525.1 | 3.6 | 1.6 | 1641.9 | 3.9 | 1.2 |
| CAR | 1651.5 | 5 | 2.1 | 1589.5 | 3.5 | 1.1 |
| COLL | 1728 | 5 | 1.9 | 1636.1 | 3.5 | 0.9 |
| ESS | 1676.9 | 4.2 | 1.6 | 1598 | 3.3 | 1.2 |
| FRE | 1552 | 2.7 | 0.7 | 1683.7 | 4.1 | 1.3 |
| GC | 1666 | 4.4 | 1.1 | 1629.1 | 3.8 | 1 |
| GEE | 1624.1 | 4.1 | 1.5 | 1601.5 | 4.1 | 1.1 |
| GWS | 1632.5 | 3.6 | 1 | 1548.8 | 2.6 | 0.5 |
| HAW | 1667.2 | 3.4 | 1.4 | 1729.5 | 4.8 | 1.8 |
| MELB | 1661.5 | 3.7 | 1 | 1611.7 | 3.6 | 1.1 |
| NM | 1546.8 | 2.1 | 0.3 | 1634.7 | 4.3 | 1.5 |
| PA | 1643 | 3.3 | 1.2 | 1604.1 | 3.7 | 1 |
| RICH | 1531.7 | 2.8 | 1.1 | 1621.9 | 3.5 | 1.5 |
| STK | 1672.4 | 4.5 | 1.1 | 1662.8 | 4.3 | 1.2 |
| SYD | 1609.3 | 4.1 | 0.9 | 1635.6 | 3.7 | 1 |
| WB | 1627.6 | 2.9 | 0.5 | 1671.6 | 4.1 | 1.3 |
| WC | 1618.5 | 3.5 | 0.9 | 1622.1 | 3.7 | 1 |