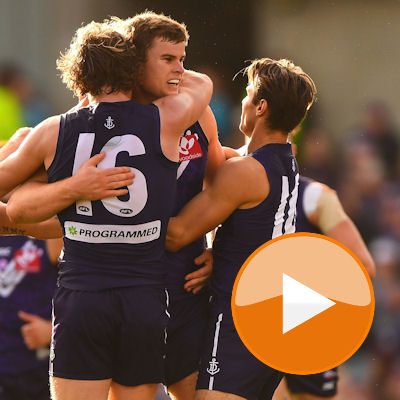 The advice last week was to avoid picking 19-year-old Fremantle ruckman Sean Darcy despite an impressive 80 point game on debut. The issue, Aaron Sandilands would be back.
Those ideas have now changed.
A season ending hamstring injury to Aaron Sandilands and 114 Fantasy points thanks to 33 hitouts, 16 disposals, 7 tackles and a goal has made Darcy hot property this week.
Darcy was taken at pick 38 in the 2016 National Draft and has been impressive in the WAFL averaging 29 hitouts and 77 Fantasy points from his 11 games. He now has a chance to shoulder the majority of the Dockers' ruck load.
With the lowest breakeven in the competition of -28, Darcy's price has already increased by $75,000 and is set to be a popular late season cash cow.
The Traders discuss on how you can take advantage of Darcy's new found opportunity on this week's episode of the Official AFL Fantasy Podcast.
Also in this week's podcast:
Fantasy news including injuries, suspensions, "Magoos news" and more
Trade advice
Social media questions answered
Click here to subscribe on iTunes. (Please leave a rating and review to help us move up the charts).
SHOP NOW: Tom Mitchell beanie | Tom Rockliff beanie
2017 averages – Fantasy points for and against (season)
| CLUB | PTS FOR | >100 FOR | >120 FOR | PTS AG | >100 AG | >120 AG |
| --- | --- | --- | --- | --- | --- | --- |
| ADE | 1670.7 | 4.3 | 1.2 | 1607.1 | 3.5 | 1.3 |
| BL | 1535.8 | 3.8 | 1.7 | 1709.8 | 3.8 | 1.1 |
| CAR | 1640.4 | 4.9 | 2.1 | 1596.6 | 3.7 | 1.2 |
| COLL | 1741.6 | 5.3 | 2 | 1626.4 | 3.1 | 0.8 |
| ESS | 1670.1 | 3.9 | 1.6 | 1602.3 | 3.4 | 1.3 |
| FRE | 1550.5 | 2.6 | 0.6 | 1684.6 | 4.1 | 1.4 |
| GC | 1669.4 | 4.3 | 1.2 | 1622.4 | 3.8 | 1.1 |
| GEE | 1614.4 | 3.9 | 1.4 | 1616.9 | 4.4 | 1.1 |
| GWS | 1618.3 | 3.5 | 0.9 | 1549.6 | 2.6 | 0.5 |
| HAW | 1676.5 | 3.4 | 1.4 | 1722.1 | 4.8 | 1.8 |
| MELB | 1673.6 | 3.9 | 1.1 | 1597.9 | 3.4 | 1 |
| NM | 1537.9 | 2.1 | 0.2 | 1639.1 | 4.3 | 1.5 |
| PA | 1647.2 | 3.2 | 1.1 | 1622.3 | 3.9 | 1.1 |
| RICH | 1544.1 | 2.9 | 1.1 | 1607.2 | 3.4 | 1.4 |
| STK | 1661.4 | 4.4 | 1 | 1684.6 | 4.5 | 1.2 |
| SYD | 1601.2 | 4.1 | 0.9 | 1636.8 | 3.5 | 1.1 |
| WB | 1639.9 | 3 | 0.4 | 1658.9 | 3.8 | 1.4 |
| WC | 1637.7 | 3.7 | 1 | 1624.8 | 3.6 | 0.9 |