Moneyballin' – Round 20
DT Talk has all the Moneyball tips you need, so look no further! We've got the Match Committee Podcast from the boys and we've filled the article with exclusive stats to kick start your DFS weekend.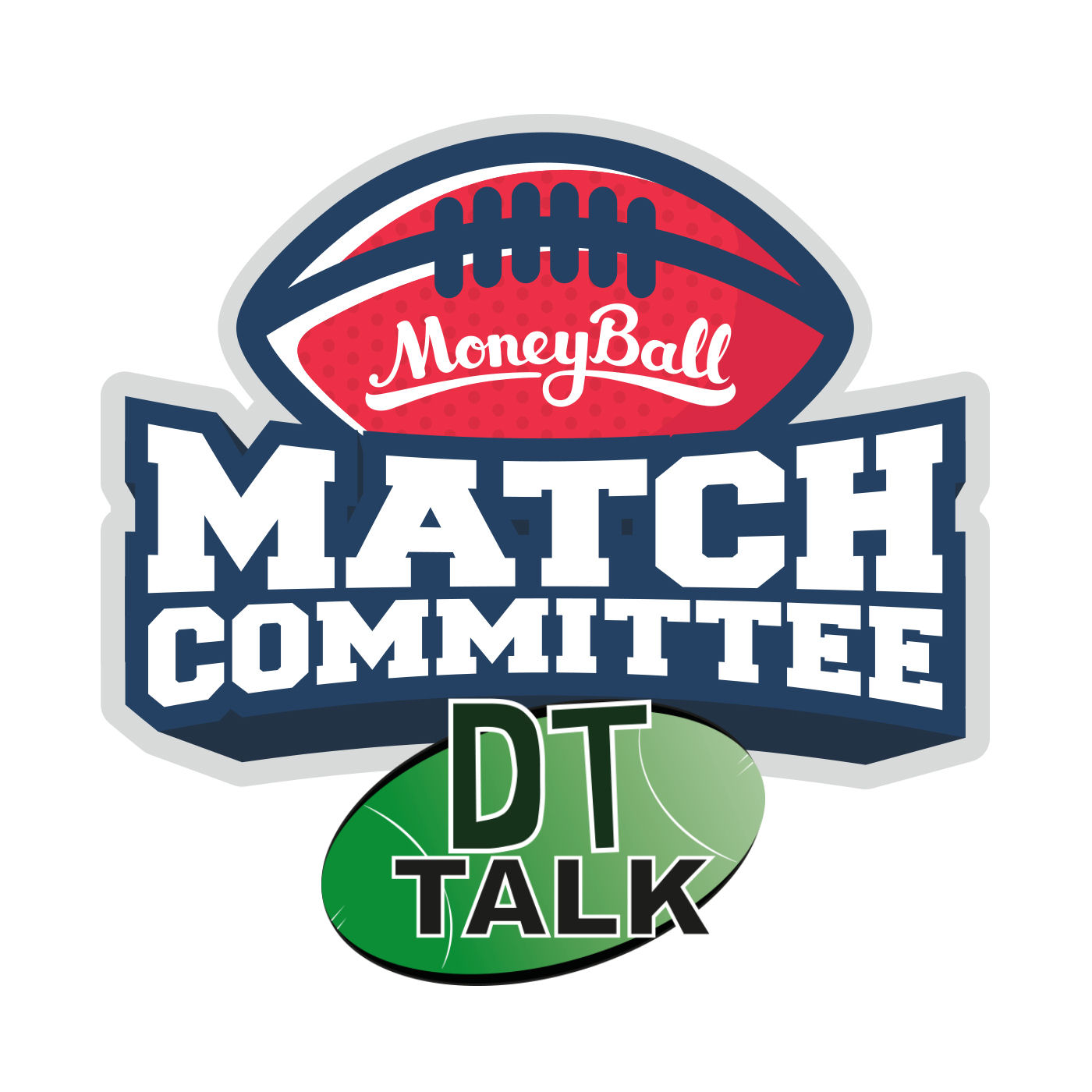 Tbetta here, and welcome to the self-proclaimed top resource for keen Aussie rules Moneyball punters! DFS (Daily Fantasy Sports) is taking off around the world and Moneyball have the perfect platform for you to turn your AFL Fantasy prowess into cold hard cash. Signing up is easy – head to moneyball.com.au and you could be ballin' within minutes.
If you're unsure how DFS works, be sure to head to the 'Help' section for all the info you need to start cashing in on your AFL Fantasy knowledge.
Click here to subscribe on iTunes.
Geelong vs Sydney
BEST PICK: Kurt Tippett ($5,800 FWD)
A fatal injury to Naismith opens the door for Tippett to sneak in some ruck time, and with SInclair also winged last week, I'm very interested. Named as the starting ruckman this week is very encouraging, because midfield time is crucial for Tippett's scoring. It's easy to forget that last year the former Crow averaged 95 with 31 hitouts per game (before he got injured) running around as the starting ruck. We saw a flash of that again this year in his last game, swatting away 28 hitouts for 89 back in Round 10.
BEST STAT: Sam Menegola ($8,400 MID)
A lack of Dangerfield and his drama means an inside MID spot needs filling, and we all remember what Menegola did without Selwood in the side a few weeks ago. Scores of 124 and 113, but as if you needed reminding! Sam was already back in the midfield last week and collected 30 touches and 7 marks for 103, and there's overwhelming evidence to suggest he'll be in the thick of things again on Friday
VALUE PICK: Zak Jones ($6,800 DEF)
Josh P Kennedy is a massive loss on it's own, but it also means the Swans need another inside midfielder to step in and fill the void, and Jones is screaming for the chance. We all know he's an inconsistent type but that's mainly due to the myriad of roles that his fantasy-killing coach assigns him week to week. If you're convinced Jones is going to play midfield as I am, then he's sensational value with 9 scores over 85 already this year.
GWS vs Melbourne
BEST PICK: Jayden Hunt ($6,600 DEF)
The Melbourne rebounder has produced totals of 111, 111 and 93 leading into Saturday which is more than enough to put him well and truly on the radar. When you consider that a mere rookie in Luke Ryan managed to rip down 14 marks against GWS last week, your eyes should be popping cartoonishly with dollar signs. Hunt loves a +6 combo, averaging 102 in games where he brings down 6 or more marks – he'll smash that this week.
BEST STAT: Stephen Coniglio ($9,100 MID)
Melbourne have conceded more tons than any team over the past 5 weeks which throws this GWS stud squarely into the frame. Coniglio was the only Giant to "ton up" last week with 104 and that was in his return from injury, so imagine what he can do as he builds up match fitness. The guy was born to fantasy hitting the century mark in 17 of his past 22 games.
VALUE PICK: Corey Maynard ($3,500 MID)
Did you know that Maynard used to be a basketballer? True fact, you heard it here first. Maynard has averaged 91 points at VFL level this year and basically forced the Demons to pick him, an awesome effort as Melbourne make a spirited finals run. At basement price, he's a lock with a good shot of soaking up a lot of midfield time.
Essendon vs Carlton
BEST PICK: Joe Daniher ($8,100 FWD)
Tom Hawkins just kicked 6.1 for 158 AF points on Carlton's defence… Meanwhile, Daniher was in fine form of his own, kicking 6.4 for his 127 against the Dogs. Joey averages 95 this year when he kicks multiple goals, and with the probably of a bag, the potential is much higher.
BEST STAT: Bryce Gibbs ($10,600 MID)
Many Moneyballers will be scared off by Gibbs' being tagged this past fortnight, scoring a paltry 37 and then backing that up with a 97 that was only saved with a massive final quarter in junk time. But Essendon haven't tagged once this year – not once. Don't forget that Gibbs averaged 134 over the previous 8 games, and boasts a nice little record with 136 against the Bombers earlier this year.
VALUE PICK: Sam Petrevski-Seton ($6,100 MID)
There's not a lot to love here in terms of cheapies, so I'm settling for SPS after a team-penultimate score of 105 last week. He's getting it down with tackles these days, ranked 8th in the league over the the last 5 weeks.
Brisbane vs Western Bulldogs
BEST PICK: Stef Martin ($8,600 RU)
Now that Archie is out, surprise surprise, Stef rips down 50 hitouts for 113 points in a soft match-up versus the Eagles last week. He walks into another soft match-up against Jordan Roughead this week, recording 49 hitouts and 121 points against the Bulldogs way back in Round 5 this year. This'll be one of the most popular picks all weekend, and for good reason.
BEST STAT: Dayne Zorko ($10,700 MID)
Given that Libba tagged a ball-magnet like Merrett to just 82 last week, surely he goes hard again this week? Zorko is the obvious Lion to target after scoring 157 on them earlier this year and generally being a highly damaging individual all year. Unfortunately, he's prone to a shocker, producing multiple scores in the 40's within his last 5 games – and that's WITHOUT being tagged. It's a no at that price.
VALUE PICK: Shane Biggs ($7,300 DEF)
A popular underpriced pick last year, I thought Biggs' days as a fantasy guy were dead and gone – until he busted out 111 and 113 in the last two weeks, that is. It's no coincidence that this flurry hass aligned with Morris' injury, resulting in Biggs taking 21 marks over the last two weeks.  He's the Switch Man now with Johannisen being locked down each week, so get on board.
North Melbourne vs Collingwood
BEST PICK: Taylor Adams ($10,000 MID)
North have conceded the most 120+ scores over the past five weeks, and that's why you're picking Adams – his massive ceiling. With 5 scores over 130 this year (ranked 7th) and 2 scores in the 150's (ranked 4th), there's few guy in the league that can score as quickly as the Collingwood Vice-Captain.
BEST STAT: Luke McDonald ($7,900 DEF)
The last time I considered McDonald was when he was a fantasy rookie a couple of years ago, but then he faded into the mid-priced obscurity that often blankets second-year kids. However, his form warrants consideration right now, with 106, 91, 100, 79 and 105 leading into the Collingwood clash. He's lapping up a key role in the Kangas' defence, ranked 1st for kicks for the Roos over the past 5 weeks.
VALUE PICK: Matt Scharenberg ($5,200 DEF)
Notice a trend with Scharenberg's scores? 53, 68, 71, 82, and 98… He's getting comfortable! He cracks the ton this week at this rate, and North are a soft opponent for him.
Fremantle vs Gold Coast
BEST PICK: Nat Fyfe ($9,000 MID)
After his freshen up, Fyfe's back to what we've come to expect from the Brownlow winner:
Rounds 6-15: 84 avg, 23 touches (0 tons)
Rounds 16-19: 108 avg, 29 touches (3 of 4 were tons)
Gold Coast have given up the 3rd most points of any team over the past few and I expect Fyfe will be a patron at that smorgasboard this weekend.
BEST STAT: Luke Ryan ($5,500 DEF)
It's not difficult to recommend a guy after scoring 138 last week, but there's actually merit in chasing Ryan's scores this week. It's based around Blakely's injury pushing Ryan into the Switch Man role, and after dominating at it last week, surely Ross Lyon keeps him around in the same capacity against the Suns? Check out the stats for the Switch role at Freo lately:
R15: Ethan Hughes, 137, 14 marks (when Blakely was out due to surfing)
R16: Connor Blakely, 135, 12 marks
R17: Connor Blakely, 149, 11 marks
R18: Connor Blakely, 114,   9 marks
R19: Luke Ryan, 138, 14 marks (when Blakely got injured)
We've always said that Ross Lyon manufactures fantasy backmen and Ryan is in the perfect spot to get the famous makeover.
VALUE PICK: Pearce Hanley ($6,500 MID)
Freo gives up EASILY the most points to defenders over the past 5 weeks and guess where Hanley played last week? Yep, he was cruising off a back flank last week and collected 31 touches for his 96. Hanley's the perfect player to capitalise on all the switches and +6 combos that Freo allows, and he's dead cheap after an injury-affected season.
St Kilda vs West Coast
BEST PICK: Jack Redden ($7,700 MID)
118, 105, and 104 fill up his resume over the past few weeks, with his scores are up due to suiting up as the 4th inside midfielder with Yeo missing the derby and Priddis out in the few weeks since. In fact, his scores have shot up from 71 per game when he was playing in that forward rotation, to a stunning 105 with 25 disposals since. Incredibly, the Eagles have opted to leave out a fit Priddis to have Redden running through the stoppages, which should give you some kind of indication of how well he's going at the minute.
BEST STAT: Billy Longer ($6,800 RU)
Opposition rucks against the Eagles:
R15: Tom Campbell , 86 AF, 49 hitouts
R16: Patty Ryder, 135 AF, 39 hitouts
R17: Sean Darcy, 81 AF, 32 hitouts
R18: Brodie Grundy 127 AF, 42 hitouts
R19: Stefan Martin, 113 AF, 50 hitouts
Longer's averaging the 3rd most hitouts over the past five weeks (behind only Ryder and Witts) to go with a healthy 88 Moneyball points in that stretch. He'll be awesome on Sunday, along with all those before him.
VALUE PICK: Jack Sinclair ($6,700 FWD)
There isn't much to get excited about with cheap guys here, so have to get creative and that where Sinclair comes in. You'd definitely take 3 of his past 4 scores (88, 83, 51 and 102) at that price, so cross your fingers and hope for the best against the Eagles.
Richmond vs Hawthorn
BEST PICK: Ben McEvoy ($8,100 RU)
This is more about the cock-block ruck situation happening at Richmond:
Nankervis – Rucking solo: 85. With Support: 72.
Soldo – Rucking solo: 75. With Support: 45
You basically can't pick either Richmond rucks as long as they're coexisting together in the same team, which leaves you with the Big Boy in the single-game contest. McEvoy's obviously been solid all year, and comes into this game with scores of 99 and 95 under his big boy belt.
BEST STAT: James Sicily ($6,800 FWD)
Amazingly, Siciliy averages the most marks OF ALL PLAYERS over the last 6 weeks at 9.7 per game. Yes, he's a full-time backman now and he's loving it, but his price still reflects his lacklustre forward-line existence. SInce Round 4, his splits look like:
Rounds 4-12 as a FWD: 4.5 marks, 59 avg
Round 14-19 as a DEF:  9.7 marks, 91 avg
Ludicrous numbers, forming a wave of fantasy goodness that you simply have to ride.
VALUE PICK: Anthony Miles ($7,500 MID)
Mr Super Consistent. Miles isn't good enough to rotate as a forward or a backman, so if he's picked, you know he's in for a game of full-time midfield. With 93 and 95 in his last two, he's a great pick for double-ups or filling a low-variance hole in your side around $7,500.
Adelaide vs Port Adelaide
BEST PICK: Robbie Gray ($7,700 FWD)
The full-time midfielder version of Gray emerged again last week, giving him scores of 98, 101 in his last couple. Wingard is still out, so we have to assume it's full steam ahead with Robbie in the guts, a fool-proof recipe for fantasy success in the past.
BEST STAT: Rory Sloane ($8,500 MID)
Once again, Sloane was tagged last week and Adelaide didn't win. It's a foolproof method and Port have already said that Sloane will be tagged this week, which makes him extremely undesirable. Sloane is the only player averaging over 90 to have as many as 6 scores under 70 this year – a huge stat when you consider that the next guy is sitting on 4 such games! It's Jekyll or Hyde for Sloane, and unfortunately, everyone knows how to make the monster emerge – and not in a good way.
VALUE PICK: Jasper Pittard ($6,600 DEF)
Pittard averaged just 63 points in the month leading up to Round 19, then suddenly, Houston is dropped…. and Pittard busts out his highest score (91) since Round 7! This isn't a coincidence, and I'll be snatching up Jasper at a bargain price given that Houston has been left out in the cold again.
Always remember to gamble responsibly. If you're having problems with your betting, you can get help at Lifeline or talk to someone at Gambling Help Online.