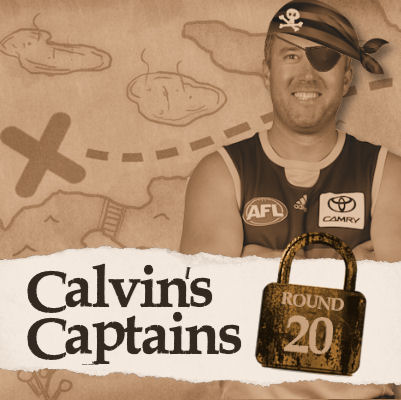 NO SKILL AT SKILLED 
Friday night footy at Skilled Stadium… enter Patrick Dangerfield.
What bullshit, but this is certainly not the forum to drag this out any further. Dangerfield loves playing at home, where he has done so four times this year at an average of 137. Unfortunately we won't get to see it on Friday night and for the record…  he sat at #2 in the top 5.
What about the others? Well, Hawthorn scored 5×100+ on the Swans last week and therefore, a few others might be worth a short look.
Mitch Duncan has been great and even had 117 last week, but has failed to crack the ton against the Swans in his last four games. His captain Joel Selwood managed a horrific 59 on the weekend and only just out scored Josh Kennedy for his 47. He is apparently injured though with a hammy issue so watch this space with care. He had 115 on the Cats last year with scores of 96, 121 and 123 before that.
But for me, there is only one option that was pretty crystal clear, but it's now shattered. Let us know your thoughts about the matter. Personally… A fair call if I can look past the fact he'll be on my bench or forced trade and the fact it cost me $1,300+ in Brownlow winnings after loading up early at $5.50. Oh well…
SLAM THE PREUSS DAW
On Saturday under the roof, Brodie Grundy will dominate the Kangaroos combo of Daw/Preuss if they leave Todd Goldstein out again.
Over his career, there are only two teams now that Grundy hasn't scored a ton against… Essendon and of course his opponent this week.
Last week, Max Gawn had 52 hit outs (113pts) to have his best game since returning and if Grundy is up against these inexperienced lads this week, expect something over the 120 mark with ease.
Cal chatting some #AFLFantasy and much more. Right here. Right now https://t.co/Twixxlgqad

— Calvin (@CalvinDT) August 2, 2017
FIRST TIME FOR EVERYTHING
Are you serious… Tom Mitchell scored under 100 for the first time this year?
Firstly, this is now the second time he has played the Swans this year and it just so happened that this was his second worse score of 94. Although they never 'hard core' tagged him, they certainly put a lot of attention around him at every stoppage and around the ground (see the mark stat). So let's break down the numbers …
94pts – season low score, beating his 108, both v Sydney
26 disposals – season low, first time under 30
1 mark – season low, averages nearly 6 a game
Let's not forget that his form has been amazing and before last week's 'shut down' he did score 130, 147, 143 and 135 leading into it.
Will it be easier this week? Yes, it's not the Swans but… no, it's the Tigers who have only conceded 3×100+ scores and 1×120+ score in the last three weeks. When you compare those 3×100+ scores to someone like the Blues (16×100+) you can start to see my small concern.
But realistically, the Tigers haven't played anyone (beside GWS) in the last three weeks with the ability to be huge and that skews the numbers. They have played and beaten, the Suns, Giants and Lions and in that time, with only Aaron Hall getting off the hook last weekend and he was 56pts better than his next team mate.
Look… a couple of flags did come up for me with Titch here but after crunching the numbers and looking over the last game, I'm pretty confident he'll be back to his 130+ best again this week.

Click here to subscribe on iTunes. (Please leave a rating and review to help us move up the charts).
LIBBA TO TAG A LION?
This shocked me a little to see this but last week, reports say that Tom Liberatore tagged Zach Merrett (82).Not one I saw coming… and If this was to happen again, he will either go to Beams or Zorko.
Dayne Beams has been amazing in recent weeks and is now the #1 man in the game ranked on form after his last two scores of 144 and 142. Last year against the Dogs he scored 126 and before that 102 and 137.
The catch he though is, as good as Beams has been, the tag will be much more effective if they use it on Dayne Zorko. Before missing a game (suspended) he had 119, but showed a massive weakness with two scores under 50 when tagged.
Zorko had 157 against the Dogs last year and if Libba does go to him on Saturday arvo, shut your eyes, because the outcome might not be a pretty one, especially for those who held him over his one week out.

Click here to subscribe on iTunes.
JUST QUICKLY…
Bryce Gibbs v Essendon @ the MCG – No tag this week after poor 'tag effected' scores of 97 and 37. Had 136 on the Bombers already this year and will be a different player this week.
Josh Kelly v Melbourne @ UNSW – 71 last year against the Dees and hasn't cracked a ton in his last two.
Dustin Martin v Hawthorn @ the MCG – Not only are the Hawks on a roll but they are also the 2nd hardest team to score against at the moment. Dusty has been great averaging 120 in his last 3 but against the Hawks he's only had 103 and 99 in his last2 and that 103, was his only 100+ score in his last 5 games.
David Zaharakis v Carlton @ the MCG – 112, 100 and 120 are his last runs but hasn't scored triple figures on the Blues in his last 6, and only managed to do it once in his last 11.
Michael Hibberd v GWS @ UNSW – Not a captain, but has been awesome averaging 113 in his last 3 as the 2nd best defender in the game at the moment behind Adams (avg. 121 in last 3). If Luke Ryan (138) can float across half back for 14 marks, Hibbo can too.
Zach Merrett v Carlton @ the MCG – Carlton are the 2nd easiest team to score on at the moment which saw the Cats have 8×100+ scores. Zach has only had 82 and 96 in his last two though and 97 on the Blues last year. Loves the MCG where he averages 124 there this year. Could be anything.
Matt Crouch v Port Adelaide @ Adelaide Oval– Last two Showdowns he has scored 111 and 118. Great form as well right now averaging 112 in his last three.
Adam Treloar v Kangaroos @ the MCG – 93 last year on the Roos but his form has lifted with 119 and 114 coming in recent weeks.
Sam Docherty v Essendon @ the MCG – 117 last week and loves playing at the MCG where he has averaged 119 this year (9gms) and 130 there in his last four. Had 96 on the Bombers earlier this year, but after Shane Biggs (113pts) took 13 marks last week against Essendon, I'm very much interested in Doch again this week, as I bet a lot are who are trading Danger this week.
Lachie Neale v Gold Coast @ Domain Stadium – Suns are easy to score on at the moment and last year against them Neale had 124 and 98.
Aaron Hall v Fremantle @ Domain Stadium – Freo are now officially the easiest team to score against this year, bypassing Hawthorn. Hall had that 152 last week and 126 last year on the Dockers when they met.
Taylor Adams v Kangaroos @ the MCG – 151 last week to now average 121 in his last 3 games. Posted 103 on the Roos last year and can be very hot, or very lukewarm on his day.
Tom Rockliff v Bulldogs @ the GABBA – In his first 8 games of the year, Rocky averaged 129. After his injury and the bye, in the next 8 games he has now averaged 82, with no 100+ scores.
Marc Murphy v Essendon @ the MCG – 93 and 92 are his last two games but his record against the Bombers is nuts with scores of 145, 101, 105, 102, 77, 100, 163, 114, 119 and 118 coming in his last 10. Averages 102 against them in a career 20 games, his second favourite team behind the Eagles.