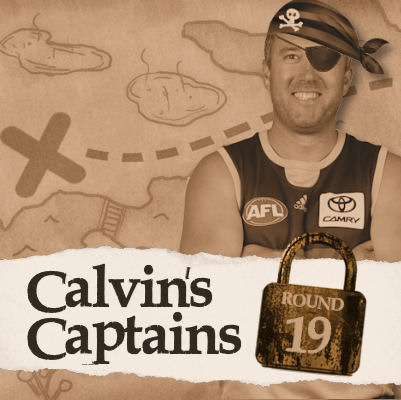 Click here to subscribe on iTunes.
PORT'S 109 GANG
T
his week Port Adelaide play the Saints at home and they currently have a crew of players dominating. In fact they have four players (the most) in the top 20 players at the moment ranked on form.
Averaging 109 in their last three games are Travis Boak, Ollie Wines and Patty Ryder who has been rucking good with scores of 103, 89 and 135 in his last runs.
Brad Ebert breaks the trend here with an average of 116 over this time with 118 last week.
They'll be great again here against the Saints who can bleed points on their day, but Saint's fans are hoping that Seb Ross can get busy here as well. He has scored 105 or more in 11 of his last 14 games this year with scores of 113, 71 and 134 in his last 3 games. Port are the 4th hardest to score against at the moment though so this one will be a tough one at Adelaide Oval for him.
Calvin is talking all #AFLFantasy Captains, trades, taggers and more. Get on https://t.co/4usaI5D1rA

— Calvin (@CalvinDT) July 26, 2017
TAGGED THIS WEEK
Now listen… if you play AFL and show that you are susceptible to a tag, then it will come at you again… and again.
This has been the case for Rory Sloane this year but last week, Geelong decided to 'let him off the hook' as he scored 134 with a bag of goals. He'll be tagged this week for sure after that, and the man with Sloane this week will be… Levi Greenwood who ran with Gaff (51pts) last week.
Now the Pies are giving up the equal 2nd most 100+ scores in the last three weeks, but that won't be enough to save him here. Sloane will struggle.
Rocky went to Bryce Gibbs (37pts) last week and held him to his lowest score in 10 years. He had 137 on the Cats last year and at the moment the Cats are currently ranked as the 3rd hardest team to score on in the last 3 weeks. Scott Selwood will get the nod here and if Gibbs plays anything like he did, he'll be lucky to crack the 50 mark.
Another guy who was let off the hook last week was Dayne Zorko for 119. He is suspended this week which is utter bullshit. He scored 147 on the Eagles, and if Dusty gets away with punching a guy to the face from behind, how do you get rubbed out for what he did? IT'S BULLSHIT.
With Zorko out and after his 3 goals last week, Dayne Beams (142) is now the $1.10 front runner to be tagged by Mark Hutchings. Beams had 88 on the Eagles last year, but prior to that he averaged 120 on them in his last 5 games.
The Eagles also have been giving up 100+ scores, 14 in fact over the last three weeks but that won't help him if Hutchings is his shadow.
Hutchings has done jobs in the last two weeks holding Walters (70) and a looser tag, but still effective on Steele Sidebottom (71) last week.
So last week the Lions upset the Blues and Rocky went to Gibbs and was then named as one of the best players on the ground… will he do it again and should run with Andrew Gaff this week? Gaff (51pts) was tagged by Greenwood last week and hasn't been tagged by Brisbane in the past. In his last 5 games against them he has never cracked the ton with 88 coming last year. He has averaged 30 touches in his last 3 games though, despite not really hitting the Fantasy score board.
Rocky to Gaff just doesn't sound right though, and probably won't happen. Gaff's got a tank and will run his socks off… so maybe last week was what Rocky needed to kick his butt into gear. With Zorko out, maybe Rocky will finally step up.
NOTE: Let's not forget that Nick Robertson is back this week and may take over this altogether.
IN SUMMARY…
Levi Greenwood to Sloane
Scott Selwood to Gibbs
Mark Hutchings to Beams
Tom Rockliff/Roberton maybe to Gaff …or Shuey
DUSTY IN THE SUN
With scores of 137 and 140 against the Suns in his last two games, expect Dustin Martin to go off again on Saturday.
The Suns are the 2nd easiest to score against over the last three weeks, but surprisingly with that said, they haven't given up a 120+ score in this time.  I can't see that being a big deal as I'm tipping Dusty will continue to chase that Brownlow 3 votes here in an easy game where he should be 130+ without breaking a sweat.
Gary Ablett should play this one as it's at home. Despite a broken run of game, he is still technically averaging 123 in his last 3 games. He had 120 on the Tigers last year and before that 141, 106, 128 and 101. He's in my top 5… if he plays, and would bump Dusty from #5.
WELCOME TO MY HOUSE
In round 10, Tom Mitchell traveled to the SCG to take on his old team, the Sydney Swans. That day he scored his lowest score for the year… however it was still 108, after giving away 3 free kicks.
Sydney have been tough in recent weeks though, not allowing a single play to score 120 against them in their last three games. With all that said, Mitchell's form has been nothing short of pigmania with 130, 147 and 143 coming in his last three.
It's round 19 though and this game isn't at the SCG. It's at Tom's house, the MCG where he has averaged 137 this year from 9 games. This is a huge factor as when Mitchell has played away from the MCG (8 times) he has averaged 13pts less.
Dan Hannebery will be running around as well but hasn't done much in recent weeks averaging just 92 in his last three and although Josh Kennedy is very similar he did score 112 on the Hawks this year and has posted 6×100+ scores in his last 7 games against them.
JUST QUICKLY…
Lachie Neale v GWS @ SPO – GWS are the hardest team to play this year and away it will be even tougher. Neale had 95 last week and will be lucky if he gets near that again.
Marc Murphy v Geelong @ Etihad Stadium – A tag from Guthrie and an ankle injury saw him leave the ground in Q1 last year on 15pts. Therefore hasn't scored 100 on the Cats in his last 4 but has been in great form up until the 92 last week. Should be 100 this week, but Geelong are the 3rd hardest to score on at the moment.
Zach Merrett v Bulldogs @ Etihad Stadium – 148 on the Dogs last year and back under the roof, he should be much better than the 96 we saw last weekend. Bit of a yo-yo at the moment but I'll back him in for this one.
Josh Kelly v Fremantle @ SPO – Plays at home where he averages 125 (104 away) against the easiest team over the last three weeks, who give up the most 120+ scores. Kelly only had 98 last week but is still averaging 115 in his last 3. He'll be huge… very huge.
Patrick Dangerfield v Carlton @ Etihad Stadium – Had his lowest score of 112 last week since round 8 but after all the drama we've seen, he is still averaging 134 in his last 3. He had 122 on the Blues last year and will be awesome again here.
Adam Treloar v Adelaide @ the MCG – Crows have taken the mantle off GWS as the hardest team to score against in the last three weeks. Treloar had 114 last week and 121 last year against the Crows and anything in the 100's here will be a bonus against this tough team.
Nat Fyfe v GWS @ SPO – 88 last week… we thought he was back to his best, he isn't.
Mitch Duncan v Carlton @ Etihad Stadium – 102 last week and 113 on Carlton last year.
Sam Docherty v Geelong @ Etihad Stadium – Broke his run of 13 straight 100+ scores last week with 93 and had 102 on the Cats last year. Loves playing under the roof where he has scored 149, 130, 127 and 132 this year. Another big score coming if he doesn't get whacked in the head this week. Should be in my top 5, playing the Cats just pushed him out.
Jack Macrae v Essendon @ Etihad Stadium – Didn't play the Bombers last year but did have 102 and 129 when he did play them last. Averaging 106 in his last three and should easily be a top 3 forward at this pace.
Taylor Adams v Adelaide @ the MCG – 106 and 105 in his last two and 123 on the Crows last year. Could be anything. Very much a hit and miss week to week.
Connor Blakely v GWS @ SPO – #3 man ranked on form with an average of 133 in his last 3 with 114 last week.
David Zaharakis v Bulldogs @ Etihad Stadium – Averaging 114 in his last three games and scored 135 on the Dogs last year. Sneakily getting it done at the moment. Scoring huge in wins this year.
Steele Sidebottom v Adelaide @ the MCG – Tagged for 71 last week wasn't what coaches wanted to see from the forward. Was held to just 2 marks (second lowest for the year) and should bounce back against the Crows, a team he loves after previous scores of 110, 123, 107, 105 and 135. BANG!