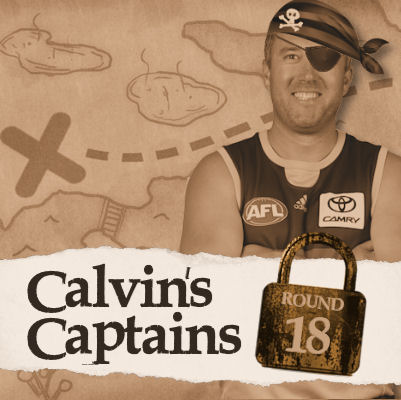 Yo team. Calvin here covering all your #AFLFantasy Captains and much more. https://t.co/gRWuDDAYAS

— Calvin (@CalvinDT) July 19, 2017
NOT WITH A 40 FOOT POLE
There are a few players this week I will not touch with a 40 foot pole and Patrick Dangerfield is one of them. Yes… he might be fine and carve it up like last week, but don't you think the Crows are planning for this extra time he'll sit forward?
Adelaide are not only one of the hardest teams to score against, but this one is at their home ground. It will be extra tough, despite the fact that Danger has scored 131, 118 and 129 against them since switching over to the Cats.
Many will ignore this advice on him this week, and that's fine… but he's a pass for me, even if he does get up after a 6 day break…. And after carrying on like a bloody pork chop.
What if he's named? Pffftthhh, don't care. Not in the top 5!
Dayne Zorko, or should we say "Mr. Cant-handle-a-tag" has been unbelievable with previous scores of 48, 181, 124 and 45. He has averaged 114 at the GABBA this year (including scores of 45 and 76) and must be tagged again by Carlton this week. Kerridge would be the front runner but to be honest, I don't think it matters because if someone stands next to him he'll struggle as much as Rory Sloane, who is just battling to play after being whacked last week.
Sloane was tagged by Scott Selwood to 92 back in round 11 and if they both play, expect this to definitely happen again.
THE BEST SMOKIES
I often get asked who are the best smokies each week, and I always answer anyone not called Mitchell or Dangerfield in my top 5.
But I've dug a little deeper for you here and have found a few names I like. Starting with Joel Selwood who had 117 on the Crows recently in round 11. They're his favourite team to score against averaging 112 over his career 14 games, where he has scored over 100+ on 12 occasions. An unbelievable record!
With Essendon scoring 7×100+ on the Saints last week, expect Josh P. Kennedy to be big at the SCG. He has scored 105, 118 and 134 in his last three against them and should dominate alongside Dan Hannebery who scored 112 last week. Yeah, that was his first ton in his last five, but in his last games on the Saints he has pumped them for scores of 159, 128 and 133.
Andrew Gaff loves playing under the Etihad roof where he has averaged 123 there this year (3 games) and against the Pies, he will be big. He scored 114 last week and last year against Collingwood he had 117 and 74.
Then last but not least, we have Tom Rockliff, who hasn't scored over 100 in his last six games. But his record on the Blues is piggy-sensational where he scored 174 and 184 last year, to average 150 against them in his last 5. If Rocky can't crack a ton this week I'll be so bloody shocked. Bounce back week right here before everyone trades him back in next week.
FEELING THE BLUES
In the final game of the round, the Lions will be feeling the Blues… in a big way.
Starting with Sam Docherty who scored 111 last week, which happened to be his lowest score since round 7, and not helped by 4 frees against though. Docherty could be something special here in the final game of the round but is he now getting 'too much midfield time'?
His time has increased in recent weeks and he still managed 9 marks last week, but this 'new role'  isn't too concerning for a guy who has averaged 133 in his last five this year. He only had 74 and 85 on the Lions last year, but that's old news and not anything I'm worried about.
Marc Murphy has now averaged 112 in his last 5 and although they're not Docherty-like numbers, he has been on fire in his own right. He too only scored 98 and 73 on the Lions last year but I'm ignoring that all day long and expecting him to be an easy 120+ here.
The best option here though, has to be Bryce Gibbs. Not only have Brisbane lost their two taggers (Robinson and Robertson) but Gibbs' season has been something quite amazing. He has only scored 113 and 117 in his last two… but late on Sunday afternoon, he has the potential to go 150+.
PIGGING IT UP
He's currently the only full-on functioning pig we have, so surely Tom Mitchell carves up the Dockers this week from Domain Stadium.
Tom is ranked at #2 on form in the last 3 weeks with scores of 147, 143 and 135. He played the Dockers at Domain Stadium last year for 105 and before that, he scored 104 against them. Those numbers aren't over the top awesome, but his form and now that he's a Hawk tend to suggest that he'll improve on those stats by 40+ points.
Last week, the Eagles had 4 players score over 110 against the Dockers and my only concern here is, who will tag Tom, or will they even bother? Connor Blakely used to be their tagger but he's turning into a jet himself and therefore it's very unlikely that Mitchell will be getting any attention whatsoever.
With a lowest score of 108 this year, this is an easy call for you this week.
JUST QUICKLY…
Brad Crouch v Geelong @ Adelaide Oval – averaging 117 in his last 3, scored 101 earlier this year when they met.
Josh Kelly v Richmond @ the MCG – 110 and 136 in his last two games, this kid is a star. Beams (95) topped scored for the Lions last week on the Tigers though, and if this was at SPO, I'd be looking at him as a top 5 option.
Taylor Adams v West Coast @ Etihad Stadium – 140 on the Eagles last year, but is only averaging 96 in his last 3… could be big with more responsibility in the middle on the back of Pendles' injury.
Connor Blakely v Hawthorn @ Domain Stadium – Ranked #4 on form after scores of 149 and 135. Will he be set a job this week on Tom Mitchell though? I don't think so, but if he does his score will plummet.
Luke Parker v St Kilda @ the SCG – 79 last week and 83 this year on the Saints. Who knows?
Nat Fyfe v Hawthorn @ Domain Stadium – 109 and 114 is solid Fyfe-form, but has failed to crack a ton in his last 4 against the Hawks. They're much easier at the moment so he should break that drought this week.
Mitch Duncan v Adelaide @ Adelaide Oval – 97 on Crows this year, the sixth time he failed to score a ton against them in as many games.
Jack Steven v Sydney @ the SCG – 100, 73, 120, 104 and 125 are his last 5 on the Swans, at the SCG though will be tough.
Zach Merrett v Kangaroos @ Etihad Stadium – Could be huge after scoring 143 on the Roos last year and coming off 144. Port had 6×100+ scores on the Roos last week, I still have a sour taste in my mouth after his 78 a few weeks back and willing to forgive him for this one.
Gary Ablett v Bulldogs @ Cazaly's Stadium – 152 last week and 119 on the Dogs when he played them last in 2015. Gaz is Gaz, and if he plays then lock him in but his body is reliable as a $2 watch at the moment.
Adam Treloar v West Coast @ Etihad Stadium – No Pendles mean that a tag from Hutchings could be coming his way after he went to Walters (70) last week. What might save him is the fact he's done nothing recently with scores of 101, 57 and 98.
Lachie Neale v Hawthorn @ Domain Stadium – 108 on the Hawks last year and running with good form of 110 in his last three.
Dusty Martin v GWS @ the MCG – 131 last week but I think this one is tougher. But Dusty disagrees as he has scored 122, 112 and 132 on the Giants in his last few. You just can't go against the most restrictive team in the game though… reluctantly passing on him here.
Steele Sidebottom v West Coast @ Etihad Stadium – A forward now and a highly targeted trade option. Averaging 115 in his last 5 and loves playing the Eagles who he has scored 6×100+ scores against in his last 7 games. You should be rewarded if you can get him in your team for this one.