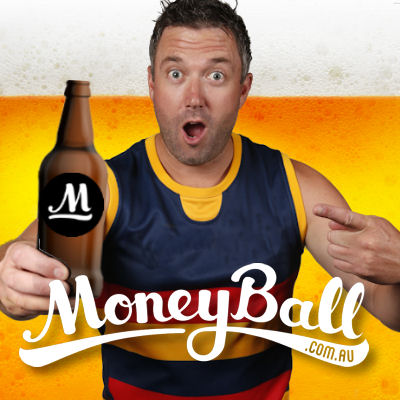 It's the big $5,000 with the winner taking $650 and it pays $34.18 right down to 89th
Kangaroos v Melbourne 1:45pm
GWS v Fremantle
Port Adelaide v St Kilda
Gold Coast v Richmond
Carlton v Geelong 7:25pm
There are some 'big names' kicking around today, but which ones will be so big that you will be walking away with a healthy purse?
I've been crunching the numbers all week and have it all covered for you in what promises to be a huge day of footy. Good luck team!
Sam Docherty (DEF, $11,600)
The "Etihad specialist" is worth every bit of coin today and you should be spending wisely to ensure this jet is in your team here.
He has played under the roof this year four time for scores of 149, 130, 127 and 132. Doch broke his run of 13 straight 100+ scores last week with a 93, but a whack to the scone was partly to blame. He scored 102 against the Cats last year but this one has the makings of a 130+.
Dawson Simpson (RUC, $4,300)
This unit has been in smashing form in the NEAFL this year and comes in for his first game as the main ruckman on the back of Mumford injuring his ankle. In the NEAFL he is averaging 113 from 13 games but during this time he has been monstering kids.
Up against the kid Darcy (Freo) this week, Dawson should score something respectable at the price we're paying, in a game the GWS will win by a truckload.
Nick Haynes (DEF, $6,800)
Ok… hear me out.
Defenders against the Dockers have been going off, taking easy marks across the back half and today. Shaw ($7,900) and Haynes get their chance. Haynes being cheaper will be the guy I run with, because last week in a new role, Gunston (132) had his second highest score for the year and the round before, Hurn (137) had a season high.
Haynes has the ability to score 100+ and has done a few times this year and I think that this one has triple figures written all over it.
Robbie Gray (MID, $10,800)
Many pieces of the puzzle line up for Robbie this week such as…
More mid time = their coach has already flagged this will happen on the back of Wingard being injured. He played MID last week for 101 and against the Saints, this is much easier.
Plays the Saints at home = One of the easiest teams to score on in recent weeks, if we can ignore what the Swans mustered up last week. St Kilda are one of those clubs who are starting to pack up shop, and with Port fighting for a top 4 finish (which I think they will get), Gray will need to be in the guts, clocking up big numbers.
Taylor Garner (FWD, $5,600)
Our boy Roy likes this kid and with a new move up to the wing, he has certainly learnt how to clock up some better scores.
129 and 86 are his most recent numbers and a move up the ground is very evident, especially as before that he was scoring 33, 77 and 40.
North have given up and therefore they are playing the kids and experimenting them in new roles. Hence, Garner's move towards to the middle. In Hobart today, he could score anything from 70-100 and at his price, he's worth having a crack at.
Josh Kelly (MID, $10,400)
I've talked him up all week to have 160 today and although that might be a slight exaggeration, maybe 155 isn't out of the picture.
Against Fremantle, he should be huge, especially as they have been the easiest team to score against over the last 3 weeks, conceding the most 120+ score during this time.
At home at SPO, Kelly is a beast. He averages 125 there this year and when you compare that to the 104 he averages in away games, the price you pay for him here is awesome.
This year already, Kelly has hit the heights of what I'm predicting today (162 and 159), supporting my case that it will happen again. He has averaged 115 in the last 3 weeks and I strongly believe, that if you want to be in the money today, then you need to base your team around this guy right here.
Freo + SPO + ceiling + form = Bloody huge score

Click here to subscribe on iTunes. Don't miss an episode of The Traders' TWO weekly podcasts.