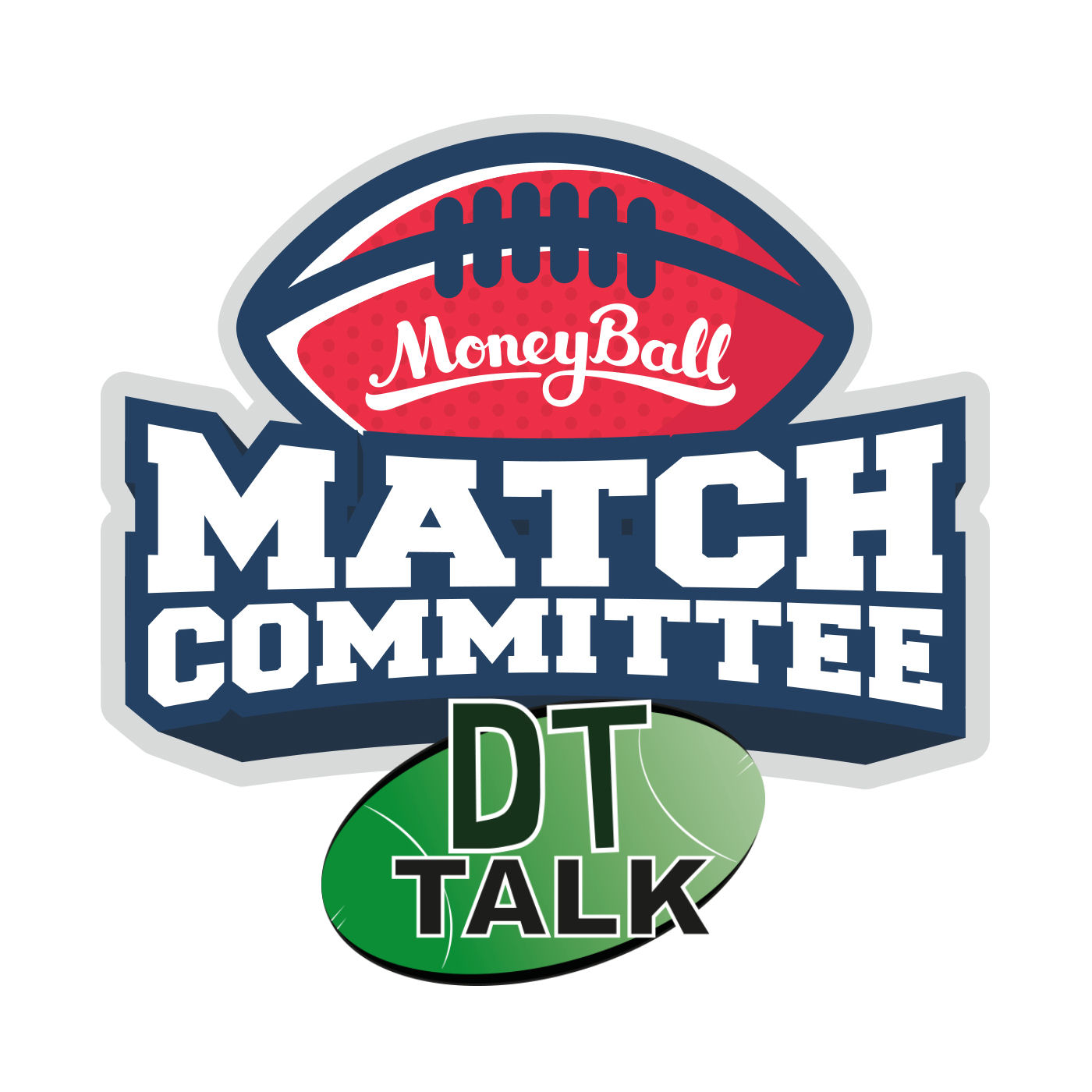 Tbetta here, and welcome to the self-proclaimed top resource for keen Aussie rules Moneyball punters! DFS (Daily Fantasy Sports) is taking off around the world and Moneyball have the perfect platform for you to turn your AFL Fantasy prowess into cold hard cash. Signing up is easy – head to moneyball.com.au and you could be ballin' within minutes.
If you're unsure how DFS works, be sure to head to the 'Help' section for all the info you need to start cashing in on your AFL Fantasy knowledge.
Click here to subscribe on iTunes.
Hawthorn vs Sydney
A couple of backline injuries has really resurrected the fantasy potential in a couple of Hawks and put them front and centre in Moneyball. Jack Gunston's ($7,300 FWD) evolution into a defender has seen his scores cop a huge boost, pumping out 98 and 132 over the part fortnight (the official Heat Maps back up the eye test, winning 81% of his possession in the back half last week, with 0 possessions in the F50). Like many of our strong DEF plays, Gunston's build that on the back of +6's, notching 8 marks in both those games. Jack's a defender now, and he's bloody good at it.
Like Gunston, a move back has sent James Sicily's ($6,400 FWD) scores soaring. Since Round 4, Sicily has averaged just 59 as a forward target (with only one score better than 76), compared to a juicy 88 as defender. In fact, from his five games as a backman, Sicily has failed to reach 85 just once. I love this pick.
It's fair to say that Josh P Kennedy ($9,500 MID) doesn't rate the Hawks for trading him away, because JPK goes straight into revenge mode whenever he gets the chance. He's now posted 14 straight scores with a lowest of 88 vs Hawthorn (average of 111 vs them in that stretch), giving them the middle digit in the best possible way – sinking them on the field. I can't see him struggling in his 200th milestone game, against the club that threw away a family dynasty at Hawthorn. Get on the revenge train with #TeamJPK!
If you're looking for fresh meat, Conor Glass ($3,800 DEF) is hard to pass up. Playing off the back flank, the Irishman was solid with 63 on debut and plenty of room to build on that.
North Melbourne vs Melbourne
Over his career, Majak Daw ($5,100 RU) has shown to be very capable as a solo ruckman, averaging 93 from his three games in that capacity. So, despite getting roasted by Brad Scott last week, his 97 AF was no fluke and you'd be excused for being wooed by those numbers this week… Except North brought in Preuss to one again cuck Daw and his scoring power. Unfortunately, Majak averages just 51 from his 28 career games as a back-up, only going over 85 once. Pass.
Braydon Preuss ($5,700 RU), on the other hand, is well and truly worth your hard-earned salary. He'll slot straight into a lead role, and we all remember the back-to-back 105's that he pumped out earlier this season. Bargain.
While we're talking Roos, it'd be rude of me to not give Taylor Garner ($5,600 FWD) his due respect for that scores of 86 and 129 that he's produced most recently. North doubling down on their rebuild this past fortnight (they played 7 players under 20 games experience last week) has seen Garner earn more time on the wing and his scores are rising because of it. I think he's worth gambling on his form continuing at that price.
With back-to-back 111's off half back, Jayden Hunt ($6,000 DEF) is another whose form warrants attention. Wagner out is a sneaky bonus for Hunt given that they play the exact same roles – and that shines through in the data, with Hunt averaging 18 points more per game when Wagner isn't in the side.
GWS vs Fremantle
Only Titch & Dangerfield have scored more fantasy points than Connor Blakely ($9,600 MID) in the past three weeks (135, 149 and 114) and I realise that I'm at risk of sounding like a broken record. But given that he's now top-scored for Freo in all of those efforts, how can you blame me? Interestingly, Blakely's been named in the midfield and Dockers bring back 3 or 4 defenders… Could he possibly take his game to another level with Walters' midfield time?
As for the rest of Freo… Well, they're struggling because they've easily conceded the most points to DEFs over the past 5 weeks. It's not quite up at "Brisbane Backline Rule" level but it's close. Over the last two weeks, they've conceded tons to backmen in Hurn (137), Duggan (124), Gunston (132), Sicily (104) and Henderson (103). What do all these blokes have in common? They all took 8-plus marks. The way they're structuring up forward means fantasy profit if you know where to look.
So who do we look at from GWS – the guys taking marks in the backline! Heath Shaw ($7,900 DEF) and Nick Haynes ($6,800 DEF) lead that stat for GWS this year and despite shaky form for that pair (and the team as a whole, losing 5 of their last 6), I'm expecting a bounce back game for them both. Adam Tomlinson ($5,700 DEF) averages 81 points when he gets to at least 7 marks this year (compared to just 52 when he doesn't), and I think he's great value here.
Port Adelaide vs St Kilda
Over the past 4 weeks, Patty Ryder ($8,700 RU) is  not only the highest-averaging ruckman at 112 per game, but he's registered the 2nd most hitouts while conceding the 3rd least points to opposition ruckmen. This week, he comes up against St Kilda who've concede 2nd most points to rucks all year. The stats don't like, and they're saying that Ryder is going to Ton Town this week.
Robbie Gray ($7,400 FWD) instantly becomes an option with Wingard injured and fresh off scoring 101 in full MID time. In fact, it was the first time this year that he's scored over 74 this year without kicking multiple goals. I needed to see a game like that – where he can score without kicking a bag – and I've seen enough to justify jumping back on Robbie as a DFS option.
For the Saints, Shane Savage ($7,200 DEF) was our value pick last week and he delivered again, bringing his resume up to date with 94, 106 and 103 in his past few outings. I suspect that he'll only improve with Montagna out, given that there's 25 touches per game that needs replacing.
Gold Coast vs Richmond
Brayden Fiorini ($7,900 MID) he's been a great value pick this year with Ablett, Hall, Barlow and Lyons all out at stages over the mid-season period, and he once again shapes up as a stop-gap midfield option this week. Personally, I'm expecting something like the totals of 109, 111 and 112 that he's whipped up over the last month of action. I've heard vague concerns about his scoring when Ablett suits up, but the stats don't back it up. Fiorini averages around 85 both with and without GAJ, and I'm hoping both coexist again on Saturday.
Everyone will be looking at Dusty Martin ($10,300, MID) from this game and rightly so – the Brownlow favourite's posted 137 and 140 against Gold Coast in his last two, including 6 Brownlow votes. He'll be awesome as usual.
However, I wouldn't be doing my job if I didn't point out that you can get Trent Cotchin ($8,900 MID) for $1.4k cheaper with his wicked record against the Suns. Cotch averages 120 against Gold Coast (with a low of 100) over his career, and his form (114, 109) warrants serious consideration either alongside or instead of the big name in Dusty.
Don't look now, but there's another Martin worth a look in this game – Jack Martin ($7,900 FWD), with his low score of 91 over the past 5 weeks. What's interesting is that he's actually scoring better as a deep forward rather than in the midfield rotation… I'm hesitant based on that, as I'm concerned Jack's scoring is more to do with bucketloads of talent rather than a fantasy-friendly role. Stay tuned.
Carlton vs Geelong
Short suggestion here, but Charlie Curnow ($6,900 FWD) is very good at footballing. In his last four games, three have been 95 or higher thanks to averaging 9 marks… As a forward! KPP's are history inconsistent but Charlie is wiggling his own scoring worm these days.
If you show you can bleed, you'll be targetted the next week and Bryce Gibbs' ($11,000 MID)' 37 last week with a Rocky tag makes him super vulnerable. It doesn't help that Carlton lost to the bottom team in the process! The big question is, will Geelong learn from their mistake in letting Sloane run free last week?
With their tails between their legs, surely they wise up and take the easy strategic win. With Blicavs injured, I expect Selwood to play a run-with job on Gibbs this week, and here's why: Before being tagged to just 8 disposals last week, Gibbs' lowest score this year was a 93. In fact, a trip to the archives reveals that Gibbs hadn't been held to a single-digit disposal game since 2007 – in his 15th career game.
Western Bulldogs vs Essendon
Before his move into the midfield, Toby McLean ($8,100 FWD) was averaging just 16 possessions outside the F50. That's jumped up to 21 per game since Round 14, when he was granted that unexpected role change. As a result, the pale Pup is averaging 103 in his last 5 (with a low of 88) and shapes as a another popular Moneyball pick this Sunday.
Shane Biggs ($6,900 DEF), on the other hand, hasn't had many suitors lately and it's easy to see why; scoring in the 70's for three straight weeks is mediocrity personified. Until last week that is, where he punched out a big 111 on the back of 27 touches and 10 marks. So i asked myself… Why? The injury to Dale Morris in the 2nd quarter makes for very interesting reading, so I'll just leave Biggs' scoring by quarter here for you to ponder:
Q1: 17
Q2: 21
Q3: 40
Q4: 32
Essendon are the hardest team to score ruck points against, while the Bulldogs (lead by Roughead) are ranked 5th easiest for the season. Picking Tom Bellchambers ($6,800 RU) is Moneyball 101, helped by averaging 87 over his last few.
Collingwood vs Adelaide
With Pendles out, I was looking to see who stepped into his midfield time and surprisingly, it was former Lion Jack Crisp ($8,200 MID). He's the definition of under the radar, producing a lowest score of 87 after moving to half back a month ago. Then in his first full-time midfield game, he notches a career-high 33 touches for 121. Surely Bucks rewards that with another game at the coalface and I'll be riding his fantasy rollercoaster in accordance.
The Cats got cute last week by not tagging Rory Sloane ($8,800 MID) from the start and it probably lost them the game before it even got going. The numbers stack up massively in the favour of sticking someone on him, given that he averages just 70 when being locked down. When you consider that he ticks over at a massive 130 per game and Adelaide are undefeated when he's allowed to run free, it's a no-brainer for the Pies. Greenwood will 100% tag him after holding Gaff to just 51 last week (his prev. low was 82).
West Coast vs Brisbane
This game is all about defenders are Sam Mayes ($7,700 DEF) leads the billing. In his past 7 games he's scored 93 or more on 5 occsasions, taking 59 marks (8.4 per game) in that stretch. That's ranked 2nd behind only Docherty! The Lions backline is gold for fantasy these days and Mayes had carved out a pretty little niche for himself.
In career 214 games, Shannon Hurn ($6,700 DEF) had only gone over 115 in just 4 of those matches, such is the type of role he plays for the Eagles. But, in games 215 & 216, he's scored 117 and 137 to completely contradict his past profile. I'm not sure whether the Eagles are structuring up differently at the moment, but Hurn has taken 24 marks over the past two weeks. Interesting.
Did you know that Alex Witherden ($5,700 MID) is the only Lion to score 80-plus in every game over the past month? Crazy numbers for a rookie. Witherden is consistent and still cheap enough that you're locking him in without a second thought.
Always remember to gamble responsibly. If you're having problems with your betting, you can get help at Lifeline or talk to someone at Gambling Help Online.