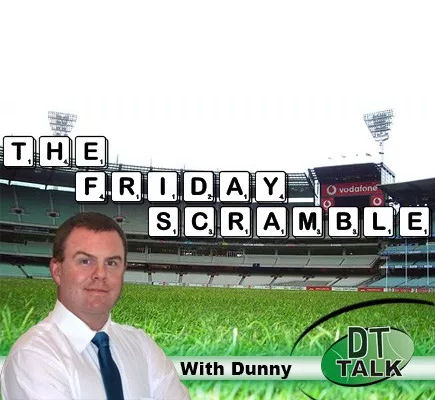 I warned you all to save some trades in Dreamteam and Supercoach didn't I? Well this week we certainly are going to need to use some. We are starting to see some carnage, long term injuries and some of our players are getting themselves suspended. Come on boys, we need you on the run home!!
This is now our last week before the finals so we have to make sure that we have everything ready to go, but what moves do we need to make? What the hell are we going to do?  Scramble!!

Click here to subscribe on iTunes. Don't miss an episode of The Traders' TWO weekly podcasts.
Dealing with it!
So we have lost a few players for the season at the moment.  And this doesn't help us at all.  Scott Pendlebury was going to be out for just the one week, but now he has had further surgery on that finger and will possibly miss the rest of the fantasy season, or at least a large portion of it. If you have him, I would certainly be trading him out.
Michael Walters  is out for the rest of the year with his PCL, so trade him out too. He may be more relevant to draft players, but no matter where you have him, he ain't going to help you.
We haven't had confirmation on Montagna's injury, but the way he looked after the game and the seriousness of his injury, I can't see him coming back this season at all.
Chad Wingard is out with an ankle, and looks likely to miss 2-4. On Twitter he said two, but I reckon it is more likely to be three. I would be very confidently trading him out. You can't afford to be without him for your first week of the finals.
Toby Greene just can't stop belting blokes. To be fair though, it was similar to other ones that were just issued with fines. But in the AFLs defence, he has a very bad record which didn't help. Now… what do we do with him? He is out for two weeks which means this week and the first week of the finals. In AFL Fantasy, you must trade him out. In RDT and SC it is going to come down to trades really.  But if you have 4 or more, I would be trading him. You can't afford to play week one of the finals (unless you have the double chance) with him sitting on the aluminium (no benches are made of pine anymore).
Dayne Zorko is out through suspension for just the one week. In AFL Fantasy I still trade him out. You should look to upgrade him if you can. But in RDT and SC I would be holding. The only situation where I would look at trading in those comps is if I am sitting 8 9 or 10 and I must win to make the finals, particularly if your game is against someone you are battling with to make the finals. Because, as I have said in the past, if you aren't in the finals you can't win them!!
I'm looking at you kid.
Many will consider Rory Sloane on the back of his big score last week. As a former owner, I wouldn't be touching him. Mainly because of the pain he has caused me this year, but, as Calvin mentioned in the Traders Podcast this week, we can expect to see Greenwood go to him this week and tag him. I still don't know why Scooter didn't tag him last week. If you look at him, just be careful.
Docherty has been on a lot of shopping lists, and if you brought him in last week you would have been a little annoyed. But if you do want to get him (and I would be looking at ways to do it if I didn't already have him) definitely wait one more week as he has some nice and high break evens across the formats and hence should drop nicely next week and you can pick him up for finals.
If you are looking to make some cash this week, obviously you have read Jeppa's Juniors. For my two cents worth Lewis Young is the man I am getting. In RDT and SC he is still bargain basement as he has only played the two games so far. He looks like he might be some reasonable bench cover and he will also make you plenty of cash on the downgrade.
Selection Table
As if the outs I have already mentioned above weren't enough, there were a few more thrown at us!
The Giants weren't finished when Toby was suspended, but then they hurt us with Mumford now out of the side this week with an Ankle injury. I am not sure if anyone has Stevie J but he is missing too.  On the plus side we saw Jeremy Cameron come back in and for those in draft (as I don't think anyone in the classic forms of the game would have held him) Stephen Coniglio returns. Their opponents, the Dockers have made a few changes, mostly at the bottom end with Nyhuis, Deluca and Spurr all out, but we regain Ryan, Cox and Grey in their place. That might help a few benches out.
Mummy wasn't the only big name out, there must be a Riewoldt family function somewhere because both Jack and Nick are out this week, Jack with an eye injury and Nick is being managed. This was always a worry with Nick, but I guess the good thing is that at least now he should be ok to go for the last 4 weeks of the season, Fantasy Finals.
We all thought a ruckman would come in for the Kangaroos, but not many thought it would be Preuss. If I had Goldy this would really worry me, but I did hear on one of the radio shows last weekend that he was also dealing with some personal issues outside of footy (they didn't disclose what it was, and neither should they), so this would also be a big factor in why he isn't playing senior footy, I hope all that gets resolved in a positive way for him and he is back playing soon.
The Great Man Gazza Ablett is back this week which is great, but if you were thinking of a sneaky trade in, just look at his recent record, he has only played 2 of his last 5 games, but in those two he did score 127 and 152, so it could be a worthwhile risk.
The last of the big news this week comes from the Eagles with Mitchell returning, but Priddis will miss with a quad injury.
We did see a great game out of Grundy so Bucks wants to put a stop to that, so he has brought Cox back in. But it is an extended bench so he may not make it still.
Over at the Crows Beech returns but we do lose Brad Crouch to a fractured Cheek bone, he was trying to suggest that he would play this week, so who knows if he returns next week or not.
Finals Time
Our last week of matches before finals start, So really it is do or die, particularly for those sitting just outside the top 8. This is where those that may be just outside the finals need to Go Hard or they will be Going Home! You don't want to be saving trades if you don't think you can win without trading. There are two strategies you can use here, the first is that you can negate their premiums by bringing in someone that they have. When you do this you are backing in the mid tier players in your team.
The other thing that you can do is to bring in a powerful unique to try and beat them that way. You could trade out a gun that your opponent has and then bring in another that they don't have. This is always a risky move as we never like to sideswap, but if you don't think you can make the finals any other way, you simply must go for it.
The other side of this coin is if you are locked into your  position and can't really move. Then you may not want to do much this week. You could look at holding your trades (in RDT and SC of course) and saving them for a few weeks time when we you need them. If you are going for overall rank you may not want to take this approach, but if you are just going for the league win, it can be a very smart move to save trades at this point.
Things To Remember
No Guts No Glory. As I just mentioned, you can't win it if you ain't in it. So get yourself into the finals at all costs.
Think about your trades. If you need to trade this week, make sure you check Cal's Scale of Hardness article. Also consider the effect the trade has on your team for the finals.
Those you trade out will go big! It is just  the way things happen. Trust me. I was the one that traded out Sloane last week for him to go big!
Don't panic, we have all been here before, we know that this is one of the most important weeks in the Fantasy Footy season. The set up before finals. One of our biggest competitors in the coming weeks will be General Soreness and his sidekick Managed. When bringing guys in, try and pick those that you think aren't likely to get a visit from either of these two blokes.
Best of luck to you all with your run to the finals, I hope you all make it to the top 8 this week and then next week we can start looking at Finals strategies!  Cheers @pkd73