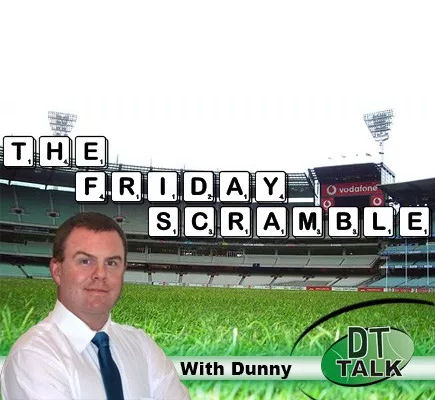 This is the part of the season that separates the chumps from the champs. It is where all of those saved up trades start to pay some dividends. There has been a lot of conjecture during the week about who would and who wouldn't play. Early in the week we heard that Pendles would be basically done for the season, then he was back next week. How the hell are we supposed to manage a Fantasy team? If the teams, players and doctors don't know if someone will play or not then how are we supposed to select a team!
Are they IN or are they OUT?
Well Pendles is at least out for this week. So that is one we know about. In AF, I trade here. But in SC and RDT you need to make a decision. When we had the first indication that he could be out for about 3-4 it was a fairly decision to trade him out. But now that we are hearing that he could be playing again next week you need to think about what happens next. If he does come back then there is a chance that he could be down a bit if he has to wear a glove that he isn't used to and he may be a little worried about it, so will he have the same level of output? Now that is one side of the coin, the other side is that we have seen players come back from an injury and go massive (remember Rocky's 180?). If I am in this position, I look at where I am sitting in terms of trades. If you have more than 7 or 8 then I would trade this week to keep a premium on field. And I see the best choice as Joel Selwood. You will make some cash on the trade and get points.

Click here to subscribe on iTunes.
Now we have the issue of both Rory Sloane and Patrick Dangerfield.  These two blokes have been named for this week, and I am tending to believe that Danger plays, I am not as sold on Rory though.  Nonetheless I would make sure that you all have two plans in place ready.  The great thing about these two is that they both play on Friday night so we will know before lockout whether or not they are playing. Personally I was hoping that Sloane was out so that I would have an excuse to trade him out given his poor scoring of late. If you were to trade Sloane out, you actually make money going to Jelwood and that is exactly where I would head if that was the case.  As for Danger, if he does miss I keep him. Once you trade a guy at his price you will find it bloody hard to get him back in again. Having said that, if he misses and you have nothing on the bench, take him to someone like Merrett or Mitchell, or an out and out gun. This would then leave you a bit of cash to upgrade someone else. That is the only circumstance that I would even consider trading him out.
Speaking of big names that are out. Gary Ablett is out once again with a Hamstring!  This makes it four weeks now that he will have missed after his round 9 bye. The difficult part of this is that he has been putting in some massive scores. In AF I am fairly confident in trading him out, this is just too much risk for me. In RDT and SC I am a little more on the fence. Once again it will come down to the number of trades that you have left and the composition of your midfield. Using RDT as a reference point, he is the 5th highest priced player, so you can pretty much get anyone you want for him. If I have 7 trades and no other issues this week in RDT or SC, I would probably move him on.  A controversial call, but you don't want him missing in a final or in a crucial game that causes you to miss finals.
It is situations like these above that we save our trades for. We know that it is going to happen at some stage during the finals and we need to make sure that we have sufficient trades to be able to deal with it, or if you are low on trades, you want to make sure that you have enough decent (read playing) guys on the bench that can actually give you a score.
Selection Table
Big News this week is that Goldy has been omitted. This is probably something we have seen coming for a week or two but most thought it wouldn't happen. Hopefully coaches still had Nank up forward to swing into his spot, others may look at moving him on. In RDT it is only $20k to go to Jacobs, if you need to trade that would be one to  look at. Lyons misses again for the Suns, this won't affect many classic forms of the game, but it will have an impact in Draft leagues as he has been a solid contributor in those games (right Benny Macca?).
Luke Ryan's omission will cause a few benches to look a bit thin this week, hopefully people have Witherden that they can swing down back to provide that bit of cover. The concerning thing is that he has been omitted. With 77, 88 and 72 in his last three it comes as a bit of a shock to me. UPDATE! Ryan was omitted due to breaking team rules, apparently he and Cox got on the cans. So he should be back next week.
On the rookies, last week's omission Shai Bolton is back in after kicking 5 in the VFL last week, but he is on the extended bench. We also see two new Giants this week in Setterfield and Cumming. 
Calvin's mate Yeo returns this week and those with Eagle's Karpany and McInnes on their benches still will be praying that they make the final cut.  But we won't be hoping that Cox does as he finds his way into the rear of the grid on the Pies extended bench.
Wholesale changes at the Blues, but nothing really of fantasy significance for us there.
Things to Remember
Check your AF league settings, They can be different and some of you may find yourselves in finals battles earlier than you think.
Start looking at the fixture of the players you want to trade in to see who they have in the run home and the fantasy finals. The best way to see this is to look at Cal's Scale of Hardness!
When trading in, don't just grab anyone, look at their likelihood of playing the majority of games to come, as you may (take that back, will) need the bench cover.
If you are just outside the 8 in the limited trade forms of the game, I say trade hard, you can't win the GF if you don't make the finals!!
Best of luck this week everyone, let's hope we don't have the volume or quality of late outs that we had last weekend! Remember to check final teams just after 5pm and then the final teams for tonights game to see if Danger and Sloane actually made the cut.  Cheers @pkd73