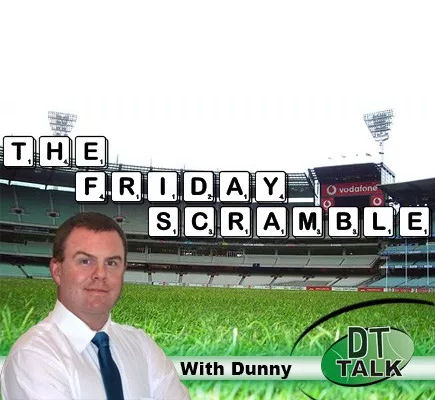 Great to see some huge scores last week. We had a few players go massive, but we also had a few players go missing! But we should come to expect that at this time of year. This is where we just hope and pray that it isn't our team that gets a visit from General Soreness. This week we are only a few weeks away from finals and our teams should be in pretty good shape, it is time to consolidate, hopefully! So let's jump in and have a look at what is going on in the Fantasy world this week.
Bargain Buy?
Many people are are all over Joel Selwood this week as he is very cheap, but in my opinion you should be waiting for one more week. He has a high BE in every form of the game, whilst he may get close, I don't think he will go over them, and if he does it won't be by much. In this year where we have to squeeze every dollar, I would wait for his price to hopefully drop one more week. His BE's are AF 131, RDT 130 and SC 165. If you do want to take him in AF and RDT just consider that he has scored 105, 85 and 76 in his last three games against Hawthorn. Based on that he probably won't make his BE. In SC things are similar, he hasn't been over 110 in his last three.
Gawn Good To Go?
Gawn was pretty heavily traded in last week, but he didn't really deliver. That doesn't mean we should be jumping off of the idea of getting him in. He was up against Kreuzer last week who is in great form. But that made me think about who he has coming up. Over the next few weeks he plays Jacobs, Ryder, Goldstein and Mumford. That is a tough run. After that he gets a bit of respite against the Saints, but then in the last two weeks of the year it is Stef and Grundy. So you would have to say he is going to have his work cut out for him. Having said that, he should be much better for the few games he has had, he hasn't had the match fitness.  But he will need it to get past these guys.
Selection Table
We get to see the General pay an early visit this round Jobe Watson has been rested. If you are running short on trades then you may want to hold him if you have someone like Greenwood on the bench still now that he is back. In AF, you could offload Jobe if you have the cash to get him to someone. Many owners would be relieved to see Greenwood return from his one week off. I know I am.
Scooter Selwood returns this week but we do see the back of Buzza and Guthrie. But the big returns are up at Metricon Stadium. Gaz, Hall, Hanley and Rischitelli are all back. With Ablett back this week we just have to pray that he doesn't have any relapses. That is just a risk that owners need to take. Sadly we have seen the back of Fiorini for now. This will hurt a number of draft players.
Rucking Rejoice! This week we see the omission of both Cox and Archie Smith. With these two blokes out we can only hope that Grundy and Stef return to some great form.  Grundy hasn't been terrible lately, but Stef has been ordinary with Archie in the side. Whilst I wouldn't advocate bringing Stef in to your side this week, I would certainly put him on your watch list. If he can perform this week then you may want to consider him on the run home.
Unsurprisingly Richmond have brought a heap of players in this week but the ones that we are mostly concerned with are Shai Bolton and Ivan Soldo. Many wouldn't have Soldo any more, but Bolton would still be on a number of benches. Similarly Brisbane have also through the team around a little with Barrett coming back in which is going to give some much needed bench cover for a few.
Over in the West there were a few notable changes with Deluca, Mundy, JJK and Redden back. In the last game of the round we already knew Cripps would be out, and other than that Boyd is out again, with an Achilles he could be an in and out for the rest of the year.
#AskDunny
Thoughts on Ward? 3/5 ave of 126/111. Can we ignore the 80 ave rds 1-9?

Or just get Zorko in, and damn the savings….

— David Furmark (@United399) July 13, 2017
Ward has been great in the last three rounds since his bye. The high risk about him is that he only scored one score over 100 during the first 12 rounds of the season. We may see a return to that level of scoring as the GWS get more and more of their players back from injury. I am always one for trying to find value and I think that you are probably buying Zorko at his high point, if you can pick up someone else cheaper who is likely to provide good scoring that would be where I would look. I am looking at RDT prices and in there you could look at Murphy, Seb Ross, Bont and Matt Crouch. Now they don't have the big upside that Zorko has, but they would save you $50k or so.
@pkd73 docerty and witherden or Adams and z jones #askdunny

— novak smith (@smittttthhhhh) July 13, 2017
I think that it is important to have Docherty in your side. He has been amazing recently and is a must have. Witherden seems to have reasonable job security at the moment. Adams hasn't been scoring as well as we would like with just one 100 in his last four and Jones has three 50s in the last 6 weeks. So for me, Docherty is the way to go.
Things To Remember
Hold trades in RDT and SC if you can. If you can have 4 or more for Finals that is what I see as ideal.
Don't jump early on guys with high BE's, there isn't much in the way of cash generation, so squeeze every dollar.
If you are going to miss finals, push and trade hard to get there.
Perth people, have a great time with  The Traders!
Good luck this week folks, only a few more weeks now til finals, so make sure you are ready for them. Whilst you need to conserve trades in RDT and SC, you should be making sure your team is ready for battle and trade if you have to. Me, I am not going to trade in SC or RDT, instead save a few trades and hopefully get Selwood in next week as he drops in price. Catch you all next week, @pkd73