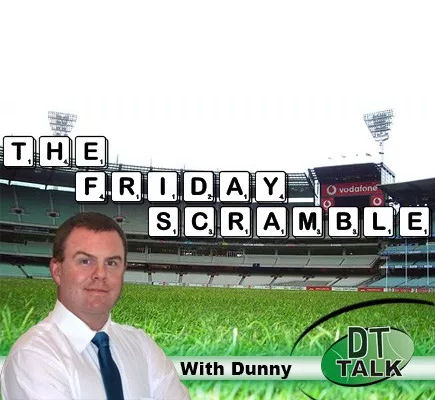 We find ourselves at round 16 already? Really? Well, that just means we should now be just tinkering around the edges because our teams are pretty much set and ready to go for finals.  But as usual, we need to be prepared for just about anything to happen.
We had some early outs this week and then we had selection last night, so it is time to scramble and get our teams ready for victory!
Time to Cut 'em Loose?
There are a few guys that some coaches have had in their teams for the whole year but are just sucking massively! Now if you are an AFL Fantasy player and have no issues in your team then you could start looking at simply strengthening it.  For those in Real Dreamteam or Supercoach where you have limited trades, if you have dodged all the terrible luck this year and have more than a dozen trades left then you could start to think about it too.  So let's have a look at a couple of these blokes.
Jason Johannisen – 1 100's and his only 100 came in round 1.
Someone needs to draw him a picture of a footy so he knows what it looks like at the moment, he is really struggling and he has dropped a lot of cash his year. Unfortunately his drop in price has meant he isn't worth a great deal and you may need some cash to get him to someone decent.  We normally don't like to sideways a premium, but really he hasn't been scoring like a premium. So no one would begrudge you if you do trade him out.
Rory Sloane – 7 100's and 4 games since his last 100
Sloaney is struggling with tags at the moment and lots of attention from opposition players. Once one team did this and took him out of the game, everyone has been doing it and hence he hasn't been scoring.  He has dropped from his starting price. He is a real worry for his owners and those that brought him in early on when he went on a great run.  With his price you could go to someone else, but he is someone that I consider a premium. I would be trying to hold him if you can. I think he could come good, he just needs a bit of support from his team-mates.
Toby Nankervis – 2 100's and 0 weeks since his last 100
Whilst Toby had a 100 last week against the Power, he has struggled a bit prior to that which has made people very nervous, including me. When you look at it and realise he has only had two 100's all year, he hasn't been a star this year, but he has had quite a few in the 90's.  Having said that, I don't plan to trade him out, I think he is worth keeping and you can just put him in at your F6 or even on your forward bench.  However, I don't like the plan of that much cash sitting on my bench.  He could be worth emergency loopholing in Supercoach if you are comfortable with that manoeuvre.
Time to Bring 'em In?
Alex Witherden and Sean Darcy  are the names on everyone's hit lists this week.  I have a couple of thoughts about these boys this week.
In AFL Fantasy, go your hardest!  Get these blokes in if you want to as you can always trade them out again.
If you are a limited trades player, then this gets a bit different.  In those circumstances I would ask you to really think long and hard about why you are bringing them in and what you realistically expect to get out of them.  With limited trades they have to be doing something for you all the time.  There are a couple of scenarios to consider.
Downgrade Cash.  If you need to make some quick cash from someone like Marchbank who is out this week then downgrading to Witherden would do that for you, you could also go Greenwood down to him.  With Darcy you could be trading out Preuss (although he is in this week)If this is why you are getting him in though, just be aware that you are trading out someone that has been fairly consistent and played quite a few games and could have been considered someone that you keep on your bench as cover for the rest of the year (although both Greenwood and Marchbank are out this week).  If you are confident that these two blokes are going to play the vast majority of games on the run home then go for it, this is a good plan.
Cash Generation. This is about where I draw the line. Unless you have been stashing trades all year you are probably into the single figures by now or this week will push you into them.  It is around this time of year we don't really have the luxury of trading someone in that we know we will be trading out again later on in the season, we simply don't have the trades to do it.  For example, if you have 9 trades left now, bring in Witherden and use Marchbank's dowgrade cash to upgrade someone else, you are then down to 7.  Then in a few weeks you want to cash in Witherden you are then down to 6 trades before you do an upgrade with those dollars and then you are at 5.  If you are ok with this, then go for it.  If you plan to keep him until finals, then that is probably ok, but just be ready that you may have other issues with the General or legit injuries/suspensions that you may need to use those trades on.
Bench Cover. If you are getting them in to ride the pine for the rest of the year in the hope they get games for the rest of the year then that is ok and you can use the cash you got from making that downgrade.
So there are just a few thoughts on this.  Personally if I get either of these blokes in this week in SC or RDT it is with a view that I will more than likely keep them for the rest of the season as I won't have the trades left to move them on.
Selection Table
When I started writing this week before teams dropped I was thinking it may be an easy Scramble this week, but hell no, the fantasy gods have struck us down this week with all levels of carnage at the selection table.  So here are my thoughts on a few of the bigger ins and outs.
Otten back in.  Don't trade him back in, he was struggling before, and I don't think that will really change.
Greenwood out.  This is just a rest for him, I fully expect him to be back in next week.  Hold.
Beech omitted. I was fairly sure that he wouldn't hold his spot.  Let's see how he goes in the SANFL (they are playing the Power reserves this week), but I don't think I would expect to see him back in a hurry.
Myers back in. If you held him then good on you, but I don't see big scores coming still, I wouldn't start him on field if you don't have to.
GAJ!!!  out again.  Hammy for the little master, this is now 3 out of 7 after his bye that he has missed.  He wasn't on the AFL Injury List on Tuesday, I really wish they would update these things a bit more often!  With little info on how bad it is, you may want to hold, but I wouldn't judge if you did trade him.
Jelwood returns, but if you are planning to get him I would wait a week or two as he will drop in price as that 2 cycles out of his price.  Sadly his brother Scooter isn't back yet for those that held.
Preuss has been named, but on the extended interchange, so don't get your hopes up there.
Sandi is out but we all knew that, he is cooked for the year, trading him to Gawn would be the smart move this week.
McCarthy is out suspended, but I doubt many of you still have him anyway.
Atley comes in for the Power and he has been lively in the 2's and was talked up pre-season by Kenny, could be a smokey in AF if you want to take a chance on him.
Marchbank is out with a shoulder that he hurt last week.  Once again, not on the bloody AFL Injury list.  No point having the bloody list if they aren't going to put players on it!
Warnie's mate Jay Kennedy-Harris is on the bench and just on the edge of the drop zone being listed 4th.  Just for podcast humor I hope he gets a game!
Things To Remember
It is that time of the year when we have to really think about our trades and this is oh so important in the limited trade forms of the game.
Don't trade for the sake of it, you may regret it.
If you are a league only player and entrenched in the top 4 then you may be able to ride out the carnage with a Fisher or someone like that on the ground if you don't really need the win.
Just a few thoughts for you this week everyone, I hope you all have a great round of Fantasy Footy as we start to head towards the pointy end of the season.  I must say it has snuck up on me this year and I can't believe we are only 4 weeks away from most Fantasy Finals starting!  Catch you all later.  @pkd73
SHOP NOW: Tom Mitchell beanie | Tom Rockliff beanie