The Friday Scramble: Round 15
Well wasn't that a fun week of fantasy. A couple of guys go down in the first minute, some players didn't even make the starting line and then some just failed all together! What is going on! A lot of Scrambling, that is what is going on.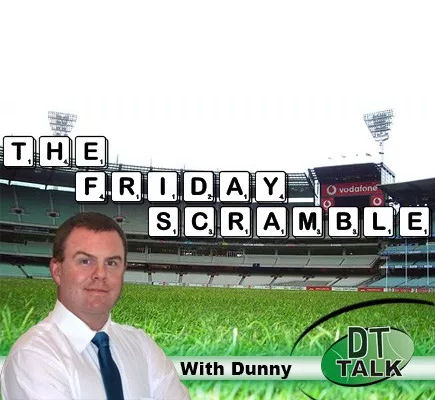 Well wasn't that a fun week of fantasy.  A couple of guys go down in the first minute, some players didn't even make the starting line and then some just failed all together!  What is going on! This is the time of the year that we need to exercise some patience and some thought to our teams.
What are your plans? What should we be thinking about now? Finals?  Are you in contention?
Oh, and no loop hole to worry about this week, so that could be good or bad depending on how you have been going with it.  I know it made my Thursday afternoon/night a bit easier without having to worry about getting my team sorted in the short time between getting home from work and the game starting.
Trade Plans
There are a couple of issues that we need to address this week.  Now I could look at each player that is out and look at trade ins for them, but really that will mean that I would need to know how much cash people have and which players they have.  So I am going to give some random thoughts here and see how we go.
The issue that you are going to have is that there is going to be carnage still to come this year as the General will start to make his visits to your team. So whatever you are doing you need to make sure that you are setting up your team ready for carnage.  This means that one of the things that I would be doing is being careful as to who you trade out of your team. Just consider what you are going to do for bench cover going forward.  You could try and trust one of the guys that you bring in now as a downgrade or you can stick with the guys that you know and have been using all along so far this year on your field.  So guys like a Marchbank, Newman, Greenwood or a Powell-Pepper.  These guys have been pretty reliable during the year and if you can afford to keep them it would be worth using them rather than taking a punt on a guy that has taken 15 weeks to get a game for his team.  The tough bit is that we have been planning to use these guys to generate cash.
Whilst I refer to the generation of cash, there will be a huge temptation for people to jump back on Max Gawn this week now that he has had a good first game back.  But just beware that he is still going to drop in value with his high break even.  This year playing the break even game is more important than any other.  We have been struggling this year to generate cash with not many great cash cows, and this means we have to squeeze every ounce of value out of every dollar we have.
Now, just a couple of thoughts on some of the big players out. Beamer simply isn't having the best of luck and with the news that he will be out for 3-4 he is a certain trade in all forms of the game.  As for who to take, look for value.  Bontempelli is probably one of the best value pickups this week.  In the next week or so Joel Selwood will become cheap thanks to his low score this week.
Tom Stewart has been good for us and many would have been considering keeping him as bench cover, unfortunately he is now out for an extended period of time and is a must trade.  If you still happen to have Tim Taranto he is basically gone for the rest of the season also so move him on.
One of the big questions we get at this stage of the season is, how many trades should you have left. This is going to obviously only apply to those in RDT and SC.  For me it isn't about how many you should have left, but when should you stop.  Let's face it, there is no point saving trades for the finals if you aren't going to make it.  So for me it is keep trading to get your team in good shape to ensure that you will make it to the finals. But if you get down to 6 or so trades left, then that is where I would stop about now.
Selection Table
Other than the changes above there were a few fantasy relevant issues this week.
The General has already claimed a victim this week with Priddis out with General Soreness, hopefully you have some backup for him. We also see that Petrevski-Seton is also out but his excuse is "managed", that is just another term for the General.
If poor scoring wasn't enough to get rid of Otten he has now been omitted, that should be more than enough to get rid of him.
On the positive side of the ledger, Ablett has returned.  I would still be concerned ongoing, but if you have him it is great that he is back. Similarly Josh Kelly is back too.
We finally see the return of Mitchell Hibberd for the Kangaroos.  So for those that have held him all this time we may finally get some return for our investment! Speaking of returns we get Oleg Markov back in, but Shai Bolton comes out of that side at the same time.  Scooter has finally succumbed to his Hammy injury a week later than we thought.
In the last game of the round we see Sandi and Fyfe named.  But just make sure you keep an eye on the final teams to make sure they both make it to the final team.  Similarly Jack Steele has also been named again for the Saints.
Click here to subscribe on iTunes.
#AskDunny
I didn't ask for questions this week, but I did get a good one that I thought I would answer here.
@pkd73 Lloyd,Macrae or Menegola best replacement for Nank? Thanks for any advice.

— Craig (@Subdubb) June 28, 2017
This is a good question, From what I can tell here you have Nank in the forward lines as you only have listed forward players there.  So you must have some guys in the ruck covering.  And you must have some DPP action going on aswell.  For me, the one that I go for is Lloyd.  This is because he has the better record this week.  He has only had one bad week and that was when he had the 2 point game.  With 8 scores of 100 or more he is a great option.  My next choice would be Macrae, he has hit some form lately and has 7 games over 100.  The main issue is that he is in a Bulldogs team that are struggling a bit.  Menegola is the worry.  With his last two being 65 and 124 I think he is a bit unreliable, but just remember that the Cats have three of the four weeks of finals at home at Skilled.
The other question is do you need to trade Nank?  If you have plenty of trades left then you can certainly do it, but in RDT and SC if you are under 10 I would probably consider seriously holding him for now, particularly if he is F6.
Things to Remember
Only a few weeks to finals, get your team in order.
Make sure you can get into the finals before you worry about having trades for the finals.
Think long and hard about sideswapping premiums at this stage of the season.  Unless they are out for 3+ weeks I would seriously consider holding.
Let's hope we aren't hit with so many late outs and other issues this weekend and we can just sit back and enjoy watching our teams score!  All the best and I will catch you all next Friday!  @pkd73