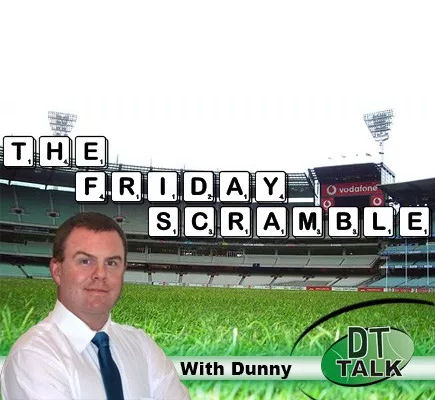 Thank god those bye rounds are behind us. Now we can concentrate on the rest of the season and getting us to the finals. Just because the byes are over it doesn't mean that things get easier. It is now that we start to see a bit more from our old mate General Soreness. This week also saw the last Thursday night game for the season. So that is the end of our Loophole options.
Finally we now need to hope that our rookies can hold their spots (we have already seen one miss last night) for the rest of the season to help us out.
Loophole Action – The Final Time
Well it is the last time this season that we had a chance to deploy the loophole.  How did it go for you?  Well here are the big names and how they went.
Tom Mitchell     117pts
Rory Sloane       89pts
Rory Laird          82pts
They were really the only ones that most would have been considering (except for one of my son's friends I know that probably straight up captained Luke Brown, but that is a story for a whole other day).  Now given that we have a regular round then our line is a lot higher than it would have been across the byes.  For me 125 was the line for last night because we have Danger playing against the Dockers at Skilled Stadium.  He should go absolutely nuts.  So based on that I wouldn't be taking any of those, but if you don't have Danger then you may want to take Mitchell's score.
Other players that if you VC'd you would look at would be Matt Crouch with 128pts and Hugh Greenwood with 122pts.  Now I doubt that you would have VC'd them.  Heck, you may have loopholed Greenwood on the bench, if you did, then do everything you can to get him on field.  For me that is hoping that Scooter doesn't make the final team.  If you by some fluke did put the VC on Crouch, then you could take that.
The difficult part about this week is that we don't have the players on a bye to use as our captain.  So just be careful when deploying the loophole.  The way I do it is that I generally pick at least one ruckman that is never going to play (and usually has dual position status) and they come on ground as my loophole captain when necessary.
Selection Table
Well last night would have been a relief for a few draft teams with the return of Grant Birchall and Luke Hodge but I an not sure they would be in too many salary cap game teams.
As for the remainder of the round we see a few players out that we were sort of aware of including Nathan Jones, Jared Polec, Lin Jong and maybe Scooter Selwood.  Scooter has been named on the extended interchange for Sunday, but personally I am suspecting he will drop out of the lineup tonight.  But the fact they named him means he may be close and it could be just the one week out for him.
Myers has succumbed to his poor form and given his scoring and BE, it is time to trade him.  Another rookie that is out is Scharenberg which would be a huge concern for those that brought him in during the byes.  We all thought he would be safe in the team, but given Reid and Goldsack came in for him his spot may be a tough one to get back.
Great to see Max Gawn back, but just hold on that trade finger.  His BE is huge in all forms of the game so give him a couple of weeks to get some touch and match fitness as well as having his price drop down a bit.  Someone else back is Horlin-Smith for those still with him and Cats Rookie Cunico comes back in too.
Other than that, nothing huge in selections.  Apart from the Tigers naming both Maric and Markov in the last two spots on the extended bench.  This does concern me a little as to whether Nank has a niggle we don't know about.  Hopefully it is just nothing.
Trading this week
Now that we are clear of the byes we can pick with no issues about players missing games (well at least knowingly).  So you can happily pick whoever you want.  The way that I will be targeting my players (in the limited trade forms of the game) is by playing the break even game. You may want to do this in AF as well, mainly because there simply aren't many rookies coming through and it has been hard to make money this season, so we need to squeeze as much out of each trade as we can.
#AskDunny
https://twitter.com/MCWRules/status/877466591931154432
This is a very odd question, can you not play both Treloar and Laird, or is this part of a trade discussion?  I will assume you trade to get here.  If that is the case I think I would go Sheed and Laird if you are struggling for trades as Sheed is more a long term option than Mountford.  Unfortunately of course Laird has already played, but I guess I answered this just to make the point that when looking at something like this I would consider the weaker player in the options and how good their job security and scoring is.
https://twitter.com/fluk3yy/status/877466061850820612
I will be reserving my trades until late this afternoon when I know for sure if he is playing or not.  If you don't have the chance to wait or can't make your trades after final teams are named, then I think I wouldn't risk it (if you need him or someone on field).  I personally don't think he will make the cut.
https://twitter.com/AidanTheaker/status/877725074496700416
I like that move.  If you are ok and can afford to have $0 left in the bank then I think it is a good move to make, you will get some great scoring from Zach and you haven't hurt your team.  I assume you are using some DPP action to bring in a $150k ruck.  If your team is looking good and you are able to generate cash elsewhere next week then I would probably do that trade.
Things To Remember
If you are reversing trades, just triple check your team afterwards. Make sure you don't leave any stars on the bench, this is when it is most likely to happen.
Last week this year that our trades are sticky today. So just beware.
Don't trade in a donut just to get Greenwood's score, you need to be playing the long game.
Great to see some great projected scores this week, hopefully those projections come off and we get some great scores.  All the best to you in our run through to finals.  Hopefully you can get up to the top four.  Now is the time to start planning for the end of the fantasy season as it will come up on us quicker than the byes did!  Cheers @pkd73