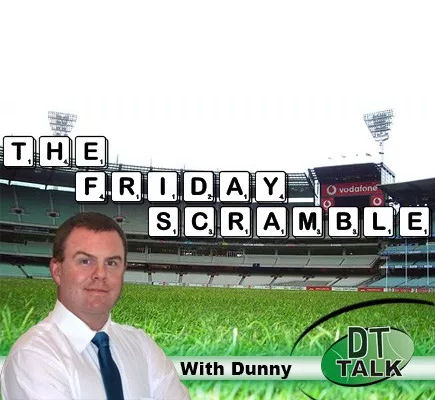 Round 13, here we are.  And if your team is looking anything like mine this week it is up that infamous creek without a paddle.  This is one of the toughest ones of them all.  We all knew that but we still didn't heed our own warnings.  Hopefully you have enough out there to get your 18 players on field to avoid a donut.  That is our focus this week, particularly in RDT and SC where league games don't stop over the bye period.
Once again we have some issues to deal with and there will be some forced trades, hopefully they fit into your pre-planned trade strategy.  Oh, and once again we had a Thursday night game so it meant another loop hole!
Loophole….. again!!
Well yet again we had a Thursday Night game, and this week we had some realistic options as loophole players.  So, how did these blokes go?
Danger       116
Jelwood      48 Ouch!
Duncan      100
Gaff             106
Mitchell     117
Yeo               98
Shuey         110
There are a couple that I would take there, I would take Dangerfield and Mitchell if I had the VC on them.  You could consider Shuey at 110 if you don't have any of the other big names still to go around for the rest of the weekend.  Gaff and Duncan would be tough to take, particularly if you have Rocky still to come.  Whilst Danger's 116 isn't massive, it is points in the bank, and last week many took the punt on Rocky and he let us down.  Not saying he will do that this week, but at least we know exactly what Danger has.
If you are a Supercoach player, then have zero hesitation in taking Danger's score of 141.  You may have gone Yeo in SC as well and his 117 would be very tempting to take (I have Danger as VC there and by early in the last my C was already on Laird).  Anyone that had over the 115 could be seriously considered in Supercoach (and there were a few with Sheed, Mitchell and Duncan), but I would be surprised if too many people went anyone other than Danger.
As for what score we would take this week?  Make sure you check out the DTTalk Facebook page tonight at 5:30 for Calvin Live and he will let us know what the line is.  However, if you have already decided that you aren't going to take your VC, then the obvious one to take is Rocky in the Sat Twilight game against the Power at Adelaide Oval.  However, as Calvin told us, he doesn't score too well against Port normally.  Dusty loves playing at the G and against Sydney, so he would be a great option too.
While we are talking last night's game I am sure there were plenty of coaches going the face palm when we saw that Scooter Selwood was done for the night in the third with a Hammy.  With his history of injury this is a real concern.  However, don't panic just yet, they do have a nice long break til their next game, with a bit of luck he will only miss the one, but like I have said, I am no doctor, just a hopeful Scooter owner!
Trade Decisions
I am sure that like me, you had all of your trades planned out for this week.  Obviously we had to put a bit of faith in the selections to get us over the line.  And the first of the let downs this week was the news that Ed Vickers-Willis would be out for about 6 weeks.  So based on that, trade him straight out.  You want to bring in someone that you are prepared to keep for the rest of the year though.  We know that we wouldn't have EVW on the field after this round, so if they are a bench sitter that is ok.
If you didn't trade out Sandi last week, well you now find yourself in a bit of a dilemma, we don't know for sure that he will be back after the bye.  My gut feel is that even if he is, you could go to someone that is likely to do better than him for the rest of the year.    But the big issue at Freo is Fyfe.  There are many people that are keeping and an equal amount that are looking to trade him out.  For me, I don't like trading out premiums, but really, he hasn't been scoring like one.  In my teams I am taking a mixed approach.  In one format I am trading him out as I can then use his cash to upgrade two other players, but in another format I will be keeping him as I have other issues/players to trade out.  So for me it is very circumstance driven on how your team is looking.
With your trades, you should be looking ahead still.  Have a look at what your team on field will look like in round 14 and make sure you are happy with it.  Particularly take note of how many premiums you will have in each line.  You may have extra ones in just to cover the byes, if this is the case, you don't want to get to R14 and have rookies on the field in one line when you have a premium (or really good scorer) on the bench in another line.  So you may need to sacrifice some points this week to make sure your structure is good.
Also now you need to start considering the strength of schedule.  Not many weeks left in the season and some teams will have a better run home than others.  There will be some articles on this topic up on DTTalk over the coming weeks as we close in on finals.
Selection Table
A fairly lean night at the selection table this week, and that really didn't help us. I know I was hoping for a first gamer to come in this week but unfortunately Declan Mountford was going to have to do the job.  Would have been nice if Mitch Hibberd had come in, but alas he didn't.
The Saints had a bit of action and the big name out was Jack Steele who has been omitted.  This is a massive concern for us in a week that we are already struggling for players.  Not sure how long he will be out, but that is a real issue for his owners.  Riewoldt came back in from a couple of weeks off which certainly should have seen him recover.
Over at the Power we see Pittard dropped which is a bit of a shock, but it does mean that Houston comes back in for those teams that still have him.  I don't think Pittard will be out for too long, I would hold him if you can.
The Dogs have made a stack of changes this week with Matty Boyd out which is a real blow for those that have him.  We know that he has a propensity to miss games, we just didn't want him to do this during a bye round!  I have heard Tim English's name around the traps but change that thought as he is out.  Good to see Libba back along with Tom Boyd.
If you see an orange light next to Dahlhaus don't stress.  He is listed first on the extended bench and there is no indication that he will miss.
Things to Remember
When planning your trades this week, look ahead and see what your team will look like in R14.
Don't compromise your whole structure just to get some points on field.
Don't worry, we are all struggling this week.
If you are an AF league player, enjoy your last week off before hostilities begin again next week.  Hopefully your team is well placed for the run home.  After this week there are only 10 rounds left and it is now that we also need to start really looking at strength of schedule.  Also start to look at who your players have in the finals.  All the best for this round and I will see you next week!  @pkd73