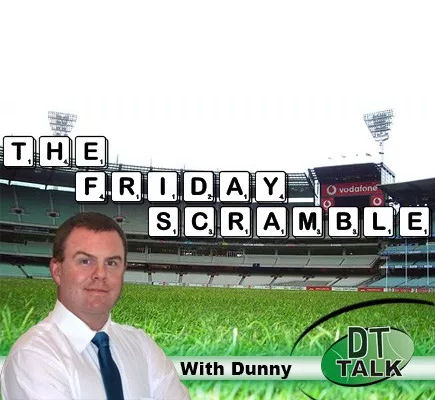 Halfway through the byes and we are on what is supposed to be the easiest of the three weeks.  For most of us we should be able to field between 20-22 players on field.  Hopefully you are in the same boat. This means we have a few things we can do this week to start to prepare for next week's round 13 bye which is looming to be the most destructive of them all.
Before we get that far though we had another Loophole opportunity last night with Sydney and the Dogs playing.  So….  let's go Loopholing…
Loopholin along…..
Another week another Thursday night game.  When I heard about the weather in Sydney on Wednesday and Thursday I didn't think there would be anyone that would have gotten enough points for us.  But anyway, I, like many of you, gave the loop hole a go.  We had a few options last night and this is how they went.
The Bont                  97
Buddy Franklin    101
Hannebery             105
JPK                            112
Parker                      108
None of those players are enough to pick this week to take the captain score.  The only other bigger scores were Lloyd with 122, Heeney 113 and Macrae 105, and really you probably wouldn't take any of these, Lloyd would be the only one you would consider.  This week, Calvin has set his line at 130 points.  There are quite a few options on the weekend that should score better than this.  No-one bigger than the Pig himself, Rocky.  So whatever you do, just make sure you are clear on how to use the Loophole, if you don't understand it then go back and read Calvin's Captains from Wednesday where he explains it in detail.
Time To Trade
With round 11 behind us we can now start to look at making some serious upgrades.  All of the guys that have had their bye are now fair game and should be the first ones to be considered when you are upgrading.  Some of the clear choices are Docherty, Buddy, Macrae, Dahlhaus, Zorko, Murphy and oh there is one other guy… Rocky.  If you are planning to upgrade to one of these guys (clearly you had to do Buddy, Macrae and Dahlhaus before last nights game), then the best option is to make it from a guy on round 12 or 13 byes.  I know this sounds obvious but if you are trading from another round 11 player you aren't really helping yourself in the byes.
Now, having said all that above, the problem we have is that there aren't many downgrade options at the moment.  The two main ones on the bubble are both Hawks who have the round 13 bye.  Willsmore and Cousins are the two we are referring to.  Now, if you are planning to downgrade to one of these guys, it needs to be Cousins since Willsmore has been dropped, just make sure you know what you are doing in round 13.  Not saying it isn't a valid play, but just make sure you have a plan.  I have looked at some scenarios which would see me bring Cousins in, and what I am trying to do there is trade another R13 player to him so I am not losing a player at least.
My biggest piece of advice in trading this week is, don't just plan this week's trades, plan next weeks at the same time.  Then, write down what players you will have in your side once the byes are finished.  Just see what you have and are you happy.  Look at how many trades you have left and how many other spots you will need to upgrade still.  This will allow you to make a more informed decision about your trades.  The other thing to do is to look at break-evens.  For example I wanted to get Heeney in SC this week, but his BE was up in the high 130's so I didn't, I gave him another week off as I didn't think he would get it (he did get bloody close though).  Similarly Bontempelli has a big BE in all forms and hence I left him for another week.  What I am trying to do there is maximise value for money, With cash at a premium this year we need to squeeze as much value out of each trade as we can.  I know things happen which will make it hard to fulfil that plan, but at least you will have an idea to where you are heading.
Selection Table
Really not much this week for us.  We already knew early in the week that Sandilands would be missing, and that was the last straw for me, had to trade him out.  The other one we had the heads up on, and would have hurt those that planned for using the R9 bye with Harbrow out after getting caught having a little drink before driving.  Jonno Beech finally arrives for Adelaide after being upgraded a few weeks ago.  He comes in, but remember he has a bye next week.
Up at Gold Coast we also see rookie Brodie miss out, but for those that read Jeppa the other day he wasn't a big fan anyway.  Willsmore has been dropped which is a worry, but probably not totally unexpected.  The PIG – Rockliff is back as we expected and will have the C on him in a lot of teams.  Wingard returns for the Power with Stanton out in that game, but surely no one has him.
Mason Cox finds himself back on the last spot on the extended bench, let's hope he stays there for Grundy's sake.  Whilst we are on that topic, Archie Smith kept his spot which hurts the Stef owners out there which is a worry as many would have been planning to bring him in after his R11 bye (I was certainly planning to do that ).
Things To Remember
Do I need to remind you again this week about sticky trades?  Probably not.
Trade with R13 in mind.  It is going to be a tough week, so just make sure you are ready for it.
Collingwood and Melbourne final teams won't be known until Saturday afternoon, which is after lockout for RDT and AF.
Plan all your trades as far in advance as you can.
Good luck in what is considered the easiest of the three major bye rounds.  But just beware that looming on the horizon is the horror round 13 bye.  No league games in most AF leagues and draft leagues doesn't mean you should just not look at your teams.  Keep working on them and getting yourself set up for the second half of the season.  Cheers @pkd73