The Friday Scramble: Round 11
Another partial lockout version of the Scramble… oh and we're into the bye rounds.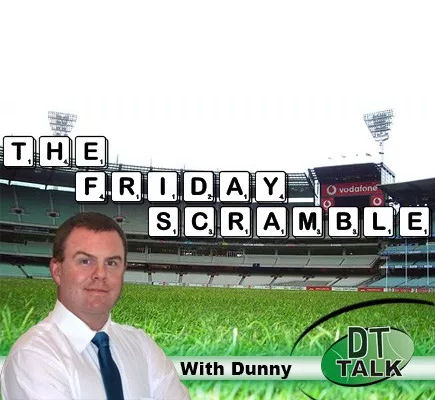 We promised you they were coming and now they are here.  The byes!  So, you now get your first proper look at what your round 11 side will look like and what you need to do.  We will have a look at some of the strategies you may want to employ shortly as well as some other rookie and trading discussions.  But first…. This week we had another loop hole game, so let's see how we all went.
Loopholin v2.
Last night was the second of our run of Thursday night games which means we can loophole.  This week the concept of loopholing is a lot easier.  Reason being that you will have some players on byes that you can captain and you probably won't have much bench cover which you need to worry about getting the E on the right person.
So who did we VC last night?
Pig #3  Titchell         118 points.  Calvin did tell us to take anything over 115 and as per the tweet from Pearcy below, A pig in the hand is worth two in the bush.
Robbie Gray               38 points.  A stinker from Robbie this week.  yuck!
Brad Ebert                142 points.  Well done if you VC'd him in his 200th game.  He had a ripper including 12 tackles.
Charlie Dixon           128 points.  No trouble with the timeclock this week for Charlie as he slotted 4 goals (should have been 5, the other one was a sitter).  But take that if you VC'd him.
If you listened to the Traders Podcast from Monday then you would have heard Calvin suggest that the line this week is 115, down from our regular line of 125.  This is mostly because our options are limited because of the bye rounds.  If you didn't VC the right guy or want more points, then check out Calvin's Captains from Wednesday and pick one from there.
Bench Loopholing isn't as much of an option given we are hard up for bench players, but if you did have enough and did it with either Cousins or Willsmore with their 62's, then take them to the bank.
As the saying goes 'a pig in the hand is worth two in the bush'.

— Josh (@pearcey47) June 1, 2017
Bye Strategy
So this is the first week of our byes and we have three trades in every format of the game.  Now there will be a sudden urge to use all these trades.  Now whilst that isn't the worst thing (hell I encourage it in AF), you need to work through how you are going to do this.
Option 1.  Triple Downgrade.  If you don't have much cash in the bank you may want to do some downgrading to build yourself up a Warnechest so that you can go to the giftshop after round 11 and stock up.  Just remember that if you downgrade to a rookie this week (that isn't a Sun or Power player) they will still miss a game at some stage during the next three weeks.
One type of rookie that I would be looking to move on this week is one that isn't playing at all this week, like a Mitchell Hibberd or Brett Eddy.  Now they haven't really made us any money (or any in some cases) but they aren't playing at all.  So bringing in someone that is going to play two of the next three weeks is a bonus for you.  It does burn a trade, but really, these guys are dead wood.  You should be looking to bring someone in that you think is going to play regularly for the rest of the year as you can then move them to your bench and they can be your bench cover.
Option 2. Keep Upgrading.  You may want to just keep on doing your downgrades and upgrades.  This is fine, but you just need to keep an eye on your bye structure to make sure you aren't compromising yourself.  If you are going to do this, have your structures set for the next three weeks.  The one thing that you can do with this is look at upgrading to other players on their R11 bye.  You aren't going to lose anything if you are upgrading a rookie like Marchbank or Barrett who is already on a bye this week anyway.  This means that you know you will have them for the following two weeks.  But the other option is that you could go to a R12 bye player as you probably already have heaps of players that week anyway.
@WarnieDT @CalvinDT @RoyDT @pkd73 Is it worth trading Dahlhaus to Yeo this week (to field 18) and trading him back when Roughead has bye?

— Matt (@MattCLH) May 30, 2017
This is a question that often gets raised around this time of the season.  Now the answer is different depending on the game you are playing of course.  In AFL Fantasy this isn't as risky and it can be done given you have two (or three) trades per week.  In SC and RDT it is a not something I would like to do.  The reason being your trades are valuable and you can't afford to use them like this.  On top of that there is always the risk of other things happening and you not being able to afford to get your chosen player back into your side or there could be a few other injuries that you need to deal with.  So if you want to play this card you need to tread with care.
Don't just trade for the now.
Now just because it is the bye period and we have to get enough players on the field, this doesn't mean you should compromise your team structure.  Don't go trading in players that you aren't happy carrying through to the end of the season.  There are a lot of people that are looking at players like Pittard and Hall this week just because they have already had their bye.  Unless these are players that you have always planned on bringing in at this time of year, then you may want to just pause before hitting that trade button.  Once you hit it then you might just regret it later on.
How many trades should I have left?
In the limited trade forms of the game this is often a question we get.  Once we get through the byes you should be looking to have enough trades left so that you can deal with most of the issues you are likely to face in the coming weeks to the end of the season.  I like to get through the byes with a 'completed' team and about 7 or 8 trades left as a minimum.
Selection Table
For a change it was a fairly quiet night at the selection table.  We did see Geelong youngster Cunico miss out this week omitted as Cockatoo comes back into the side.  Interesting to see Bews out, it says Ankle, but my sources tell me he is still hanging on to Robbie Gray from last week and followed him all the way to Adelaide (just joking people).  Great to see Ablett back, that would help all of his owners who got him in for the byes.  But we also see young Sun Scheer miss out.  Not sure many were considering him, but I know his name has been thrown around a little bit.  Big names back for the Eagles with Lecras, Shuey and Mackenzie all returning.
Warnie must have said something to Woosha this week because his boy Stanton is back.  But the bad news at the Bombers is that Parish is out with a calf.  It says to be confirmed on the injury list, you may want to trade him out as his BE is 71 RDT and 67 AF and his average is only 79.
Dan Butler returns for the Tigers to fill in for those that held him.  Interestingly Shai Bolton held his spot and it was Todd Elton that was omitted.  This should see Bolton traded in to quite a few teams today I think.
Much of the interest though is around the last game of the round with Sandi back to rescue a lot of teams, but importantly the Dockers have named Luke Ryan in their side and we have been waiting for him.  Jeppa likes him and reckons he should be good, so definitely consider him if he survives the cut late today.  He is named last on the extended interchange, so don't get your hopes up too high.  On the Collingwood side of that game, an ugly name has reared its head again and that is Mason Cox.  As if having Archie Smith hurt Stef's score last week wasn't bad enough.  Enough with this Yank Bucks, just let Grundy do his thing solo.
Things To Remember
SC and RDT Trades are sticky.  You can't reverse trades in those forms of the game today, so be careful!
Don't just trade for the now.  Particularly in the limited trade forms of the game.
Think about the next three weeks with every trade you make.  Have a plan for multiple scenarios.
Particularly take notice of R13 when trading this week, as that could be just as ugly as round 11.
Best of luck this round everyone, we all know it will be a tough one, so just make sure you can get 18 players on the field and go from there!  This is often a way that you can jump up the rankings quickly as not everyone will be as prepared as you are.  Catch you all next week in the not so tough R12 bye.  Cheers  @pkd73.
SHOP NOW: Tom Mitchell beanie | Tom Rockliff beanie