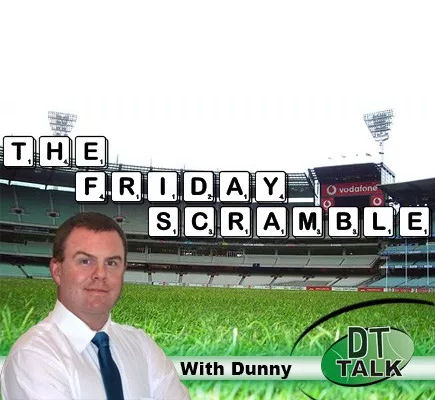 I think I say this every year just at the round before the byes, and that is, this isn't supposed to be a bye round, but it is certainly shaping up to be one with more than one fantasy relevant player out, by my count there are three at this stage.  We will look at that as well as what we need to do for the bye rounds and also have a bit of a chat about the Thursday night game stretch we are in, one of which was last night of course.
So, let's get to it.
Loopholin
So with our run of Thursday Night games we can do some Captain Loopholing.  NOTE: This is a manoeuvre that should only be made by experienced coaches (well, at least work out how it goes before doing it).  Remember to do this you must have someone that is not playing on your bench that you can bring on your field as captain.  It is usually safest to do this in your ruck line as you are less likely to need a bench player there for a late withdrawal as there are only two on field.
So, did you do a loophole last night?
The ones that people may have considered were….
Danger  125DT 163SC – Take these scores to the bank.  125 is our mark, so take it.
Jelwood  122DT 134SC – DT this is really on the borderline, but you could do it if you have nothing else.  SC, Take it.
Gray 73DT  104DT – No
Duncan  109DT  99SC – No
Ebert  90DT  97SC – No
Boak  58DT  61SC – No way
Polec is the only other player you would consider, but I will be shocked if anyone took him as VC.
We normally look at a score like 120 to take one of these as your captain, but when we are seeing massive scores like 170+ from our newest Pig in the Pen, Titchell, you may want to risk it for a few more.  Personally I am nervous at 120, but anything over 125 I usually consider a lock.
The Fifth? Bye Round.
Well last week was a mini bye round with Power and Suns players missing, but this week we have our regular pre-bye round problems.  Let's have a look at these blokes that are really annoying us this week.
Sandilands is out for just one week, hopefully, with his sore hammy.  Now if it is just the one week, then we can survive because most of us have Nank or Ryder up forward and we can hopefully swing them into the ruck.  He has his Bye in round 13, so we really need him to come back in round 11 for Bye cover.  So my verdict: HOLD.  After Round 11, though, if you don't have Stef, you should look at making that trade.
Wingard, what a hassle this injury is!  You held him through the Power Bye in round 9, but now it looks like he will be out for both Round 10 and Round 11 with this calf injury.  This is really annoying for us as you would have been planning on him being in your side for all three weeks of the bye.  He has been playing mostly midfield this year.  I think your move here would depend on the comp and your bye situation.  In AF I think you can safely trade him.  Given the 3 trades and no cap then go for it.  However, in SC and RDT you may want to hold.  It really depends on how your structure is.  If you can't get anyone decent in to cover you for round 11, then you could consider trading him, but if you don't have many trades left you should hold.
Hampton has the last bye of the lot in round 13, so the fact that he is going to be missing would have stuffed up the plans of many coaches.  His BE was terrible, but some may have held simply for bye cover in round 11.  Given we know he is out for probably 3 but at least two, then you should be definitely trading him out at this stage.
Ablett is out with his shoulder.  We all kind of expected that this would happen at some point this season.  It is just a shame that it happens this week.  At this stage it looks like he will miss just this week, so you may want to hold him so that he is there for you over the bye period.
Selection Table
Nick Riewoldt misses this week with a knee injury, this is a concern, hopefully this is just the one week and he returns for the byes.  In that same game we see Cloke missing, many thought this might happen given his game last week.
Alex Neal-Bullen returns which will make a lot of people happy!  Similarly David Swallow is back for the Suns, it is anyones guess as to how long he is back for.  The good news at Adelaide is not only that Jenkins is back, but more importantly Greenwood has held his spot, so in AF, grab him, but in RDT or SC you do have one more week.  I need him this week to cover some non playing guys so I have to jump early on him.
Speaking of rookies, Scharenberg is in for the Pies finally.  In AF you may want to look at him.  Sadly for Grundy owners, Mason Cox is back in the Sunday squad, we know what he does to Brodie's scoring.  Similarly, we see in that game that Archie Smith has been named for the Lions.  I am sure we will all be hoping that those two blokes miss out!  Oh, and Tom Cutler comes back in for those DT Shiva fans.
I think most pundits knew that Fraser McInnes would miss out (although I heard one podcast that suggested he was the rookie to select this week.  They will remain nameless).  Sadly Kurt Mutimer has also been dropped.  But on the plus side for rookies, we see Braydon Preuss get in the squad again, but I am doubting he will make the cut.  If he does, then this may save you if you are a Sandi owner.
#AskDunny
@pkd73 Not enough cash for Ablett, but I can get Duncan, Hall or Barlow? Also considering Walters to generate cash through the byes. ?

— Craig (@Subdubb) May 23, 2017
Well, not a bad thing that you can't get Ablett, won't be a case of What If now will it!  Now, I apologise that it is after the Geelong game as Duncan would have been a good choice.  I think I would possibly go Barlow as he has been producing and should score well as has no Ablett taking possessions.  Walters is an interesting one.  I would normally say no, but his form has been great and you could use him as a stepping stone.
Looking to upgrade but only have 500k but has to have a rd 12 bye and defense or forward

— Liam Turner (@tur19526083) May 25, 2017
Well your requirement of a R12 bye makes it tough.  Down back you could have gone Mackie but if you didn't then Houli is probably your next best, but really I don't like any of those options.  Up Forward, well you have JJK or Jack Riewoldt, and really I don't like those two either.  So, you may just want to downgrade, or look for another option for upgrading to a different bye round player.  Sorry I couldn't help.
Things To Remember
Remember that Trades in RDT and SC will stick today, NO reverse trades available in those games today.
Set yourself up for next week.  Make sure you are ready for the byes.
Your Rookies will miss games during the byes, it is inevitable, be prepared, have a plan A, B and C.
Get ready for carnage and I am sure there will be some late outs and other trouble.  Just stay calm and ride with it.  There will be plenty of us in this boat, if you can plan ahead you will be in a good place, just try and plan your trades and moves right through the bye period and then just adjust as things happen each week.  Catch you all next week for our first bye round!  @pkd73
SHOP NOW: Tom Mitchell beanie | Tom Rockliff beanie