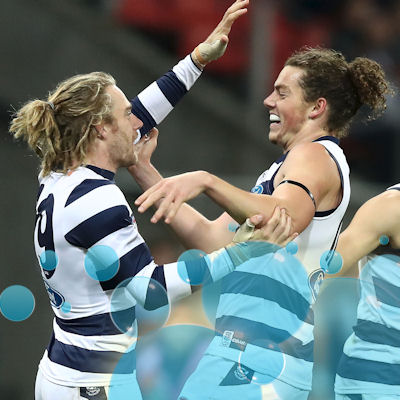 And we're back… We go again. I'm not really sure if it was a good Fantasy week or not anymore, it's hard to tell when you don't own any good players. I'll stick with the shorter format just for this week as quite honestly, I haven't spent enough time researching to provide anything truly informative. But that's not what we're here for anyway, right? It's time for some more stress relief as we charge towards finals, it's time for the weekend wash-up!
Wrap-Up
The Round started with Melbourne and Sydney, and Thomas Bugg got things off to a flyer. He has been sent straight to the tribunal for that shocking punch on Mills (1). Sadly without (m)any good bloke references he could be facing up to 4 weeks out if the jury is feeling particularly harsh. Luke Parker (148) remembered he was actually a gun footballer, I could tell from this score alone Round 15 was going to be kinder to me than others. He's cheap and worth looking at (with caution). Newman (116) has averaged 101 since I traded him out of my side for $305,000. Good times. Viney (64) can't stay out on the park, Vince (69) wasn't the answer, and Lewis (52) is arguably the draft burn of the season. I don't blame you for thinking twice as to who Lewis is, I did it myself. Hannebery (51) lost $52,000 and now has a BE of 159. He used to be a gun clearance midfielder, but this season is Dan's lowest averages for contested possessions, clearances and disposals since 2012. I don't know why he has now become a full time winger, another Longmire victim.
The Eagles won in Melbourne, proving anything can happen this season. Andrew Gaff (130) brought his own footy again, he has been a resounding success this year averaging 109. Sheed (102) is a Fantasy jet, breakout complete. Yeo (78) continues to be used as a swingman, which baffles me. He's so good rebounding off half back, just let him settle down. With no Dangerfield or Bontempelli to run with next week hopefully he's freed up. I'm guessing nobody had seriously considered Karpany (95) before this week, that was a shock! Expect 50's. Sadly the Doggies have forgotten how to play Fantasy footy, I wonder if they know they're still allowed to switch the play? Macrae (98) fought hard late, Dahlhaus (81) didn't. Wallis (58) is still rusty and Johannisen (51) is still basking in his norm smith glory. Somebody forgot to deliver a package.
Gibbs (160). Bryce bloody Gibbs, that is all. He has a 3 round average of 153 and a 5 round average of 142, those are 'pigesque' numbers. Coming into the prime of his career aged 28, we really should have seen the scope for further improvement. An average of 120 though? Incredible. Docherty (132) is also priced at $723,000, Carlton fans should be absolutely killing it this season. His 5 round average is 136, those are mind numbing numbers. It just doesn't look right, is this Dane Swan or Sam Docherty? His 54 points in 10 minutes during the first term had half the country erect and the rest permanently dysfunctional. Part man part machine. Kreuzer (122) in comparison is averaging a lazy 123 points over the past 5 rounds. Hang on… SOMEONE CALL ASADA! Something doesn't add up at Carlton. Murphy (130) finally decided to join in on the act, it was a nice change to see one of my Blues actually perform. Adelaide may have won the game in the end but we know who the real winners were. Laird (76) certainly wasn't one, he has averaged 53 points less than Docherty over the past month. He's averaging 100 and I'm not happy, it's a new standard these days. Sadly Marchbank (44) is past his used by date and continues to bleed cash. He has to go.

Click here to subscribe on iTunes.
Gary Ablett (127) dominated in his 300th as you'd expect, he's now averaging 119 this season and is owned by 10% of coaches. Do not scratch your eyes, the best player of this century is nearly averaging 120 and the majority of us don't own him. Insanity. It turns out Lynch (117) had been struggling with a back problem the previous 2 weeks. Well why the hell didn't anyone mention that BEFORE. These AFL coaches really don't think about the pain we go through, so selfish. Lyons (133) is becoming an elite midfielder, I'd happily call this a breakout game. I don't think he's going to look back, gun. North Melbourne were playing so there's bound to be some losers, and boy am I glad to have Mitchell Hibberd (43) back in my side 3 weeks after trading him out. I'd make a pretty safe bet that he will be straight back to D8 and not playing within the next fortnight. It's his destiny. Pearce Hanley (26) didn't play the 2nd half and is going to be a make or break midpricer next season. I don't know if I could ever do it.
Dangerfield (142) is in superhuman mode, carrying a 6 round average of over 134. I can actually enjoy watching Geelong this season which is a nice change from 2016. Menegola (113) is a gun midfielder, which perfectly explains why Champion Data granted him forward status. You just have to sit back and laugh, then make sure you get him into your team. Whitfield (123) laid 8 tackles which is probably more than Gaff has laid in his whole career, so that might have been a bad comparison last week. Black (66) returned, and it wasn't hard to see why he had been dropped in the first place. Zach Tuohy (64) continues to confuse, while another Zach was added to the crew. It wasn't a great week for the Z's all round, with Guthrie (37) managing just 13 touches and no tackles on debut. Old mate Lloyd (51) came in as a late inclusion, and you wouldn't have known it unless the commentators mentioned the late out during the game. I've seen solar powered flashlights with more use than this guy.
Who else picked up Kane Lambert (147) off the free agents list recently? Honestly thank god for my draft team this season, it keeps me going every weekend. As far as Lambert is concerned I haven't got a clue what's going on, but I'm not complaining. Yet. They might as well skip all the formalities on Brownlow night, it's going to be a miracle if anyone even gets close to Dangerfield or Martin (131). He probably clocked up another 3 votes this week, he's unstoppable. Ellis (109) seems to be back to his best, however I can't bring myself to watch the Tigers so I can't really help you here. Wingard (141) is still a superstar, he seems to have become a forgotten man over the past couple of years. You wouldn't know which Gray I was talking about if I didn't add an initial. R.Gray (59) has lost the plot completely, and so has Ken Hinkley. He's a jet, just put him in the guts. Please. Ebert (72) has a three round average of just 77, and let me tell you it's as satisying as I could have ever imagined. Justice is being served.
A month ago this battle would have been shaped up as The Master vs The Apprentice. Sadly Merrett (78) and Rockliff (90) can't dig a deep enough hole after this performance. I'm at a loss as to what has happened to Rocky, but Zach's score was even more of a surprise. To make things sweeter, I had him captain in every single Fantasy format you could imagine. There goes that whole 'good weekend' idea. Zorko (124) bounced back but it's still not enough given that insipid display last week. Witherden (96) is looking like a must have and given I still need to play a defensive rookie I'm not going to say no! Martin (74) keeps toying with my emotions, I can tell you already he'll sneak a ton next week to tempt me into holding him. At least Archie Smith (36) had a corking game…………. Brisbane won so sadly I doubt anything will change. Jake Barrett (30) is a crab. God I'm fickle.
Mitchell (135) is the only performing Fantasy Pig in the land, so captaincy should be a no brainer. Hell, he's averaging 129 and hasn't gone below 108 all season. We shouldn't even consider anyone else. Hopefully Buckley enjoyed both of his final quarter goals. Other than Tom this was a pretty average Fantasy game. Treloar (98) was ok. Sidebottom (100) was ok. Adams (95) was ok. Grundy (95) was ok. Pendlebury (90) was OK. I'm bored, can we move on? I guess I should mention McEvoy (68) has been hit with a reality check lately, and about time too.
Fremantle and St Kilda finished off the round in style with another cracking game. It's lucky the footy is so good otherwise I seriously wouldn't know what to do with myself. I'd probably even watch a game of Rugby… Nevermind. Steele (119) had as many tackles as he did kicks, handballs and marks combined. Do we consider getting him back in? If it's a choice between him and Walters, I formally abstain. Speaking of Michael… I'll hold fire. The biggest Fantasy talking point of the weekend came when Sandilands (15) broke down again. Step up Sean Darcy (114). He finds the footy, he dominates hitouts, and he tackles. Tick, tick, tick! Surely a must have this week, and I'm considering upgrading Goldstein to him this week. I made a similar move earlier in the season and that worked out ok didn't it? Oh wait, my ruckman got injured for 26 and I had to upgrade him to Mumford. Not so great. On a positive note, this couldn't go any worse! Amongst the rest of the rabble, Steven (63) continues to spiral downwards. Is he underpriced next season, or just a dud? I can't see any good excuses for this score. Nathan Brown (10) might have become the first Fantasy player in history to fall to basement price while playing. Did Presti or Dawson ever manage that feat? Brown failed to reach his breakeven of 28, falling 18 short. He averages 27 points per game, I'm almost tempted to applaud that effort. I might bring him in just to see what happens. Lastly Nick Riewoldt (54) copped some criticism for what some called 'unsportsmanlike' behaviour. Whatever the hell that means. Who cares? I for one thought it was bloody genius. Of course if it was the Eagles and not Freo I'd be absolutely fuming. Get over it. Take what you can, give nothing back. What he should be given criticism for is the sudden refusal for him to ever leave the forward 50. Not pretty.
It's Nominations time, and I actually have a player to vote for this week…
Parker – Bingo! Parks dominated with 38 disposals (19 contested) including 9 clearances and a goal. About time.
Docherty – Doch could nearly win a stubby every week to be perfectly honest. Another 26 beautiful uncontested disposals and 132 points this week.
Gibbs – It's rare that a player wins two stubbies in three weeks, but Gibbs is a chance (if anyone owns him). He only had 30 disposals, but also added 15 tackles. Massive!
Walters – There was some good ones to choose from, but this was probably the best individual effort of the weekend. 32 disposals and 6 goals, not a bad day out.
Dangerfield – Just the lazy 45 disposals for Danger this week including 25 contested and 13 clearances. Ok we're not playing supercoach and caring about that fancy stuff, but he's a jet!
So, who gets your vote?
This Game Sh*ts Me
What you're about to see is intended for mature audiences only. It contains coarse language, betrayal and sexual references.
The Fantasy Gods have bent me over and gone in raw. I'm feeling insecure and frankly I may never trust anyone ever again. I trusted you Tom.
Walters had just scored 38 and 59, was playing up forward and looked like he'd first picked up a football 2 months ago. Rocky was returning from the bye well rested and ready to go into Pig mode. $288,000 I paid for this upgrade. Two-Hundred and Eighty-Eight thousand. I'm going to call 000 and report a robbery because that is a disgrace.
This stat gets me every time. Ready yourself. Since I made this trade, Walters has outscored Rockliff. By 23 points to be precise… That's pretty ugly you say, but not the end of the world. Oh really? HE HAD HIS BYE. MICHAEL WALTERS HAD A WEEK OFF AND HAS STILL OUTSCORED TOM ROCKLIFF. Not to mention the losses I took from captaining Rocky twice. This has to go down as the biggest trade loss in the history of AFL Fantasy, and it involved me upgrading Michael Walters to arguably the best Fantasy scorer of all time. And you try to tell me my team isn't cursed… I'm done. This game sh*ts me.
The Other Bits and Pieces
Anyway…… 2168. I should have had a seriously good week, but of course my team sucks and I have 3 rookies playing. They contributed 117 points. Sean Darcy nearly managed that by himself. I'm basically playing with 20 men so considering that, I'll take it. I'm in a couple of cash leagues so I have to throw overall ranking out the window and try to recover my team for finals. Witherden and Darcy are in, next week is going to be even worse for me. Until then.
SHOP NOW: Tom Mitchell beanie | Tom Rockliff beanie