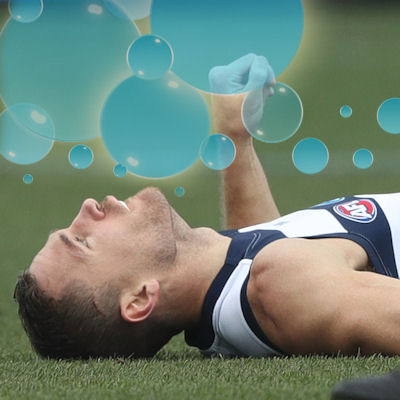 Having studied Economics and Finance for reasons still unknown to myself, I had to learn about such fascinations as compound interest. Basically, the bank will pay you interest for the original amount and the interest you have already received. Well now I'm going to create a new term. Compound Fantasy Weekly Suffering and Crippling Depression. You don't just suffer that initial fall, you drop further and further behind in overall points every week. Here's an example. I scored 2110 this week. That's absolutely pathetic. Anyone in the top 2000 would be in tears at that score. Well I moved up in the rankings. I used to wonder how people managed to rank so low, well now I know. The pain just compounds. Hey, at least the footy was amazing!!! I didn't really pay much attention to Fantasy scores this weekend so it's only a brief rant in a new format, it surprises me there's one at all. Let's have some fun, it's time for the weekend wash-up!
Wrap-Up
How can it be that we were genuinely getting better scores in Rounds 1-3 than Round 14. All logic is being defied, and it's mainly due to our faltering premos. A few blokes did stand up however. Can we all give a standing ovation to Hugh Greenwood (122), because that is the kind of effort I expect to see players worth an extra $300,000 give. He was outstanding, and it was all from just 68% TOG. That's going to mean he will dish up some poor scores, but with a ceiling this high he has to be in line for an F6 spot until finals time. Sadly the other rooks weren't as successful, with Beech (48) struggling and Otten (33) auditioning for Australia's got no talent. Matt Crouch (128) paid back his owners, but averaging just 103 he has a way to go.
Isaac Heeney (122) continues to make a mockery of his starting price tag, what a mid-season pick up he has been. I wasn't sure if he could be a top 6 forward but that looks laughable now, lock. Jake Lloyd (116) is ripe for the picking, his actual average is around 105. In other news Brendan Goddard is an idiot, Dyson Heppell went missing, and Luke Parker made it to triple figures.
Treloar (122) proved why he was such a value pick last week. At quarter time I thought he was going to do me dirty yet again, but a huge recovery saw him maintain his 5 round average of 118. Top 8 mid lock. Sidey (124) continues to be an absolute gun, yet is still owned by just 2.5% of coaches. I'm going to request 22 midfield slots next season. Port Adelaide didn't crack a ton. Shittard returned and was still shit.
A quarter of the GWS team scored 110+ and had a day out against Brisbane, sadly none of them are actually relevant. Of course my pick of the lot Josh Kelly managed to INJURE HIMSELF WHILE ON A BREAK. You'd think they would rest up, not hurt themselves at training. Lachie Whitfield (103) continues to impress, he's Gaff 2.0. Greene (117) is a tease, Stefan Martin (104) played 1 quarter, and Rocky is still not sure whether he wants to be a pig or not. When you scroll down the scores in this game it will be like walking into no mans land. How does Zorko (45) handle a tag? About as well as Richmond handle a close game. 5 DISPOSALS. FIVE. It's lucky he made 9 tackles, it was 80% of his score. Beams (5) is made of more glass than a greenhouse. Daniel Rich was a number 7 draft pick. Jake Barrett (39) was outscored by Archie Smith. Daniel Lloyd (46) proves that the NEAFL stat collectors use a random number generator. Finally, it is absolutely bloody hilarious not owning Heath Shaw (29). 22% of coaches do, about 1% of them are active.
The Bulldogs actually decided to score some Fantasy points this week. It seems a long time ago since they were the most Fantasy friendly team. Macrae (137) and Bontempelli (134) both dominated thanks to 10 tackles each. Great to see Macrae prove his worth, sadly Dahlhaus continues to forget he has feet. Tom Campbell morphed into Max Gawn for the day. Johannisen (64) continues to suffer from Norm Smith disease. Majak Daw is hurting Goldy's scoring because Brad Scott wants to laugh at me. Mountford (44) played…..
My boy Dom Sheed (96) looked on track for another monster score before running out of gas again in the final term. He isn't quite there yet but trust me, he'll be an uber premium in the next couple of years. He tackles well, finds the footy and knows how to kick a snag. Definitely got a great Fantasy game about him. Luke Shuey (70) faltered for the first time, I'd be jumping overboard. Michael Hibberd (78) has regressed as a footballer since I traded him in, so no surprises there. Sorry fellow owners. Drew Petrie lead the scoring in this one so I'll leave it there.
Dangerfield (134) continues to get on the roids down at Kardinia Park, or whatever the hell it's called these days. Mark Blicavs (126) had 22 hitouts and 9 tackles and is one to keep en eye on. Menegola (124) made up somewhat for last weeks disgrace, while Michael Walters (122) continues to prove that my Fantasy team is genuinely cursed. However Fremantle still choked an un-loseable game and Walters missed a sitter to snatch it, so who's the real winner here? Joel Selwood (2) surprisingly didn't come back from the dead after this head knock, it was only a matter of time before one got him. I still own Tom Stewart (49) so when he was on 49 points midway through the second term, he had his eye socket fractured. My apologies go out to him, his family and friends.
Apparently Richmond and Carlton played at the MCG. Glad I missed it. Docherty (126) looked on target for 200 again but didn't play fully fit 2nd half. Brandon Ellis (89) suffered from a disability in the last quarter. Trent Cotchin (70) doesn't want to ruin the 2012 references. Toby Nankervis (61) is finally playing like Toby Nankervis, pity it's 13 weeks too late. Marchbank's time is up. Also credit where it's due I've held Pickett (26) on my bench all year and he finally came back this week. What a win. Shame he LOST ME CASH…. The following GIF was genuinely me when I checked his score.
St Kilda and Gold Coast also played, and we can put this game into the Fantasy bin. Coaches now have a reason to drop Hanley (75). Newnes (97) couldn't decide whether he wanted to be a Fantasy hero so he just decided to play 2 quarters. David Swallow (62) is still going to be cheap next year, for all the wrong reasons. Sadly Tom Lynch will never kick an AFL goal again now that I've traded him in. What a promosing career gone to waste.
Lastly Will Schofield got given 2 weeks for what can only be described as one of the most cowardly acts I have ever seen. If he did that on the streets he'd be lucky to escape without a swear word heading his way. You just can't do that and I hope he has learnt his lesson. Anybody who really feels the need to argue between AFL and soccer can put their claws away, all sportsmen act to get their way and that's just how it is. Move on.
I obviously don't own any of these players and clearly I have no idea who to vote for, so I'll just let you guys take the wheel. Here are your nominees for this week, get voting!
Who gets your vote?
This Game Sh*ts Me
You know what I don't even care anymore. I've got a good draft team and boy it was a hard 3 weeks without them playing. So it's not the low scores, the lack of effort, the lack of ability or the lack of respect my players give me that I take offence to this week. It's the lack of clarity clubs give regarding injuries. Is Josh Kelly seriously injured? Is it minor? How did it even happen?! Did Scott Selwood even damage his hamstring at all? Why do we only get told this week that Fyfe was battling an injury the whole time. He could have been given the boot weeks if not months ago! If a player is injured just tell us, and explain it. It's not rocket science. Of course by the time I found out Josh Kelly was going to miss I already had Aaron Hall out, Beech was locked in and I had to play Jarrod Pickett on my field. Pickett's 26 was on my ground instead of a $660,000 premium midfielder. This game sh*ts me.
The Other Bits and Pieces
So what am I doing this week? Not a bloody clue. Probably enjoying the next few days before my players are back out on the park. My team has more holes than a Swiss cheese so I'll probably just pick someone stupid and hope for the best. As always good luck next week, and feel free to release that rage in the comments. I'm always listening.