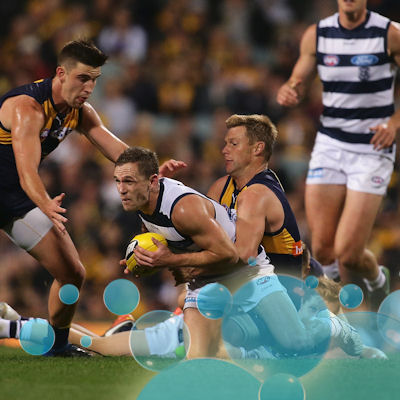 I sit down to write this article tonight on the back of my worst Fantasy score EVER (Seriously you'll have a good laugh) while I watch the Socceroos get battered. If this article represents anything like my state of mind then you should be in for some entertainment. It's time for the weekend wash-up…..
Legends
Sheed (112) – Who was laughing? I'm pretty much a Fantasy genius. Sheed was in my line of sight before his forward addition at Round 12, and he dominated on Thursday night. If it wasn't for spending the final 20 minutes on the bench it could have been more! Dom does spend the majority of the time on a forward flank so there will be some low scores, I'd say he's on the expensive side after his latest price rise. Next season, look out!
L.Jetta (76) – With this performance Lewis Jetta has put the Eagles ahead in 'the trade'. He now leads Callum Sinclair one good game to zero. It's clearly not Fantasy relevant at all but that's how light on we are for legends this week.
Newman (112) – What's that? There's a tear in my eye? Must be the onions. Leave. Me. Alone. This pain never goes away, Newman was a season maker or breaker!
Heeney (109) – You could say that Heeney was a better option than Jack Steele for $60k less a couple of months ago… Another gun added onto my list of idiotic trade calls this season. Legend!
Wines (119) – Captain hindsight is having a personal best season in 2017. Remember when there wasn't any value Port or Gold Coast players coming off there bye? Ollie Wines says hi. He had a temporary blip but 100's are the norm for Ollie now, gun.
Zorko (157) – Imagine having the chance to bring in a Brisbane midfielder 2 weeks ago and not picking Zorko. He's a dead set champion and still criminally underrated by most AFL pundits. If they play AFL Fantasy however, you've known him for years. What a machine.
Gibbs (194) – WOW. Like BOY OH BOY WOWEE HOW ABOUT THAT wow. How was it even possible to get that Round 11 midfielder wrong?! Gibbs is now averaging 118 and carries a 5 round average of 137. He hasn't dropped below 93 all season. Just amazing stats, yet he only ranks as the 7th best player this season. What a crazy year. Anyway… He scored 194 Fantasy points thanks to 43 disposals, 8 marks and 10 tackles. Doesn't get much better than that. LEGEND!
Docherty (143) – OK, I get it Doch. Alright?! Could you please just, slow down? Another alternative would be for an opposition coach to think "Oh hey, Carlton are playing pretty good footy at the moment. Docherty is their form player and averages nearly 6 rebound 50's per game. Perhaps we should put a player within 50 metres of him." That's just a non-owner talking, Doch is nearing pig levels at the moment and it's getting out of hand. His 5 round average has hit 134, not dropping below 119 since Round 7. That is not a typo. Most importantly, his price has passed $700k. Insanity. 30% of the competition are scratching their heads wondering what the hell the rest of us are doing. L.E.G.E.N.D.
Simpson (137) – I'm noticing a pretty common theme with these legends. Firstly, half of them are Carlton players, and secondly I don't own any. Kade Simpson is averaging 100 and putting together another brilliant Fantasy season. Shame you couldn't do that 2 years ago for me when it really mattered Kade. These Ex's are killing me.
Kreuzer (112) – To the 11.5% of the competition that own Kreuzer, you're welcome. I passed on him 2 weeks ago and I fear to think where his career would be at now if I hadn't. He's putting together a pretty special season, Carlton are finally getting some dividends for their faith. Beast.
Losers
You could make a pretty solid NEAFL team from this losers outfit… I'll keep it brief, they don't deserve the time of day.
Tuohy (72) – Do you want to be a premium defender or not? I was at the game Thursday and hardly noticed Tuohy, the rollercoaster is taking a dip.
S.Selwood (60) – I find it quite amusing at the amount of people who always fall for injury prone players. I mean, didn't Fantasy coaches know Selwood's ankle troubles meant this hamstring injury was only a matter of time? Morons… This is really shitty luck not only for those who traded Scooter in, but for Scott himself. Hopefully he's back soon. (Trade)
J.Selwood (48) – Uh, Joel? What was that? A tag is one thing, but 2 tackles and 2 quarters where he might as well have not even stepped on the ground is another. I was scrolling for so long to find Selwood's score that I had some Lycett flashbacks. *shudders*
Steven (65) – Taggers are back in vogue, let's celebrate everybody! Someone grab the hard liquor. I don't want to know what planet I'm on.
Newnes (79) – Realistically this score is pretty solid. Hell I'd take it from a defender. Sadly in a competitive team this isn't good enough from a premium. It's Jack's lowest score since Round 3, well timed son. As if I hadn't proved that my team is enough of a meme, Newnes comes in for me this week. That kind of performance deserves a call up.
Butler (20) – Captain hindsight was back at it again. If I had my time over I would have seen Dan Butler running out of the tunnel after half time, grabbed him by the waist and taken him to Suplex city. He went backwards in the second half. -1. He might as well have gone for that tactic all game, because quite frankly the laughs that would have given me outweighs the significance of the 20 points he scored.
Parker (83) – Many things have me lost for answers this season. My rank. My team. The need for clubs to have byes over 3 weeks. Covfefe. None of them stack up to the loss of form by Luke Parker. He has gone from an All-Australian gun midfielder to a B-Grade run of the mill donkey. He's fully fit, Sydney are back winning and yet Parker still let's me down. Unreal.
Franklin (61) – Alex Rance >Best forward in the game. Rance still hardly features in most discussions regarding the top few players in the competition. Hopefully this performance changed some tunes.
S.Martin (69) – Ok, I think I've finally figured it out. Archie Smith playing or not, Stef had an empty stat line at quarter time. The whole Stef going full retard when another ruckman plays conumdrum has a simple answer. He hates sharing so much that he's willing to refuse to play to make a point. This can be the only logical explanation.
Beams (60) – Dayne Beams thought he'd get in on the spud act with a spectacular 16 point second half. As a pure midfielder, that involves some serious work in making runs away from the ball and 1% efforts not to dispose of the footy. Woeful.
Barlow (82) – Sometimes footy takes a back seat, and this was heartbreaking. Barlow has broken the same leg he injured back in 2010, following undoubtedly the greatest debut season by a rookie ever (Averaged 110). Never forget. We love you Mick.
Marchbank (65) – At this stage of the season there can be no passengers. Thanks for your service Caleb, but he's worth $430k, has a BE of 84 and is an easy stepping stone to Lloyd or Newnes. Don't hesitate.
Williamson (28) – Help me. CHRIST. 28 points?! He reached that score at the start of the second quarter. This is actually stressing me out now. How can you be that bad? Carlton chip it around for half the game. I give up.
Willis (22) – This week was really just a massive f**k you from our rookies. They didn't even try. I know you can't expect much from a guy like Willis, but 22? No tackles? His BE is probably out of reach this week, absolute head shaker.
Lynch (34) –
Hall (74) – A personal favourite steps up to the chopping block. Why in the name of anything that's holy did I think trading in Aaron Hall was a good idea. Gary Ablett cost $70k extra. Wines cost less. Bryce Gibbs wasn't much more. In reality, just about anyone could have outperformed Hall. He's under the roof next week, good news right?! He had a sensational 54 points in the Suns last game in perfect conditions. I look forward to another Aaron clinic next weekend.
Dahlhaus (66) – Another one. I can't really be bothered anymore. Dahlhaus is stuck in the Dog Haus and unless he scores 150 next week he's not going anywhere. Pathetic.
Johannisen (51) – I left a poor JJ owner hanging last week after his 27 point performance was so bad I missed it entirely. Luckily he gave me another chance and I'm sure his owners will be thankful for that… First of all he can shave off that horrendous bloody haircut, maybe then he can play some AFL standard football. I don't bother to watch the Bulldogs at the moment, if I wanted to see a 60 point game of football I'd tune into AFL womens. Let's be perfectly clear, the Dogs are lucky that competition isn't running mid-season. The viewership would spike.
Viney (74) – Remember when I pumped up Viney way back? It's only fair that I mention he hasn't scored a ton since that 132 vs Adelaide in Round 8. In fact he only has 3 for the whole season. Massive draft letdown.
Steele (-) – I've got nothing to say about this bloke. This is an ALL TIME burn. I've seen models with more guts than Steele. It guaranteed me a donut and this will officially be his last mention ever. Best of luck in the future Jack.
Rockliff (74) – I logged onto my team today and thought Rocky had scored a solid 148. It was a couple of seconds later that I realised what occurred over the previous 48 hours. That wasn't our Pig out there on Saturday. Chris Fagan came out midweek and stated Rocky wasn't fully fit the week before (Thanks for letting us know the week before champion), but he was 100% this week. Yeah, sure looked like it… At least make your lie somewhat believable. Word is Rocky was also crook, which ended up with him sitting on the bench for the second half and playing only 59% TOG.
Basically, I've had my captain average 85 over the past 2 weeks, a player I paid $723,000 for. You could list off just about any player in the competition that would have been a better option, and it has turned a bad season for me into a disaster. To top it off, everyone else is going to get a cheap pig so every man and his dog will own Rocky come finals. **** it. Just **** it.
This Game Sh*ts Me
While we're on a roll let's just keep it going. How does playing a game which involves you selecting players into a Fantasy team manage to completely ruin your weekend. I was a shitty human, no denying it. By the end of it I felt like Jon Snow, only there's no witch around to revive my Fantasy team. First it was Butler. Then Stef. Then Rocky. Then Hall. Then Lynch. Story time. Gold Coast were playing Carlton at home, surely a good chance to get a much needed victory. Who was Tom Lynch going to lineup against? Liam Jones? You're joking me?! Thanks for coming, I'll have a piece of that! Instead the "best forward in the game" according to some had one of the WORST performances I have seen by an AFL footballer. Liam Jones. Give me a spell. 34 points, 1 mark, 0 goals.
The best part is I'm getting advice like I haven't been playing Dream Team for 10 years. Like I actually wanted to get guys like Goldy or Lynch. Downgrade upgrade, I know! But what the bloody hell am I meant to do when there isn't a single downgrade option playing that week. There wasn't one. With just $3k in the bank, I was doomed no matter what tade I pulled. Admittedly, Tom Lynch was about as bad as I could have possibly managed and it would have been better to just take a donut. Another donut. I already had one. Jesus…
Send help ASAP, I'm unlocking the shed. This game sh*ts me.
Bryce Gibbs. Adelaide must be sitting back wondering what could have been, that's what you get for being a tight ass. I know the feeling, I refused to pay top dollar for Sam Docherty. I can confirm it doesn't feel great.
31 kicks, 12 handballs, 8 marks, 10 tackles, 7 clearances, 7 inside 50's and 2 goals. The only thing his performance was missing was just one more +6. 194… That's a well earned stubby if I've ever seen one. Congratulations Bryce! It doesn't make up for your first name but hopefully it eases some of the pain.
The Other Bits and Pieces
1341…… No it isn't a typo. Yes you have read it correctly. We were boardering medieval times last week, so this week we've gone deeper. Perhaps an astronomer realised that the Earth rotates the Sun every 365 days. Maybe somebody discovered the Earth isn't flat. I don't know, I'm not going to bother researching back that far.
Sadly it doesn't get any better for me this week. The only rookies I own that are worth anything are critical players on my field, and my bench rookies, well… It will take a month of recycling to make one upgrade. The news that Josh Kelly is potentially injured genuinely makes me want to throw up. That is seriously my only good trade this season. I will be officially broken. Good luck next week everyone, I can't wait to hit 1800 again. That's my new benchmark. Don't judge please, I'm trying my best.