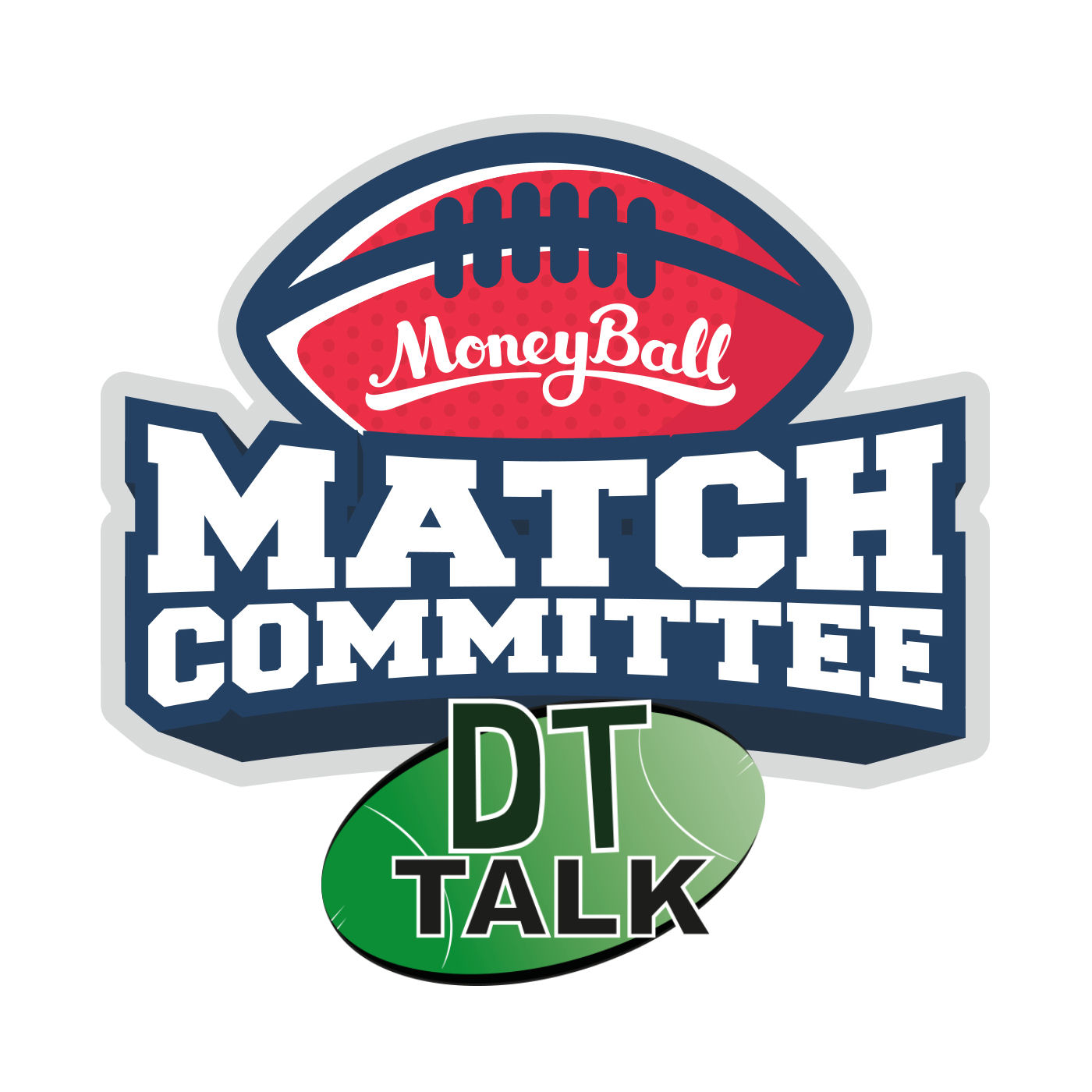 Tbetta here, and welcome to the self-proclaimed top resource for keen Aussie rules Moneyball punters! DFS (Daily Fantasy Sports) is taking off around the world and Moneyball have the perfect platform for you to turn your AFL Fantasy prowess into cold hard cash. Signing up is easy – head to moneyball.com.au and you could be ballin' within minutes.
If you're unsure how DFS works, be sure to head to the 'Help' section for all the info you need to start cashing in on your AFL Fantasy knowledge.

Click here to subscribe on iTunes.
Melbourne vs Sydney
On the biggest stage under Friday night lights, you have to know that Max Gawn ($9,500 RU) is going to show up and reward his employers after a successful return last week. With uninjured scores of 96, 95 and 111 this year, the risk is low – especially when he comes up against human potatoes in Naismith (avg 50 in last 4) and Sinclair (avg 66 in last 4).
Very notable is that while Gawn is on the up, Newton suggests that someone has to come down. After averaging 97 as a solo ruck, Cam Pedersen ($7,500 FWD) managed only 65 as a forward providing ruck relief, and he needed solid junk time to do it. Avoid like the satay sticks in Phuket.
Last week we covered Brad Ebert and his funky late-season trends, so we're focussing on another weird pattern this week – in the opposite direction. We always talk about how Josh P Kennedy ($9,400 MID) finishes the year strong, and it's happening again in 2017.
2015 pre-bye: 95.       2015 post-bye: 121    (Difference of +26)
2016 pre-bye: 100.     2016 post-bye: 119    (Difference of +19)
2017 pre-bye: 97.       2017 post-bye: 111    (Difference of +14)
Based on those numbers – plus Sydney's rampant form – he's super value at $9.4k.
VALUE PICKS:
Bernie Vince ($7,000 MID):

So

Nathan Jones

is out injured and Bernie just happens to top score with 113 – which was his only ton since Round 1? Coincidence? I'm thinking not. Super value if you read into the role change.

Dom Tyson ($8,300 MID):

Last year, Tyson averaged 16 more points after the bye than before, including a 5-week run where he averaged 120. I've got my eyes peeled for another such run.

Sam Reid ($6,100 FWD):

The man with the smallest head in footy is averaging a generous 86 in his last three games without dominating. Demons conceded scores of 121 to forwards in

Petrie

(4 goals) and 105 to

McGovern

(3 goals) last week, which are encouraging signs.
Western Bulldogs vs West Coast
The Bulldogs have conceded the 2nd-most points to ruckmen this year, which happens to coincide with Nathan Vardy ($6,500 RU) hitting career-best form with an average of 83 in his last six starts. His last two scores of 100 and 96 are huge at his price point, with the latter coming with a season-high 33 hitouts up against the reigning All-Australian in Max Gawn! There's a good chance that Vardy has figured this rucking gig out thanks to staying fit for a long string of games for the first time in his career, so I'll be taking a nibble this week.
Over his career, Dom Sheed ($8,000 MID) has 11 scores of 96 or more, but the impressive thing is that 6 of those have occurred within the last 8 weeks. The long-prophecised breakout has well and truly come to fruition, as Sheed is averaging more than any other Eagle in their past 4 games (Sheed 108, Gaff 104, Yeo 102, Shuey 99). A great pick in all versions of the game in my (possibly biased) opinion.
VALUE PICKS:
Tom Campbell ($7,000 RU):

49 hitouts and 125 points last week, against an accomplished ruckman in

Goldstein

– and that was his first AFL game in 2 months. Strictly speaking, he should have the edge over Vardy in hitouts, so consider him as a FLEX pick.

Mitch Honeychurch ($5,700 FWD):

78 and 73 in his two games this year, ranking as the best cheap option on the market in this slate.

Mitch Wallis ($7,500 MID):

With the Eagles midfield struggling, everyone besides whoever Hutchings tags has been cruising. Wallis obviously won't cop that tag and is ticking along at 89 a game this year, notching 88 last week. Reliable as they come.
Carlton vs Adelaide
Not only has Matthew Kreuzer ($9,800 RU) averaged 123 in his last 5 games (which were all tons), his direct opponents in those 5 games have averaged just 75 (without any tons). Yes, you read that right; that means that Kreuz has avg 48 points more than his opponent over past 5 games! How could you pick Sam Jacobs ($9,500 RU) for just $300 cheaper after hearing those numbers? In the unofficial award for most improved fantasy player, Kreuzer is putting together a mighty case.
Rory Sloane ($9,800 MID) is almost unpickable this week, and here's why: pesky taggers.
In 8 untagged games this year, he's averaged 132. Crows won all 8.

In 5 tagged games this year, he's averaged 74. Crows only won 1 of those 5.
Carlton will 100% send a tagger to him this week, after targeting Ablett (91) and Dusty (96) over the past fortnight. It will be interesting to see who gets the gig, as Ed Curnow is out with a throat issue and he's been given the majority of assignments these past two years.
VALUE PICKS:
Hugh Greenwood ($5,100 MID):

Scores strongly linked to tackling effort, as he averages 52 when he gets less than 9 tackles, compared to 103 when he reaches that target.

Dale Thomas ($6,600 MID):

Last three score of 84, 84, 82. I now feel likes it's relatively safe to pick him up as a cheap MID so that you can afford the big names.

Jonathon Beech ($4,800 MID):

Carlton concede more points to cheap MIDs than any other side this year, so Beech could be in line for a few more easy points. Averaging 60 in his two games thus far.

Gold Coast vs North Melbourne
When your team loses it's three best midfielders (Barlow, Hall and Ablett) in a week and now perhaps Hanley on top of that, someone has to step up and get the points – and that was Brayden Fiorini ($7,300 MID) in Round 14. He scored 111 from his 26 touches, and has been named in the guts again this week even with the return of the GOAT. Don't forget, the kid has a ceiling after scoring 166 in his second career game!
Tom J Lynch ($7,400 FWD) hasn't kicked a goal in the last two weeks. I repeat – 0 goals in the past fortnight. This is obviously a bad thing in general but even more so for the Gold Coast Captain, because he relies greatly on goals (and +12 combos) to score in fantasy:
Avg from games where he's kicked a goal: 92 from 9 games
Avg from games where he gone goalless: 47 from 4 games.
My concern is that without all their best midfielders out there, supply will be weak. I'm avoiding until I see some exposed form from a notoriously moody forward.
VALUE PICKS:
Touk Miller ($7,300 MID):

Like

Fiorinim

he's walking into unlimited midfield minutes and has excelled in that role in the past. Played full-time inside midfield last week and scored 85, his best effort since Round 7.

Shaun Higgins ($8,200 FWD):

Still playing in the guts and popped off with 117 on the Suns earlier this year.

Andrew Swallow ($7,300 MID):

Price is low, had 89 last week and has been promoted to being named as a rover this week without

Cunnington.

Hopefully working his way into the good books at North.
GWS vs Geelong
Dylan Shiel ($9,200 MID) has stepped up massively with Coniglio (and sometimes Kelly) out of the midfield, to the tune of 117, 122, 118 in his last three. Those are his 3 highest scores for the year, and we have no reason to think that won't continue again in Round 15.
You'd think Mumford would be a restrictive ruckman, however, GWS have conceded the 2nd most ruck points over the past five weeks. Based on that, I'd be saving yourself some moolah and picking up Rhys Stanley ($6,300 RU) or even Zac Smith ($7,400 RU) instead. It's up to you to figure out which one of that two-headed beast steps up this week, but for what it's worth, Stanley is the nominal ruck on the Teamsheets.
VALUE PICKS:
Callan Ward ($8,200 MID):

Like

Shiel

, the Captain has stepped up massively recently after a slow start to the year. Averaging 105 over the last month compared to just 76 previously.

Sam Menegola ($8,400 MID):

Normally rotates through mid/fwd but

Selwood

going down early last week meant he saw a lot more midfield minutes, pumping out 124. With

Scott

already ruled out and brother

Joel

only a maybe after copping that head knock, that'll repeat again this weekend you'd think.
Port Adelaide vs Richmond
Richmond (and mainly naughty Nank) have given up the 2nd-most points to starting rucks all year. On the flipside, Port have been the 2nd most restrictive team in the same stat. Given that Nankervis is priced at $7,400, I know who I'll be taking between the two – Patty Ryder ($7,500 RU) by a country mile.
You might want to give this Trent Cotchin ($9,700 MID) bloke a miss this weekend, because, just quietly, the Richmond Skipper's last 4 scores against Port are only 52, 56, 57 and 63. Port opted to tag him in three of those matches, so don't be surprised to see someone head to him this week.
VALUE PICKS:
Sam Powell-Pepper ($6,200 MID):

72, 76, 75 and 92 in his last four. He's found consistency after a roller coaster to start the year and as a result, I'm happy to pick him if I need a bloke in that price range to make my salaries work.

Brandon Ellis ($8,200 MID):

Average over the first 9 rounds: 69. Average over the last 4 rounds: 104. We've been tracking him in this article for a couple of weeks now and we're upgrading him to 'value option' moving forward.

Kane Lambert ($7,300 MID):

Averaging 104 in his last 3, and looks to have moved into a permanent midfield role. I'm watching this one with interest.
Essendon vs Brisbane
Brisbane have conceded 15 tons over the past three weeks, and allowed 6 GWS players to go 110+ last week. Meanwhile, Zach Merrett ($11,300 MID) top-scored with 140 against the Lions earlier this year and will always waddle over to the trough when points are slopping around. After scoring 10 tons on the trot, risk doesn't exist with this pick.
Brisbane Backline Rule! Last week, three GWS forwards dominated against the Lions:
Patton: 133 from 4 goals.
Cameron: 132 from 4 goals.
Greene: 117 from 4 goals.
This kind of stuff has been happening all year, and Joe Daniher ($7,900 FWD) kicked 3 goals on them back in Round 2, which I'm actually surprised about – i thought it would have been more! If you've been following this article all year, you'll know how much of a lock Joey is this Sunday.
VALUE PICKS:
Orazio Fantasia ($6,600 FWD):

Brisbane Backline Rule once again. Kicked 5 goals for 94 AF against the Lions earlier this year.

Alex Witherden ($4,200 MID):

20 touches, 7 marks, 77 AF on debut. Easy pick.

Rhys Mathieson ($6,800 MID):

Moved into the midfield full-time once

Beams

was cooked. Top-scored with 32 touches for his 108, so there's a fair chance he stays in the guts this week.
Hawthorn vs Collingwood
Steele Sidebottom ($10,300 MID) is often the bridesmaid and never the bride in a side overflowing with fantasy stars like Adams, Pendles and Treloar, but did you know that he's scored 139, 127, 133 and 124 in the past month? Those are some saucy stats for your Sunday morning. His output has rocketed after upping his volume, averaging 33 disposals (25 uncontested) in those last 4 games off a wing.
Want some perspective on just how good Tom Mitchell's (11,600 MID) been this year? Remember how Lachie Neale broke the all-time disposals record last year?
After 13 games,

Neale

had racked up

432 touches

(33.2 per game)

After 13 games,

Titch

has racked up

461 touches

(35.5 per game)
Mitchell is also the only player to have a 100% strike rate with tons this year, churning out 13 straight. As for this week, Titch LOVES the Pies, scoring 138, 132 and 177 in his last three meetings with them!
VALUE PICKS:
Grant Birchall ($6,800 DEF):

Last two uninjured games: 94 and 85. Price massively discounted due to an injured 19-point score in his rotation.

Ricky Henderson ($8,200 DEF):

A bit pricey, but he's produced a lowest score of 82 in his last 6, so you're buying a solid basement with Dicky.

Jeremy Howe ($8,100 DEF):

Hawks gave up 8 tons to Collingwood last time these teams met, and Howe was one of them with 125 (13 marks). Averaging 99 in his past three.
Fremantle vs St Kilda
St Kilda have conceded 405 disposals per game this year (ranked #2), and we all know how much Lachie Neale ($9,400 MID) loves a cheeky possession. Despite not setting the world alight, he's produced just the one score under 96 in his last 8, which is nothing to sneeze at. Lachie loves it at Domain, manufacturing 114, 138, 106 and 104 in his last four at home.
On the other hand, I'm not loving Jack Steven's ($9,100 MID) numbers out West. On the surface, his history against Freo is quite pleasing with 148, 107, 135 however… None of those were in WA, and he hasn't scored a ton at Domain in his last 5 visits. I also just feel like he's better with a mullet.
VALUE PICKS:
Sean Darcy ($3,500 RU):

80 on debut with 40 hitouts. Could not ask for more from a basement pick, but a timeshare with Sandi will be interesting.

Jack Sinclair ($6,100 FWD):

81 average in his last three on the back of a career-high 26 touches last week. Like it without loving it.
Always remember to gamble responsibly. If you're having problems with your betting, you can get help at Lifeline or talk to someone at Gambling Help Online.