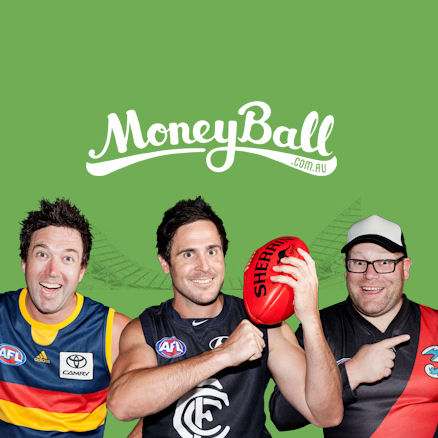 Tbetta here, and welcome to the self-proclaimed top resource for keen Aussie rules Moneyball punters! DFS (Daily Fantasy Sports) is taking off around the world and Moneyball have the perfect platform for you to turn your AFL Fantasy prowess into cold hard cash. Signing up is easy – head to moneyball.com.au and you could be ballin' within minutes.
If you're unsure how DFS works, be sure to head to the 'Help' section for all the info you need to start cashing in on your AFL Fantasy knowledge.
Click here to subscribe on iTunes.
North Melbourne vs St Kilda
With scores of 125 and 84 in the past fortnight, Billy Longer ($5,800 RU) is a new man and an actual threat when considering your ruckman in this game. Normally you'd just take the wiggle room out of it with Goldy, but I urge you to consider the value in this pick. A big reason for Longer's transition into relevancy is an epic increase in disposals; he averaged just 5.6 touches over the first five games this year, but that's up to a massive 17 touches in the last fortnight.
Last week before the bye, North conceded four scores of 129+ against Tigers, while St Kilda average the 6th most fantasy points this season. It should be pretty clear who's in the box seat when it comes to stockpiling those Moneyball points, and that's the abundance of St Kilda midfielders.
Seb Ross ($9,900 MID) is the in-form option, averaging 111 across his last 10 starts, yet no one is talking about him. He'd be an excellent POD this week. Jack Newnes ($8,300 MID), on the other hand, with be highly sought after on the back of 113 and 143 and the spotlight on him after attaining defender status in AFL Fantasy. His price remains very low due to an injured 10 sitting in his rotation, so he's almost a must-have. Jack Stevens ($9,400 MID) rounds out the trio as the safe option, producing a low score of 87 all year. It does need to be mentioned that he's only exceeded 113 once though, unusual for him based on previous seasons..
As fantasy friendly as the Saints are, the Roos are unfriendly. Todd Goldstein ($9,000 RU) is one of the few I actually like from Arden Street, based mainly on talent and opposition. Sam Jacobs cruised to 117 on Longer last week, and it's well-known that Goldy loves punishing the kids.
Richmond vs Sydney
AFL Fantasy coaches are circling Jake Lloyd ($8,700 MID) given how cheap he is after that concussion score, and the same logic applies here in Moneyball. He managed 122 last week  which included some epic junk time with 66 in the last quarter alone, and that's exactly the kind of guy you want to spend your salary on. Lloyd has been a fantasy star all year long and averages 117 across his last three uninjured games.
There were questions surrounding Dion Prestia's ($7,400 MID) fitness earlier this year, and those concerns were justified when he didn't even score over above 65 for a month leading into Round 11. Thankfully, the dawn broke and the week before the bye, Prestia pumped out a 137 to reassert himself as a fantasy option. My optimism lies in the week off with the bye; is a freshen-up all he needed? Prestia's price is super tempting and it's worth mentioning that he posted a career-high 149 against the Swans last year.
VALUE PICKS:
Brandon Ellis ($7,600 MID):

126 and 105 in the last two. Is he back or just feasting on a couple of easier match-ups before going back into his shell of mediocrity?

Luke Parker ($8,900 MID):

Just his second ton for the year last week. Did the bye fix him, after clearly being low of match fitness to start the season?

Tom Papley ($6,900 FWD):

Paps keeps surprising me, averaging a healthy 90 in his last six. Playing a high half forward role has increased his production from previous years, where he's sat deep in a pocket.
Port Adelaide vs Brisbane
I was all aboard the Dayne Beams ($9,900 MID) train last week, and after a cheeky win, why jump off now? As we said last week, Beamer is cheaper than Zorko/Rockliff but with similar upside. History says yes, with a lowest score of 106 at Adelaide Oval. But it's his form that says hell yes, with scores of 144, 116 and 145 since coming back from injury. He's just in really strong form right now and it's not often you say that someone at $9.9k has a bit of value.
In his last four games against the Lions, Charlie Dixon ($7,600 FWD) has kicked bags of 6, 3, 6 and 4. What an absolute domination. That includes 125 against them earlier this year, with Dixon proving to be a very reliable beneficiary of the Brisbane Backline Rule over the past two seasons. I love this pick because he has a huge ceiling for a key forward, already logging 3 scores of 124 or more this year.
VALUE PICKS:
Tom Cutler ($6,600 DEF):

102, 82 and 112 in last three – and that 102 was earlier this year against Port. Price has kept low due to an injured game where he logged just 3 points. Bargain.

Jake Barrett ($6,300 MID):

80, 87 and 102 in last three, building in the right direction. Price low after slow start where Brisbane tried to play him out of position as a forward.

Justin Westhoff ($8,100 RU):

Still not 100% sure about

Stef Martin

with

Archie

in the side? The Hoff is averaging 101 over the last month and can be picked as a ruckman in Moneyball.
Gold Coast vs Carlton
As expected, Liam Jones's ($4,500 FWD) VFL form translated perfectly into the Carlton backline machine as he managed 8 marks and 72 points in his first game as a defender. Carlton have one of the best fantasy backlines in the business – a big reason why the Blues are ranked #3 for marks as they share it around back there between Marchbank, Docherty, Simpson and the likes with their switch kicking. I expect Jones will form a big part of that in the upcoming games, and you can't say no to him on price alone.
Speaking of Carlton's backline, let's all charge a glass for the sensational year that Sam Docherty ($10,900 DEF) has put together thus far. It's hard to believe that a full-time defender boasts the 3rd-highest average over the past 9 weeks, but he simply gets the job done every single week. In fact, he's scored 8 straight tons, which is better than most of the big-name MIDs rolling around these days.
Now, the Blues have a very winnable game against the Suns, and Docherty's beast scores of 149 and 159 have both come in wins this year. Doc averages a massive 9 uncontested marks per game, best in the league (next best is Whitfield at 7.8 per game), and is the chief reason why you'll part with almost $11k for his services each week.
VALUE PICKS:
Tom J Lynch ($7,700 FWD):

Has kicked 11 goals in his last two against Carlton (123 and 132). Stopping him is priority numero uno for the Blues but I'm not sure they have the cattle.

Gary Ablett ($10,800 MID):

The veteran is averaging the 2nd most points of all players since Round 3! So much for old and slow. His last three games against Carlton have been belters at 114, 124 and 118.

Dale Thomas ($6,400 MID):

Back into the side after a VFL stint and managed 84 last week.
Coming Soon.
Always remember to gamble responsibly. If you're having problems with your betting, you can get help at Lifeline or talk to someone at Gambling Help Online.