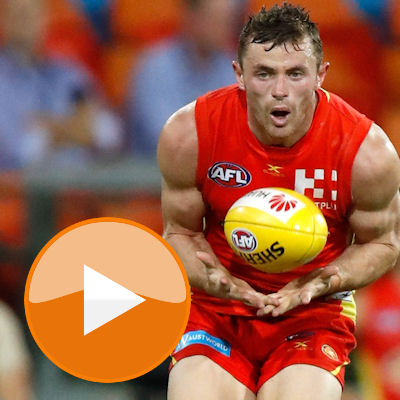 Every six rounds, the team at Champion Data run the numbers and award a group of players dual position status.
They take into account where they line up on the ground, which parts of the ground they get their disposals and their role in the team. If this is significantly different to the single position they are already assigned, they add the new one and become DPPs (dual position players).
Having DPPs in your squad allows extra flexibility in your line up and can help you out when trading.
During the week, 20 new players added a position and quite a few have been welcomed in the middle of the multi-bye rounds.
Basement priced first year players such as Sam Petrevski-Seton, Zac Fisher, Daniel Lloyd and Kurt Mutimer were previously only available as midfielders and with their new forward status, they can provide a handy bench link.
Filling the hole left by Max Gawn and Jake Spencer, Cam Pedersen is now available as a RUC/FWD.
The most interesting names for Fantasy coaches are usually those who add either FWD or DEF to their midfield status.
At their best, Pearce Hanley, Sam Menegola and Travis Boak would be among the best in their new positions. Daniel Rich, Jack Newnes and Dom Sheed will certainly be worth looking at as free agents in your Draft leagues.
Also in this week's podcast:
Fantasy news including injuries, suspensions, "Magoos news" and more
Bye round trading
Your burning questions answered
PLAYER
CLUB
INITIAL
NEW
PRICE
OWN
%
ADP
AVG
Ryan Lester
BL
FWD
MID
$427000
0.21
N/A
73.9
Daniel Rich
BL
MID
DEF
$398000
0.6
218
69.3
Zac Fisher
CARL
MID
FWD
$242000
5.28
N/A
47.3
Sam Petrevski-Seton
CARL
MID
FWD
$370000
13.49
N/A
67.6
Daniel Wells
COLL
MID
FWD
$458000
0.28
190
76.5
Brady Grey
FRE
MID
FWD
$310000
1.32
N/A
58.3
Pearce Hanley
GCS
MID
DEF
$444000
0.14
157
70.3
Sam Menegola
GEE
MID
FWD
$539000
1.65
169
100.5
Steven Motlop
GEE
FWD
MID
$427000
1.08
79
77.8
Daniel Lloyd
GWS
MID
FWD
$219000
18.15
N/A
49.5
Tomas Bugg
MELB
MID
FWD
$367000
0.14
N/A
63.5
Cam Pedersen
MELB
FWD
RUC
$496000
3.02
N/A
101.2
Travis Boak
PA
MID
FWD
$516000
0.9
153
92.1
Jackson Trengove
PA
RUC
FWD
$386000
1.25
222
67.5
Chad Wingard
PA
FWD
MID
$500000
3.78
104
88.9
Jack Newnes
STK
MID
DEF
$504000
0.31
182
90.4
Isaac Heeney
SYD
FWD
MID
$506000
21.47
57
94
Kurt Tippett
SYD
RUC
FWD
$368000
1.11
47
56.6
Kurt Mutimer
WCE
MID
FWD
$212000
7.75
N/A
49.5
Dom Sheed
WCE
MID
FWD
$449000
1.44
302
83.1
Click here to subscribe on iTunes. (Please leave a rating and review to help us move up the charts).
SHOP NOW: Tom Mitchell beanie | Tom Rockliff beanie