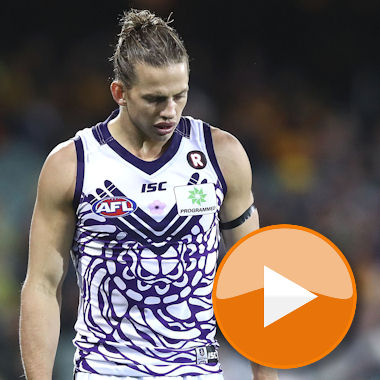 They strike fear into Fantasy coaches across the land. The multi-bye rounds are here and they're ready to wreak havoc on our teams.
This weekend we experience the first of the multi-bye rounds. The MBRs – the shortened acronym means for more time to plan or panic – is the block of three rounds when up to six teams have a rest for a week.
For most head-to-head leagues, like the players, you will get a rest as match ups are on hold and will resume in round 14. Coaches playing through these or aiming to rank highly overall, will need to do their best to maximise points over this challenging time.
Rules change to help coaches deal with the group of players missing.
Firstly, the best 18 scores within your on field 22 count towards your weekly total. Sub on the bench players and aim to have at least 18, if not more, playing in rounds 11-13.
Secondly, as a new feature this season, coaches are given an extra trades to use in each of the next three weeks. Three trades per round for the MBRs will definitely help save a donut and get your squad in a position to be competitive.
Roy, Calvin and Warnie are in different positions with their bye structure. They discuss how to manage this tough patch of the Fantasy season.
Also in this week's podcast:
Fantasy news including injuries, suspensions, "Magoos news" and more
How to make the most of the loopholes over the next four weeks
Milking cash cows vs holding for bench cover
Your burning questions answered
Click here to subscribe on iTunes. (Please leave a rating and review to help us move up the charts).
SHOP NOW: Tom Mitchell beanie | Tom Rockliff beanie
2017 averages – Fantasy points for and against (season)
| CLUB | PTS FOR | >100 FOR | >120 FOR | PTS AG | >100 AG | >120 AG |
| --- | --- | --- | --- | --- | --- | --- |
| ADE | 1702.8 | 4.9 | 1.3 | 1572 | 3.3 | 1.1 |
| BL | 1493.3 | 3.8 | 1.8 | 1682.3 | 3.7 | 1 |
| CAR | 1641.1 | 4.8 | 1.9 | 1637 | 4.1 | 1.3 |
| COLL | 1713 | 5 | 1.9 | 1628.7 | 3.7 | 1 |
| ESS | 1702.5 | 4.1 | 1.7 | 1578.8 | 3.1 | 1.4 |
| FRE | 1562.1 | 2.3 | 0.6 | 1639.8 | 3.6 | 0.9 |
| GC | 1663.1 | 4.2 | 1.3 | 1629.9 | 4 | 1 |
| GEE | 1612.9 | 4.2 | 1.4 | 1641.2 | 4.7 | 1.5 |
| GWS | 1615.1 | 2.9 | 0.5 | 1568.7 | 2.5 | 0.3 |
| HAW | 1662.2 | 3.6 | 1.6 | 1704.4 | 4.9 | 2 |
| MELB | 1711.4 | 4.3 | 1.5 | 1556.2 | 2.9 | 0.8 |
| NM | 1580.5 | 2.5 | 0.3 | 1600.2 | 3.7 | 1.2 |
| PA | 1634.9 | 3.3 | 1.3 | 1588.6 | 3.7 | 0.9 |
| RICH | 1488.3 | 2.4 | 0.9 | 1638.2 | 3.4 | 1.8 |
| STK | 1681.2 | 4.6 | 1.4 | 1688.7 | 4.7 | 1.4 |
| SYD | 1559.6 | 3.5 | 0.9 | 1694.4 | 4.1 | 1.4 |
| WB | 1668.3 | 3.2 | 0.3 | 1669.7 | 3.8 | 1.7 |
| WC | 1671.1 | 3.6 | 1.1 | 1637.3 | 3.6 | 1.1 |