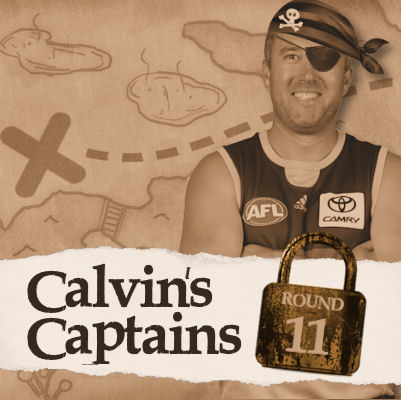 Over the bye rounds, I will be running my traditional top 10. These are the players, in the order that I would be picking them this week. Obviously I have researched more than 10, but of the best I have found, these are my picks… and as I said, in the order that I would use when picking my captain.
But first, we have another partial lock-out this week with the Thursday game between the Hawks and the Power so let's take a look at that one first.

Click here to subscribe on iTunes. (Please leave a rating and review to help us move up the charts).
C'MON PIGGY!
Dear Tom Mitchell… you will have the hopes of the Fantasy world riding with you here, so please don't lets us down.
Mitchell scored 139 against the Power last year and he is currently the #1 player in the game averaging 139 over the last 3 weeks. He managed 108 last week against his old team, which happened to be his worst score for the year.
Last week, Geelong scored reasonably well on the Power with their four big midfielders leading the way, averaging 119 between them and Danger was the front runner with 125.
Tom is the best and only option for us in this game. Yes, Port fans, you can gamble on Ebert or someone like that but if you own the third little pig, then you know what to do.
LOOP HOLE EXPLAINED: This one kicks off at 7:50pm and at this time, all your players from the Hawks and Port are locked into you teams. To use the captains loop hole, place the VC on a player in this game (Tom Mitchell). If you like his score (must be 115+ in my book), place a non-playing player on the field from the games coming up. Also make sure you have an emergency selected in the same line. The non-playing player will score a 0, and your VC score will double and your emergency will replace the 0. If you don't like the VC score, select a captain as you normal would. Warning… this can backfire and has on some people in the past. The element of risk is minimal, but worth noting.
SHOP NOW: Tom Mitchell beanie | Tom Rockliff beanie
COMMON QUESTIONS
Can you put a 'C' on a player who has the bye? The answer is "YES". These bye players will be locked-out as usual on Friday night, making these loop hole options over the bye rounds the easiest they will ever be.
What's the line this week for a VC? This has changed for round 11, last week it was 125 with so many other games to choose from but this week it's just 115. The match-ups coming from our guns aren't exactly promising. Each game comes with a 'risk' unlike the week just gone. Bank the points if you get a chance, because anything can happen.
Ok… let get rolling with my top 10… and this is providing that Tom Mitchell doesn't get the job done on Thursday night.
Cal talking #AFLFantasy #loophole #punting #captains #relationshipadvice https://t.co/QWiYaoSGHp

— Calvin (@CalvinDT) May 31, 2017
CALVIN'S CAPTAINS TOP 10
#10 – Andrew Gaff v Gold Coast at MS
We saw a team high 124 last week from Gaff who has now averaged 122 in his last 3 runs. He hasn't scored over 100 against the Suns in his career six games against them. The Suns are the 3rd easiest to score on at the moment so you'd think with his from, he'll change his history this week.
#9 – Dusty Martin v Kangaroos at ES
In his last two games against the Roos, Dusty has scored 67 and 62. His form though has been hot with 133 and 122 coming in his last couple of games. Under the roof, he has a lowest score of just 98 from his last 5 games, which happens to span over the last three years.
#8  – Rory Sloane v Geelong at SS
Which Rory will turn up? He had one of his big scores on the weekend (157) and in his last two games against the Cats last year he scored 76 (in Geelong) and 155 (in Adelaide). Picking which Rory will turn up is tough, but as this one is at the Cattery… I say approach with caution.
#7 – Lachie Neale v Collingwood at DS
Collingwood are currently the 4th easiest team to score against over the last 3 weeks and last weekend, Zorko (124) and Beams (116) found plenty of it against them. Neale had 87 and 120 in his last two on the Pies and at home this year, Lachie has averaged 117 in his last three.
#6 – Taylor Adams v Fremantle at DS
Adams had 97 last week and in the last game he played against the Dockers (2015) he scored 126. Now, last week Adelaide had 8×100+ scores on the Dockers in a thumping, with five Crows going over 110. Adams has averaged 120 away from the MCG this year and I'm tipping that he could be big this week.
#5  – Aaron Hall v West Coast at MS
Ranked #2 on form in his last 3 games, Hall has been great with scores of 117 and 134 in his last couple of runs. The Eagles are bleeding points at the moment (ranking #4 in last 3 weeks) and at home, Hall will be huge. He goes for his 8th straight 100+ score at Metricon this week and is averaging 130 there this year. He even had 98 and 111 on the Eagles in his last two games and should reward those gutsy coaches who have him.
#4 – Gary Ablett v West Coast at MS
Injured? Nahhh, I don't think so.
In his last two games against the Eagles, Gaz has scored 120 and 118. At home, Gaz has averaged 120 this year and he has been on fire himself averaging 130 in his last three. Easy as you like.
#3 – Zach Merrett v GWS at SPO
Yeah I am slightly worried about Zach this week travelling to SPO to play one of the most restrictive teams in the
game. The Giants are currently giving up just 3×100+ scores a game, and rank as the hardest team to score 120+ points against over the last three weeks. They have given up the 2nd least amount of points this year, and I'm tipping they'd be #1 when they play at home. In fact, this year they have only conceded 3×120+ scores… in total.
Merrett did score 105 against them last year and is coming off a 101 from last week. Zach is Zach though and although I'm a little worried, he still sits at #3 and ahead of most people here.
#2 – Adam Treloar v Fremantle at DS
Treloar scored 109 last week and loves playing the Dockers, a team he has scored 127 and 127 against in his last two and he scored 119 at Domain last year. Small chance of being tagged, but one I'm not too concerned with.
#1 – Patrick Dangerfield v Adelaide at SS
This will be my captain if Tom fails on Thursday night. It's against the Crows which is concerning, but in his last two games against his old team Danger has scored 118 and 129.
The Crows are a tough team to score against, in fact they are the second hardest team to score against over the last 3 weeks.
However, it's Friday night football at Skilled, and Danger will be out to once again put on a show like he has been over the last two weeks where he has scored 125 and 156 there. He now has a lowest score of just 110 there from his last six games and if we need to call upon anyone pending a VC disaster, then Danger is the man.
ODDS: For those who would like to see the odds for my top 5 for Calvin's Captains for round 11, please follow the link provided right HERE.