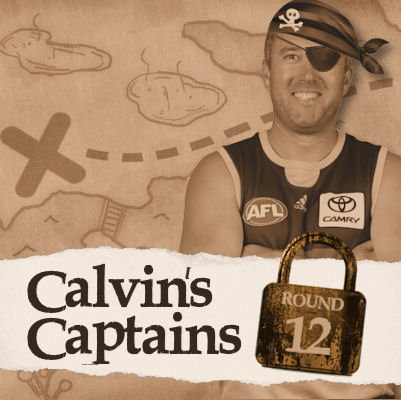 Over the bye rounds, I will be running my traditional top 10. These are the players, in the order that I would be picking them this week. Obviously I have researched more than 10, but of the best I have found, these are my picks… and as I said, in the order that I would use when picking my captain.
But first, we have another partial lock-out this week with the Thursday game between Sydney and the Bulldogs so let's take a look at that one first.
Hi peripunters. Cal here with all the #AFLFantasy captains info you'll need for this week plus much more https://t.co/JMoWqlOqqM

— Calvin (@CalvinDT) June 7, 2017
VC AT THE SCG!
Ok… so these teams have already met this year in round 2 and on that day, Lance Franklin went big with 4.3 goals for 127pts (or 142 if he kicked straight). If you're looking for a guy who can hit a high ceiling, then Buddy is your man… along with Dan Hannebery who has averaged 128 in his last three games this year. He has only had 79 and 78 on them in his last two but did have 127 and 143 before those shockers.
Josh Kennedy will be better than the 86 he had against the Dogs in round two as
back in 2016 he did have 139 and 106 against them. Jake Lloyd had 113 earlier this year but he'd need something very special to be in the mix here as his career personal best is just 131.
As for the Doggies, well, Marcus Bontempelli had a nice 129 in round two against them and as for your forwards in Dahlhaus and Macrae they only managed 84 and 92 on that day.
MY VC TOP FIVE – Franklin, Hannebery, Kennedy, Bontempelli and Macrae
LOOP HOLE EXPLAINED: This one kicks off at 7:20pm and at this time, all your players from the Swans and Bulldogs are locked into your teams. To use the captains loop hole, place the VC on a player in this game (Buddy). If you like his score (must be 130+ in my book), place a non-playing player on the field from the games coming up. Also make sure you have an emergency selected in the same line. The non-playing player will score a 0, and your VC score will double and your emergency will replace the 0. If you don't like the VC score, select a captain as you normal would. Warning… this can backfire and has on some people in the past. The element of risk is minimal, but worth noting. Also, at this stage I'll be playing a full 22 players… no room for me to play with the VC here unfortunately.

Click here to subscribe on iTunes.
COMMON QUESTIONS
Can you put a 'C' on a player who has the bye? The answer is "YES". These bye players will be locked-out as usual on Friday night, making these loop holes over the bye rounds the easiest they will ever be.
During the round, why didn't VC score double on the screen? Apparently it doesn't (didn't for me when I used a bye player with the C) and I don't know why, but in you total points it has doubled so you shouldn't stress.
What's the line this week for a VC? This has changed once again, and with so many potential BIG scores this week, my line for Thursday night game is 130. Bank the points if you can hit that mark, because anything can happen, but we have a few beauties coming.
CALVIN'S TOP 10
#10 – Lachie Neale v Brisbane at the GABBA
Neale was tagged by RedBull Robbo last year for just 52pts and although that won't happen this week, his form has been very wishy washy. Up against the Lions though he should be good for 100+ you'd think.
#9 – Taylor Adams v Melbourne at the MCG
131 last week, Adams has had solid numbers against the Demons in the past with 106 and 113. The thing is, Melbourne can be very tough to score against on their day and must always be approached with care.
#8 – Aaron Hall v Hawthorn at the MCG
Hall had 122 when he met the Hawks earlier this year to be amongst six others who cracked the ton that day. The Hawks are better than what they were, but I still think the points will be flowing for him again this week.
#7 – Adam Treloar v Melbourne at the MCG
He's been in ripping form with scores of 117, 109 and 126 and should continue here… if he avoids the tag from Bernie Vince. He scored 93 and 123 on them last year and that 123 is his only ton against them in his last four games.  I'm still confident.
#6 – Dayne Zorko v Fremantle at the GABBA
Zorko has scored 124 and 119 in his games leading into his bye and now fronts a team bleeding points. He scored 100, 108 and 132 in his last runs against the Dockers and should be great again on Saturday.
#5  – Zach Merrett v Port Adelaide at Etihad Stadium
Bit deep in the list for young Zach here, but that's nothing to worry about. He scored 128 against Port last year and even had 118 prior to that.  He has scored 126 and 108 in his two runs under the roof this year but my only concern here is that fact that Tom Mitchell only managed 118 last week against the Power. They are up and about at the moment and might carry this swagger into Etihad. It's still Zach though and a 120 is on the cards once again.
#4 – Brodie Grundy v Melbourne at the MCG
Over the last four games, Melbourne have given up sh*tloads (excuse me) of points to opposition ruckman. Witts (97), Goldstein (148), Jacobs (132) and McEvoy (124) all cashed in and so will Grundy. He's only coming off scores of 103 and 107 but after reading those numbers above, I'm expecting something around 130.
#3 – Gary Ablett v Hawthorn at the MCG
Hawthorn are the team that Ablett just smashes. He has done it now for 9 years. Check out these ridiculous scores dating back to 2008 and starting from his most recent game when he played them this year in round 3. 138, 129, 157, 132, 139, 175, 147, 135, 109, 120, 131, 123 and 115. Do I need to say anymore? I didn't think so! Could arguably by #1 here today and splitting these top 3 were very tough.
#2 – Tom Mitchell v Gold Coast at the MCG
The Suns are currently ranked as the #5 team to score points against over the last 3 games. Mitchell scored 115 against them earlier this year (at Metricon), but before that he went 132, 163 and 131. His form has been solid but what gets him over the line here is the fact that this game is at the MCG. This year, he has averaged 136 (6gms) there, compared to 120 (5gms) when playing away. If you can't get to the man below this week, then Titch should get the job done regardless.
#1 – Tom Rockliff v Fremantle at the GABBA
Shock horror. The big fat pig is back and straight into #1 and guys… this is why.
He's ranked #4 on form over his last three games, and hasn't yet gone under 100 this year, averaging 132 in his last 3, 136 in his last 5 and 129 overall.
Fremantle are the 4th easiest team to score against at the moment. They rank #1 at giving up 100+ scores (21 in the last three weeks) and #3 at given up 120+ scores.
Last week, Collingwood had 7×110+ scores against them thanks to four players racking up 30+ disposals.
Coming off an injury last year (rd. 7) he scored 184 on his return in rd. 11, and in 2015 after missing 6 weeks, he returned for 128.
Oh and his last three scores against the Dockers are 142, 154 and 172.
You better reverse those trades if you don't have him in.
NOTE: The obvious omission here is Rory Sloane. His number against the Saints are amazing with 140, 130 and 131 coming in his last three… however, he has shown he is very vulnerable to a tag this year and this game has Seb Ross written all over it. Sloane has the ability to score 60's when tagged and as a captain option, I'll steer clear and find someone else. Same goes for Josh Kelly who should get attention from Carlton's Curnow. He is coming off 159 but this one is away from his home ground where he has averaged 133 this year, and he actually averages 19pts less on the road. But as we say in the game for guys like this, high risk = high reward.
ODDS: For those who would like to see the odds for my top 5 for Calvin's Captains for round 12, please follow the link provided right HERE.