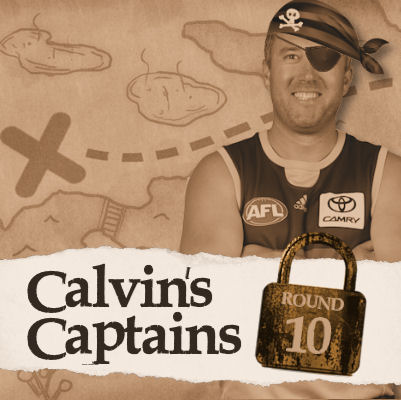 Oh here I am. Chatting all #AFLFantasy Captains and so much more. Viewers discretion is advised. #prisonbreak https://t.co/JA5vAQUhsY

— Calvin (@CalvinDT) May 24, 2017
THE NEW PIG RETURNS HOME
Congratulations to the mighty Tom Mitchell who, as of Monday night, became the third pig to join Swan and Rockliff in the pen. Although some were hoping it was going to be Zach, and it just might be in a few weeks, Tom's ceiling is superior.
Zach's top score is 152 and when you compare that to Tom's 177, 163 and 163. You can see why Tom was given the honour first. His pig ceiling is much better.
In fact, Zach and Tom have played nearly the same amount of games over their career (67 and 66) and during that time, Zach has hit 130+ in 8 games (12%), compared to Tom who has done it 19 times at 29%.
Anyway, down to business…. On Saturday, Tom Mitchell returns to face John Longmire and the Sydney Swans a team that allowed the Saints to have 6×100+ and that was in a 40pt loss. Mitchell was awesome last week with his 50 touches and although he has copped criticism for not being damaging, which is a load of shit, he'll be out to fire against his old club. Last week, if he'd found the ball 28 times, people would say "that's not enough", people are far too critical these days so leave our new pig alone. He had 50 touches and those alone equalled 122pts.
The Hawks have given up the most 120+ scores in the last three weeks and Josh Kennedy will be amongst it this week. Against his old team, he has scored 9×100+ scores in his last 12 games with 131 and 88 coming last year. His form is ok with 105 and 122 coming recently and this week he is back at home against a team who gave Collingwood 8×100+ scores last week. So therefore you'd like to think he'll be fine… pending a tag from Liam Shiels which is highly unlikely.
Ranked #4 on form over the last three weeks is Dan Hannebery after his 159 on the weekend. He hasn't dropped under 103 in his last four games and although he has only scored 78 and 99 in his last two against the Hawks, he too… should continue on his merry way.
Finally, Luke Parker who has scored 111 and 103 in his last two against the Hawks but hasn't been playing like what we saw last year. He has only cracked the triple figure mark once this year and should be seen as trade bait over the bye rounds.
SHOP NOW: Tom Mitchell beanie | Tom Rockliff beanie
THURSDAY NIGHT LOOP HOLE
For the next few weeks, we are present with Thursday night games and therefore we have some options to 'Loop Hole' some captains.
LOOP HOLE EXPLAINED: The game is Geelong v Port Adelaide and it kicks off at 7:20pm and at this time, all your players from the Cats and Port are locked into you teams (partial lock-out). To use the Calvin's Captains loop hole, place the VC on a player in this game (Dangerfield).

If you like his score (must be 125+ in my book), place a non-playing player on the field from one the games coming up and make that spud your captain. Also make sure you have an emergency selected in the same line.

The non-playing player will score a 0, and your VC score will double and your emergency will replace the 0. If you don't like the VC score, select a captain as you normal would. Warning… this can backfire and has on some people in the past. The element of risk is minimal, but it's worth noting.
Your best loop hole option is clearly, Patrick Dangerfield who is coming off a huge 156. This game is back at Skilled Stadium where he averaged 120 last year and started his 2017 campaign in fine form there last week. He has scored 3×100+ scores on Port in his last four games, with a solid 115 last year.
In last weeks points feast, Mitch Duncan was unreal for 169 and he'd be my second pick in this game. He has had 110 and 101 in his most recent games against the Power.
My third and final VC pick has to be Joel Selwood… yep, no Power guys will get a gig here (Roy told me too, ha ha). Joel had 134 on the Power last year and had 116 last week.
At the end of the day, don't put too much though into your VC here… it's a free hit, and they must score over 125 for it to be worth keeping.
ZACH'S 152
So as I mentioned above, Zach Merrett's best ever Fantasy score is 152 and he did that last year against the Tigers who he happens to plays this week. What a coincidence!
Zach has been amazing this year and has scored 126, 150 and 124 in his last three runs. His ability to 'pig it up' is up there with the great pigs of all time. A snout will come to the man in due course, that's for sure.
He has averaged 133 (#2 ranked) over the last 3 weeks and he's back at the MCG this week where he is averaging 129 this year, fresh off the back of that 150. Before last week, Richmond were one of the easiest teams in the game to score well against, but GWS stuffed that up with a poor game, and Kelly was the top scorer with just 106.
Zach will be out to dominate this week to prove me and the boys wrong that he should have been snouted first. Another 150 is on the cards that's for sure, and can he? Just can he hits the heights of Titch, Rocky and Swan? It's coming!
Dusty Martin will be out there as well and loves playing at the MCG where he has scored 125+ in three of his five games there this year. He had 161 and 123 on the Bombers last year – which is bloody impressive, but in recent weeks, the Bombers have been the hardest team to score over 100 against, and the second hardest for points in general. This alone, just made Dusty miss my top five this week. But with that said… I'm expecting something big anyway, it just comes with a small risk.
POINTS GALORE SUNDAY
On Sunday afternoon at the MCG, Collingwood will meet the Lions and I'm expecting some big numbers to roll out. Adam Treloar returned from 'injury' last week with 126 and against the Lions in the past he has gone 131, 120 and 115. Add to this the fact that last week, Adelaide had 8 tons on Brisbane and now they have given up 17×100+ scores in their last three games, ranking them as equal easiest (with WCE) in that category.
Taylor Adams had 119 on them last year and is currently carrying a lowest score of just 115 in the last month. Scott Pendlebury had 144 on the weekend and should also cash in, along with Brodie Grundy who is thriving in his time without Mason Cox. He pumped out another nice 119 on the weekend and hasn't gone under 111 with Cox out this year.
From the Lions, the only one to look at is Dayne Zorko who has scored 119 and 125 in his last two. The Pies are the 4th easiest to score against at the moment (Lions #3) so I'm expecting to see at least 6 players go above 120 in this one on Sunday.
JUST QUICKLY…
Gary Ablett v Melbourne @ TIO Traeger Park – From five games leading into the bye last year Gaz was averaging just 86. After a rest he went 120, 124, 120 and 129. He's ranked #5 on form averaging 130 in his last three but only managed 82 and 61 in his last two games against the Dees. Maybe Vince will track him like he has others recently. Huge risk if he does.
Jack Steven v Bulldogs @ Etihad Stadium – Steven has scored 4×100+ in his last four games and against the Dogs in the past he has blitzed them with scores of 145, 104, 113 and 142. After Geelong dominated them last week with their top 5 players averaging 142, Steven should clock up his 5th ton in a row this week, maybe by the end of the third term.
Lachie Neale v Adelaide @ Adelaide Oval – Lachie scored 105 and 115 on the Crows last year but as you know, I never pick a captain playing an away game in Adelaide.
Aaron Hall v Melbourne @ TIO Traeger Park – Before the bye, Hall was on fire with scores of 134 and 156. He had 97 last year against the Demons and will be high on the 'trade-in' radar this week.
Marcus Bontempelli v St Kilda @ Etihad Stadium – 113 and 66 against the Saints last year. We've got better than this.
Sam Docherty v Nth Melbourne @ Etihad Stadium – Doch scored 119 and 127 in his last 2 games and this week he is back under the roof where he has scored 127 and 132 this year.
Jack Billings v Bulldogs @ Etihad Stadium – running hot averaging 127 in his last three, on fire, but not captain worthy unless your team is rubbish and you wanna have some fun.
Josh Kelly v West Coast @ Domain Stadium – Top scored last week with 106 for the Giants and this week he plays the team who are the easiest team to score against in the last 3 weeks. Over that period, the Eagles have given up 933 points more than the most restrictive team in the Dockers.
Jack Viney v Gold Coast @ TIO Traeger Park – Over his career 6 games against the Suns, Viney is yet to crack the magical ton. He had 94 last week but is still averaging 124 in his last three games.
Rory Sloane v Fremantle @ Adelaide Oval – 111 last week was a nice comeback considering his form. Fremantle though are currently ranked #1 hardest to score against in their last 3 games and #2 in giving up the least 100+ scores. He scored 81 and 135 on them last year and I bet you can't tell… but that 81 was with a tag, the 135 was without. Sure thing to get another one this week.
ODDS: For those who would like to see the odds for Calvin's Captains for round 10, please follow the link provided right HERE.