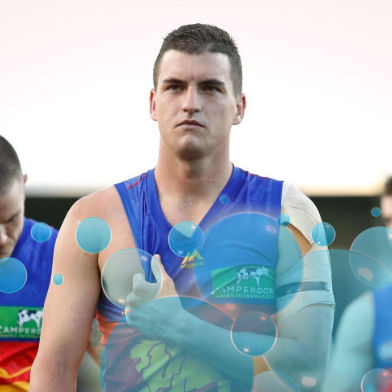 The season is really starting to take shape, so those falling behind the pace need to do something drastic. In other words, 'something stupid'. That is exactly what I'm going to be doing. Let's be clear, this goes only one of two ways. Either you hit a winner and begin your charge for the second half of the season, or you find yourself on google searching for methods on a quick and painless death way to hibernate for the next 6 months. It's time to wash-up last weekend!
Legends
Gaff (146) – Dayne Beams summed Gaff's performance up in one tweet. "Does he smell?" I can't come up with a better explanation for him being allowed to collect 31 uncontested disposals with 15 marks. Interestingly he has laid just one tackle in both 140+ scores this season. Surely opposition teams will start shutting down some of his outside ball, because he certainly doesn't win much of it on the inside! That concerns me from a Fantasy perspective, but for now enjoy the ride.
Yeo (110) – I saw a few people barking off at half time when Yeo sat on 26 points. They quickly took a seat as we witnessed the greatest recovery since Eminem's album.
T.Mitchell (132) – What else is there to say? He's the most reliable bloke with two first names that I've ever seen.
S.Martin (134) – I'd say the same about Stef but I don't count Stefan as an actual name. If somebody told me their baby was called Stefan I'd probably lose it laughing. Baby Stefan. Nope.
Rockliff (130) – I thought Rocky was on track for another 160+, but I won't complain with his 260 points this week. Get well soon Sir Pig. I'm praying that he gets up this week but the Fantasy God's don't listen to prayers.
Zorko (125) – The Round 11 bye is a pain in the ass, but Zorko should thrive as Brisbane's main midfielder. He's currently averaging 117 and looks certain to be a top 8 midfielder. Gun.
Henderson (117) – After a cheap backman? Want to throw your season away? Then look no further than Ricky Henderson.
Billings (151) – On his day Jack is unstoppable. This week he posted a triple double with 5 goals. It doesn't get much better than that, however he seems just as likely to flop a 60 or a 70. Billings still spends most of his time up forward, and his low of 47 is a concern. One for the risk takers, he's certainly capable of averaging 100!
Cripps (143) – Man crush alert! Patrick Cripps has always been a contested ball, clearance beast. However  he has just realised that he also stands at 6 ft 5! He took 11 marks (4 contested) to go with his 30 disposals, 5 tackles and 2 goals whilst sitting forward. I'm seriously jealous of those who took the punt when I first mentioned him @$556k a few weeks ago. He can be as good as Dangerfield and Fyfe, arguably at the moment he's better. Legend!
Docherty (127) – Another week and my regret for not picking Docherty burns ever stronger. Nothing wrong with Adams and Laird, but that third defensive premo was the way to go. He's yet to go below 90, is averaging 114 and averages 9.6 marks per game. Huge.
Murphy (122) – I got something right! Just a reminder, Murphy started the season priced at $482k and is averaging 119.4. Stuff 2011, the new Murphy is even better! I can only imagine the St Kilda player at fault last weekend was a frustrated non-owner.
Kelly (162) – Not sure what Josh Kelly is worth? Go and watch this game over and add a zero onto his contract. All we care about is his Fantasy price tag, and we can get him for a bargain $598k. Perfect week to get him, well aside from last week of course.
Merrett (150) – This performance had oink all over it. Having traded him in last week, I could finally watch Essendon without dying a inside. Zach does it all. Needless handball receives, cheap +6's late in quarters, he even takes kickouts for god sake! To himself, of course. However his ball winning ability aside, there's one important criteria for piggish behaviour. The love for hugs! He tackles like a machine, so when he's not getting cheap disposals he's getting +4's. I can't say anymore, just get him in and enjoy the show.
Jacobs (132) – Sam Jacobs is in beast mode this season, his average and price tag both just surpassed Brodie Grundy. I'd still go with Grundy now that Cox is gone, but Jacobs has been superb. I cannot believe I hardly even considered him when Spencer went down. I had Goldy in mind, but chased Mumford because he was about to eat Tom Boyd. Sure I couldn't have foreseen this kind of form, but he was hardly going to be worse than Mummy! At least he's capable of being more than just a human wrecking ball. Head shaker.
Viney (132) – Called it! Viney seems to be the type of player to go on scoring streaks, so if you jumped on last week good on you. I'd get him without hesitation this week, however his Round 11 bye is a killer.
Hill (123) – Fair play to Freo, I thought they were no hopers going into this season but Ross is proving me to be a fool! Brad Hill has just decided to transform into an unstoppable beast, recording 27 marks over the past two weeks. You'd have to say he looks like a certain top 6 forward, get on board! Tags might be the only worry if this form continues.
Boak (153) – What did they feed Travis over in China? I'm guessing it had a bit more flavour than Kenny's Ham and Cheese sandwich! If Port played in China every week then maybe I'd consider him… They don't.
Hall (134) – Meet my number one trade target in Round 10. Aaron Hall is capable of averaging 120+, he nearly has the perfect DT game. The only thing he was lacking is tackling intent, he has laid 16 in the past 2 weeks. In the first 6 Rounds he managed just 17… Tick. I'm tipping him to go big!
Sydney – The Swans are back! Having seen the return of the majority of their key players, they're starting to get a run of form going. More importantly, their midfielders have decided to hunt the footy again! Take your pick from their under priced options, Kennedy (122), Parker (121), Heeney (118) and Hannebery (117) are all on fire. Heeney looks like a must have forward while his price remains under $500k, whilst you can hardly split the three midfielders. I traded in Parker two weeks ago and couldn't be happier with where he sits. Don't be put off by his lack of tons, this score was coming. If he tidies up the free kicks he'll go huge! JPK is also a beast and priced too low to ignore @$528k, great pickup this week. I still can't trust a man who doesn't drink though.
Walters (137) – Ok, let's not panic here. Everybody calm down. IT'S HAPPENING AGAIN DEAR GOD HELP US. Michael Walters has made his yearly adventure into midfield and sure enough hes killed it. This year he has stepped it up a notch, pumping out 38 disposals, 7 marks and 6 clearances. Here are the facts. He's priced at $382k, roughly an average of 65. He has a Round 13 bye. He has scored 203 points in his last 6 quarters of football. If he plays in the middle he should comfortably average 90+. After such impactful performances he simply has to stay in the middle, even experts are applauding his efforts. But he's coached by Ross Lyon. And his name is Michael Walters. I have no idea what to do.
Newman (135) – Ok I had to trade Newman to avoid a donut therefore I refuse to talk about this. It makes me physically ill. Why was he ever dropped?! Instead I have Tom Williamson making no money scoring 40's. It has literally ruined my season. Cheers horse. Bastard. (Full credit to Newman for this performance)

Click here to subscribe on iTunes.
Losers
Dahlhaus (70) – Back to shithaus. All in all things have worked out pretty evenly.
Liberatore (31) – Tom Liberatore's score of 31 was reached by the 13th minute mark of the second term. Basically, his performance was as effective as a concrete parachute. I suppose he's there for his 'leadership'? Help me out here because I'm really not sure.
Smith (62) – Isaac Smith is getting tagged. It's not as though we needed another reason to not trust owning him, but there it is.
Taylor (39) – Oh you thought Lewis Taylor had finally found his Fantasy potential?! Here's a nice score for your troubles. Draft burn.
Williamson (42) – If you watch Carlton play, it's hard to believe that one of their defenders can only manage 3 marks, two of which were intercepted! The ball is down there getting chipped around half the game, bloody get amongst it Tom! He should be on the chopping block, but I don't trust Heath Shaw anymore than I trust Malcolm Turnbull.
Fisher (39) – I wasted a trade to get this kid in, unbelievable. Sure it looks like he can play and Carlton clearly rate him, but there's one quite problematic issue. He doesn't actually do much.
Coniglio (82) – Sadly Coniglio received some shocking news on his bad ankle, he's set to miss another 10 weeks for it. Crisis presents opportunity and I expect Daniel Lloyd to take full advantage. He should be in for the byes!
Blicavs (33) – I thought Blicavs only role in Geelong's team was to be third man up and lay heaps of tackles? At the moment he's not being used as a ruckman and isn't laying a single tackle. Soooooooo… Why is he playing? Beats me.
Parsons (41) – Geelong rated Parsons enough to bring him straight back in after trying to break Hodge's jaw. In fairness there's plenty of players who've been there. More importantly he has held his spot over Aaron Black, and after his last 2 performances I want answers! I'm usually forgiving with rookies, but when they're keeping out my player you get no such liberties.
O'Connor (24) – Usually I'd be laughing at this score, but such is the state of my team in Round 11 I could use a heartbeat back there… *Shudders*
Tuohy (67) – I'd put this performance down to Geelong's lack of control in the game rather than Tuohy's lack of ball finding ability. He recovered from 19 at Half Time to post a semi respectable score. Needs to bounce back next week.
Selwood (70) – One tackle? You're an in and under midfielder and you lay one tackle. Safe to say this is not a new look uber premium Joel Selwood. He realised he was averaging WAY TOO high, time to bring it back down to 105. Doing it to perfection.
Sloane (63) – Yes, I didn't torch Sloane last week. The man had averaged 144 in his previous 5 games, can't hate too much on that. Consecutive 60's though? Rory is are you having a f**king laugh mate? It's a tag, not an amputation. He managed 11 disposals on the weekend. Thank god he still laid 12 tackles, because otherwise we might have seen a spike in recent searches for 'nearest bridge'. Even so, when your tackle count outnumbers your possession count there's a pretty big problem. His scores are absolutely hilarious, he hasn't scored between 68 and 132! It's all or nothing for Rory.
Just spare a thought for anyone who paid $728k for him. That would have to be the worst decision since someone thought 'Let's take this suspiciously large wooden horse into Troy, statues are all the rage this season'.
Hampton (52) – All the signs are suggesting that Hampton has peaked in value, however Adelaide play Brisbane this week. Knowing the type of scores he's capable of, I can almost guarantee he will ton up the week I trade him. Our decision could be made easier if he gets dropped this week, which is a massive possibility.
Otten (49) – Otten was forced to return to defence on Saturday, hence his poor score. What you should take into account is that he went forward in the last term, scored 23 points and missed 2 sitters while he was at it. Hopefully Jake Lever is back this week and Otten returns to the forward line.
Fyfe (75) – Seriously, was Fyfe's leg so much of a problem that Fremantle cloned him during the off-season? This is simply not Nathan Fyfe playing right now. In the past 5 weeks he has averaged 23 disposals, 4 marks and 3.5 tackles. Pathetic. I was bullish about his prospects this season, so there's no way I'm trading him for $519k. But the best player in the competition? In the top 5 even? No chance, he's nowhere near it at the moment. I wouldn't be surprised to see him rested in the coming weeks with some sort of niggle.
Balic (-) – Any danger of sorting that immune system out Harley? I'm starting to get worried that he won't just walk back into this winning Freo team again, and that would be a problem I simply can't afford heading into the byes. Cross your fingers.
Butler (38) – I've had to field Butler for 2 weeks this season out of pure necessity. Cheers to Black and Balic for dropping the ball, because Butler's 38 has ruined my week. He shouldn't be anywhere other than rotting on the bench, and the only reason he sits there is because my other duds can't even get a game. Putrid.
Miller (69) – This is gutting. I feel like I've been stabbed in the back. How much faith could I have shown?! With Rosa and Swallow out this week Miller was meant to be back in the guts and scoring well. Instead he's just become a high grade rookie. Chopped this week without a seconds hesitation.
Lynch (36) – I didn't see the game so I'm just going to presume Gold Coast didn't get the ball past halfway. That's Tom Lynch's biggest problem right now.
John Longmire – It's about time I did this. What an absolute moron. Why was Nic Newman not getting a game? Why are we all not cheering his massive 135 this week?! Oh, because John hates fun. He hates other people enjoying themselves almost as much as he hates young rookies playing well.
It's nominations time… Fire away!
Gaff – That was Dream Team in its purist form. 15 +6's!
Merrett – In a time of crisis, watching Zach Merrett run around for 2 hours heals any pain. He gets my vote for sure.
Kelly – Numerous coaches were adamant Kelly was going to fire this season, this week is your time to shine!
Billings – If you were strong enough to hold Billings during his shocking start to the season, his performance was vindication if I've ever seen it.
Newman – If you were in a good enough position to hold Newman, and an even better position of fielding him in the hope of a late inclusion… Get voting you smug bastards.
Who gets your vote?!
This Game Sh*ts Me
For the amount of time and effort I put into this game, it really doesn't give me that much satisfaction. It's funny how humans work. However watching our three little pigs do their thing brought me so much joy that I would completely forget about my other spud playing and scoring 40. How good is it watching a player and not stressing that they might play dodgeball and score 60, set up a deck chair at full forward or do everything in their power not to lay a tackle. Every chance to disposes a player, they take it. If they can sit on a bloke lying on the ground for a +4, they'll do the ugly stuff. On every switch of play you can guarantee they'll be finding a pocket of space to collect another +6. And of course every kick-out they're stationed 20 metres out from goal in the back pocket, unless they're kicking it to themselves already. It's the things that they don't really need to do to get the tick from their coach, but they do it for us. They do anything for the stat.
This was clearly too good to be true of course and most of us only got to enjoy it for one or two weeks. Now our King pig is injured and we have to bring in a replacement that doesn't give two sh*ts about how are Fantasy team is going. Why couldn't the Gods just let us have these three… This game really sh*ts me.
The Other Bits and Pieces
I had a horror week, scoring 2108 (Just keep in mind 3 players totalled for 542 points). I told myself in Round 1 that I wouldn't be short minded and I'd think long term, yet once again here I sit not making any long term improvements to my squad. I still have 7 rookies on my ground and it's proving to be catastrophic. Having passed on opportunities to get Ablett, Jacobs and Heeney I'm left in a position this week where it's make or break. That's right ladies and gentlemen, it's that time of season where Matt has realised his team is shocking so he does something utterly idiotic to make himself feel better until next weekend. So, as any insane person would do I'm bringing in Michael Walters. It should tick all boxes. I just need 4 decent games from him, FOUR. He has been so good in the midfield that I see no way he can get dumped straight back into the forward line. Of course what I'm forgetting is that it's Ross Lyon and Michael Walters. Even if he does get midfield time there are no guarantees I won't be head-butting my wall in a few weeks time, but I have want to gamble.
Rockliff to Heeney and Miller to Walters, leaving me with a monstrous $431k kitty heading into Round 10. The goal is for Aaron Hall to come in next week, followed by Gazza in Round 11. Bang, bang. Or so I hope, return next week so find out how f**ked up sh*t gets and how I'm coping with it. Good luck this week as always! Pray for me.