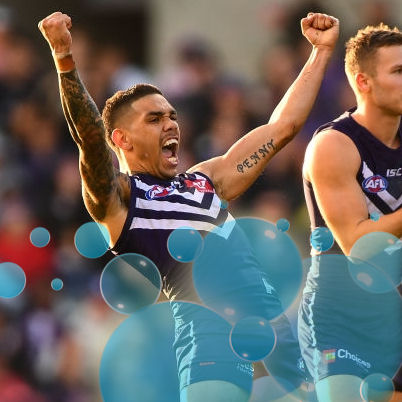 So, how was your weekend? Enjoyable? High scoring? Good for you. I've got 99 problems and a lack of bad scores ain't one. Fantasy continues to drag me through the gutter and I love it, there's plenty to complain about once again as we commence the weekend wash-up!
Legends
Duncan (169) – I didn't catch the game but can we have the Geelong statisticians at every ground? You get a tackle, you get a tackle, everyone gets a tackle! 31 disposals and 7 marks is standard procedure for Duncan these days, but 18 tackles?! Machine. For anyone after a Round 12 bye last week, here was your answer. Hope that helps.
Dangerfield (156) – I genuinely thought Danger was on track to post a 200+ score early in the third term. Can somebody let me know what happened? Did he have a stroke mid-game? I guess I'll take 156.
Z.Smith (148) – Ok this is just stupidity. I'm saying no more.
S.Selwood (119) – His 17 touches was hardly inspiring, but 17 tackles is! Decent option this week, but I'm not totally convinced. He can definitely pump out 90's, but will rely heavily on tackling. It's at the stage of the season where I'd rather bring in fallen premiums that I'm happy to back in for the season.
Ross (135) – It's about time Seb Ross got some applauds for his efforts. That outlier of 42 in Round 1 is masking his true average, he's actually going at around 110 and his owners would be quietly chuffed. Great pick.
Roberton (121) – There's no doubt in my mind that Roberton is a top 6 defender. Half backs are the new fad, and I only have one in my team. Not hard to see where it's all going wrong! Gun.
Lloyd (122) – A half back flanker racking up uncontested possessions and junking it up. Shock. Can't go wrong here.
Newman (113) – Honestly I feel sick. Let's just take a moment to think what might have happened if he hadn't been a late in against the Roos. Nope, didn't make me feel any better. If you own him enjoy every second of it, because for the rest of us it's absolutely gutting.
Billings (113) – Massive tick. Jack is a ball magnet, well done to all those that got on early!
Hannebery (159) – I'd still rather see Hanners in the guts, but if he's allowed to roam a wing and rack up 12 marks then I'm all for it! It's just another what could have been pick for me. Brilliant call by those who grabbed him cheap.
Beams (144) – Due to his injury history and lack of clarity regarding his latest absence, holding Beams was an extremely gutsy move. This score was reward for those old school players out there refusing to waste any trades, what a score! 40 disposals isn't a bad way to announce your return to full fitness. Beams averages 113 without Rocky in the side, you'd have to say he's nearly that good anyway. Legend.
Zorko (119) – It looked as though Zorko was on track for another monster score but you'll still take 119, he certainly wasn't hurt by the absence of Rockliff. He's looking more and more like a top 8 mid! The Zork was a very sneaky draft selection that's for sure.
Laird (114) – Keep knocking up those tons Rory. Half back flankers, what more can I say!
Pendlebury (144) – What happened to Pendlebury's consistency? He's still averaging his standard 110 this season, but it includes three 80's and three 140's! This really is a roller coaster ride, you don't know what's around the corner but you know exactly where you'll end up at the end of it!
Treloar (126) – It's almost as though Treloar didn't think I could hate him anymore than I did before. It's not smart coaching putting a bloke averaging 114 on your never again list but Adam is getting close! Someone try tagging him, that seemed to work fairly well.
Howe (125) – Shoutout to anyone who nabbed Howe in the middle of their drafts. He's averaging 90 and that's invaluable! Great selection.
Grundy (119) – No Cox, no worries! Grundy won't be getting any cheaper this season, but only bring him in if you have the luxury trade available.
Adams (116) – Taylor Adams is clearly a top 8 mid. If you didn't pick him up in defence due to his injury 'history', hang your head in shame. Legend!!!
Zaharakis (137) – I was avoiding Zaharakis' return to form last week, but you can't ignore it this week. Essendon had an absolute field day so don't get too carried away, but he's still dirt cheap and this is his second 120+ in a row. I don't know anyone who's crazy enough to make this move, but I wish anyone that does all the best.
Merrett (127) – People were actually complaining about Merrett's score. Incredible. Sure he didn't match Tommy's tally, but that's your fault for not picking him as captain instead. Zach hasn't put a foot wrong all season and continues to rack up. Merrett got this score with only 1 tackle, he was averaging 6 per game coming into Round 9. What could have been!
Pedersen (120) – This would have been Jake Spencer, right? Let's be honest, Melbourne were probably done a favour when he went down. If only they could do us a favour with our tips. Pedersen has thrived in the ruck and this is a pat on the back for those who grabbed him off the free agents (I hope he was there) in their drafts. Ruck position change incoming! Sadly, there's also Max Gawn incoming.
Goldstein (148) – Thirty seconds. 30 seconds and one tweet was the difference between me owning Todd Goldstein and Shane Mumford. Completely my fault, beyond idiotic and probably up their with the worst lockout trade this season. Why couldn't my internet have lagged… Safe to say Goldstyne is back! Beast.
Gibbs (133) – Gibbs has been solid without being spectacular, but this was an awesome score. Good to see him and Murph dominating every week!
Docherty (119) – What are the odds of an opposition team playing a defensive forward role on Docherty? Apparently pretty low! Teams continue to allow the best ball users space to roam off half back, it's baffling. Of course good coaches all own Doch and can pen in a ton every week! Gun.
Kreuzer (119) – It seemed only a matter of time before Kreuzer decided to put the pieces together. As an owner you'd be fearing an injury every week and there's definitely better options out there, but for drafters especially he has been a massive win! I can say I'm a proud and happy owner, picking him up in Round 11. Cheers to that.
Blakely (134) – This smells so much like Lachie Neale it's unreal. Back in 2014 Neale started his breakout season slowly, mainly due to the green vest (Remember that thing). Blakely was given tagging roles to start the season, highlighted by his impressive 17 point effort in Round 2. However in the past 4 weeks he has been unleashed, averaging 29 disposals and 105 points per game. His 88% TOG impressed me the most and suggests he's ready to dominate in midfield. Owned by less than 1% of teams, I'd seriously consider him as a differential. Perhaps he's a touch expensive after last week @$491k but I'd give him a look. On the shopping list next season for sure.
Walters (118) – Thanking you! It's a case of simple abductive reasoning. In English, if he looks like a premium, plays like a premium and scores like a premium then he probably is a premium! Walters continues to thrive in his midfield role and I'm glad I pulled this trigger. Sure it's a week to week proposition, we just need 3 more games in the midfield. Please Ross.
Mitchell (177) – Tom Mitchell has been a ball magnet since the day he was born. Fun fact, he was finding the footy before he could walk. There has never been a moment in the past 4 years when he hasn't sat in my team when playing, no matter how hard Longmire tried. Go back through the archives and you'll find my never ending love for Titch. Round 10 2013, the Sunday Knee-Jerk. His famed green vest debut. He followed up his impressive debut with 144 in his second game of AFL footy. Round 23 2014, his first 160+ score. I labelled him an uber premium then and there. Sure it was 2 years early but who's counting. Round 2 2016, I predict him to become a Fantasy legend. It's a proud moment to see him be anointed pig status and my god it's deserved. Apparently 73% of coaches missed the memo. He's a LEEEEGEND and a lock for years to come.
I wish it was all positive, but of course AFL is a game whose media loves nothing more than to strike down a player at any given opportunity. Bloody scum. I don't think I've heard a more irrelevant, incorrect, misinformed, deceiving, misleading, misguided… SHIT HOUSE argument than Tom Mitchell's metres gained. My god, it has burned a hole in my brain. Honestly, who pays these clowns. He's an inside midfielder whose job is to win the 50/50 contested ball and give his outside team mates first use. That's it. No, he's not Patrick Dangerfield and capable of going forward to kick 4 goals. He's not Brad Hill or Andrew Gaff getting handball receives and gaining metres up the wing. "Oh but his disposal efficiency is 21st at the Hawks." Oh really? Dangerfield ranks 25th at the Cats. I'm no genius, but that might have something to do with the fact that they have 15+ contested disposals every game?! Clearly he's not a half backman kicking at 80% efficiency, I reckon if you threw him back there getting uncontested disposals he might hit a few sideways targets. Thanks for pointing that out! Next we'll be judging full backs on their goals scored. Completely irrelevant. Docherty only averages 1 inside 50 per game, what a disgrace!!! And breathe…
Not only did Titch have 50 disposals (22 contested), he laid 8 tackles and had the most pressure acts on the ground. He also leads the competition for assisted metres gained. I'd say he's doing his job fairly well! Yes assisted metres gained is a stupid stat, but it's no more stupid than metres gained itself. The best part is if Hawthorn had won the game this would have been the birth of a star. Are you telling me it's his fault the Hawks lost the game? Give me a spell. Let's move on…
Losers
Macrae (76) – There's not many losers this week so Macrae doesn't get off this score. He's still averaging 99 which is what we all expected, don't get greedy. He's on notice.
Bontempelli (73) – I was just sitting there waiting for Bont to have a miraculous last quarter, find his way to 100 and get the Doggies over the line. I swear this is the first time he has gone quiet with the game on the line. I'm calling it a one off.
Hunter (47) – Not a popular Fantasy pick, but I'd have happily taken him in Draft. He scored 30 of his points in the second quarter, that's about as ugly as it gets. Massive burn, I'm just happy it wasn't last season!
Parker (83) – They're mostly irrelevant losers this week, so it's no surprise I've managed to pick up a couple. I really thought Parker was back to his best over the past couple of weeks. He had 28 disposals but importantly isn't marking or tackling. He's averaging 2 less tackles per game this season compared to 2016 and it's really hurting. My faith is going, going… Luke it's nearly ******* gone. For the love of god try and lay a tackle.
Heeney (70) – I was so close to chasing Heeney instead of Walters last week, and it would have been absolutely typical. Many fresh owners will be hurt by this score and it begs the question, can he average 95+? He can certainly score tons and dominate on any given day, but the consistency might not be there yet. His role still looks good so I wouldn't be too worried.
Jones (59) – Zak Jones owners have a tough call to make this week. He has averaged 81 and made $117k in the process, however his break even is 97 and he has the dreaded Round 11 bye. I'd say it's time to move on.
Mumford (77) – … Watching Mumford get towelled up in the ruck by Nankervis was the last straw. It got to the point where there was only one thing Mumford could do to make up for this effort. I'm not proud but I have to admit a dark part of me wanted the Big Mummifier to run off the line and poleaxe Nank into 2018, earning himself a lengthy suspension in the process. It would have been a win/win for me. It wasn't to be.
Shaw (68) – I didn't say or suggest anything…… *Cough*. If it makes any difference I would have grabbed Heath Shaw if I had the chance. So there's that. Otherwise I can't help you, enjoy the headache.
D.Lloyd (44) – Lloyd or Myers, Lloyd or Myers, Lloyd or Myers… You have chosen, poorly. I may not shrivel up and die like in Indiana Jones but sometimes it feels that way.
Soldo (34) – Ivan Soldo spent more time on the bench than he did on the ground. I'm not even sure we can call this a heartbeat during the byes, you wouldn't feel a pulse.
Hampton (46) – Ah yes thank you Fantasy gods! It's not like Hampton was on track for a great score, nor did I desperately need Curtly to play until Round 13 because I already have more problems to fix than trades to fix them with. If that was the case, I'd at least put on a brave face. *Bursts uncontrollably into tears*
Wellingham (26) – It took a lot to put a smile on my face this weekend but seeing Wellingham's score did the trick. There are 10,000 Fantasy coaches out there who will never watch a JLT game again. The Eagles were absolutely putrid and Andrew Gaff can lucky his lucky stars for that second half.
Lewis (79) – I gave him a pump up early in the season, so it's only fair that I update you with Jordan Lewis' consecutive scores of 70 and season average of 91. Still, he's tracking as well as Fyfe.
Salem (48) – Christian Salem has been hot property this season, averaging a handy 90. Nothing like 48 points and a one week suspension to put a dampener on the whole thing. Now he doesn't play until Round 12 and becomes a must trade… Plenty of Disney stars would be proud of that fall from grace.
Waite (41) – Come on let's be honest, there's one poor Fantasy coach out there who did it. Waite had a breakeven of 50 after all. There's no chance we'll ever hear from them as first of all there's no way you'd ever admit to committing such an atrocity, and secondly they've already packed their bags and taken an early off-season.
I've already called off the vote for one Pig this season, so you better believe that Tom Mitchell is winning the Round 9 stubby. What a man. But which is your favourite?
Tom Mitchell, Contested ball beast – He's not all about junk, winning 22 contested disposals.
Tom Mitchell, Pressure king – Leading pressure acts in the game whilst racking up a healthy dose of leather poisoning, what can't he do? Just ask the media to find out.
Tom Mitchell, Assisted metres gained champion – I get the feeling champion data just made this stat up. How can you keep a record of that? Nevertheless it sounds cool.
Tom Mitchell, Fantasy Pig – Not only does he do the hard stuff, he looks after us Fantasy coaches as well. 7 uncontested marks thanks to endless gut running. Clearly my favourite Tom.
Cameron Ling, Moron – A tagger who tried to bag out a player for winning the ball. Funny guy.
Who gets your vote?
SHOP NOW: Tom Mitchell beanie | Tom Rockliff beanie
This Game Sh*ts Me
Take your pick. Being forced into trades every week is really starting to break me down. Just let me patch up my mistakes, please. However it's not the forced trades that sh*t me this week, it's those poor decisions you made a month ago that come back to haunt you EVERY week. I'm waiting for the Round the good picks have an off day and my spuds deliver up something other than inexplicable garbage. It never happens. Will Fyfe crack another ton this season? Will Shane Mumford outscore Goldy again in his career? Is somebody ever going to mark up Docherty? Nankervis… I was wrong, OK Nank? Now please stop being so good.
Six weeks later and my problems still all date back to Max Gawn. My number one rule this season was to not mess around with my rucks, yet here I sit watching Shane Mumford try and kill 10 blokes every week.  This game sh*ts me.
The Other Bits and Pieces
Last week I said to tune in and find out how f**ked up sh*t could get. Don't ask me why I add the asterisks. Funnily enough at the time I was talking about my planned Michael Walters experiment. If only I knew what was to come… If I did I might have found a shovel and been done with it there and then. Balic and Black had placed my forward line under heavy stress, sadly I hadn't accounted for Touk Miller also taking the week off, not his first for the season. Of course a trade was forced thanks to Rocky's shoulder, and one Daniel Butler groin strain later I was eating a donut. Not during the byes. My team is bad enough as it is, trust me. It won't shock you to find out the results with 21 men didn't really improve. 2152. Usually a very decent score, until I see kissed bastards across the country with Nic Newman and 2300+.
As is always the case I can't keep up with my forced trades at the moment. Hampton has gone down injured and has to go, but I already have 5 other non-playing rookies to deal with. Tom Stewart is in this week….. Yep. Just to top things off I'm $1,000 short of trading Pickett to Hall.
Bring on Round 11, I can't wait to try and post a three figure score.
This article was 2999 words. It's now 3005.