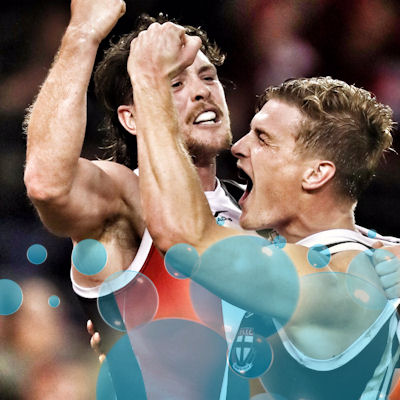 For the first few Rounds we can get through the tougher days by telling ourselves it's early in the season. There's always time to pull it back. Well now we're reaching the crossroads where it's just about get your shit together or wave goodbye as the top 1000 sails off into the sunset never to be seen again. I sometimes envy those coaches only focusing on their league matchups. One bad week isn't the be all and end all, but for us hardcore players that's exactly what it is. Round 7 was no different, it's time for the weekend wash-up!
Legends
Shaw (106) – Heath Shaw @497k, you can't really go wrong! Clearly he hasn't had the best start to his season, however his lowest score is 72 and he currently sits at a price around 85. With an average of 94 in his last 3 and backing up from his triple figure 2016, there's absolutely no reason why he can't increase his scoring output to at least an average of 95. He's a bargain and can sit comfortably in your team until finals, there's still a chance he can push the top 6 defenders for the rest of the year. He's at least better than a rookie. I like it.
Crouch (116) – Do you really need more evidence that Matt Crouch thrives on competing with his brother? In the 3 games that Brad has played Matt is yet to drop under 116. Fantasy gun.
Yeo (124) – I know Yeo has had a brilliant start to the season, but let's ease up on the Brownlow medal chances. That being said, he has finally become the gun player we all saw he could be over the past few seasons. Of course after years of pain and disappointment none of us were willing to give him this chance, even though he's only 23. Must have forward and he's in for me this week! Handy bye too.
Shuey (118) – I would never have seen this coming, but Shuey has skipped the step of becoming a premium and just decided to transform into a top 8 mid! This is looking like the norm, he even got involved in some late +6 action! Legend!
Ryder (131) – The lesson to be learnt here is that any ruckman coming up against the Eagles is in for a field day. This is Paddy's third game this season with 40+ hitouts, he has turned out to be a solid pick!
Hall (156) – We all prayed for Hall owners last week and look what we got them! Unless of course you traded him out, in which case I suspect your one way ticket to Panama following the death of your boss has already been booked.
Ablett (120) – When Gazza headed to the bench clutching his shoulder we all feared the worst. 120 points later and all is right in the world again. The injury concerns are always there, but as a non-owner it's not nearly as concerning as seeing him as a unique! Part man part holy.
Duncan (128) – Another week, another big ton and still Mitch Duncan is owned by just 1% of the competition. Crazy.
Barlow (112) – My Round 10 upgrade is already locked and loaded. Of course unforeseen events will undoubtedly ruin my plans, but Barlow is an obvious upgrade to be making before that first Bye round. Just please don't score anything too ridiculous over in China. Love 97.6% of Fantasy coaches.
Dahlhaus (115) – I'm not sure which is better, Big Momma's House or Dahl's Haus. We needed a lift and he has given us exactly that with a 4 round average of 111.
Franklin (133) – I predicted his bounce back week 1 round too early, apologies to anyone to followed that advice. Not that anyone is actually here for my advice. If you were though, I'd suggest Buddy is looking like a safe upgrade option up forward.
Rockliff (167) – Surely 100% of DTTALK readers own Rocky? You're not a fit Fantasy coach if you don't, nobody does it better than the pig. 334, OINK!
Viney (145) – I wasn't going to pump up a bloke who has done nothing but torch owners all year, however this score was just big enough to justify some redemption. He went head to head with Mitchell all day and they just tackled each other for the fun of it. You can't be relying on 15 tackles each week but $527k is dirt cheap for a player of his capability. Damn that Round 11 bye.
T.Mitchell (136) – I'm running out of things to say about Tom Mitchell. One of these games he's going to go ape for 4 quarters and post a 160+, then we might be getting twice the oinkness.
McEvoy (124) – McEvoy has put his Big Boy pants on and dominated just in a time of need in the ruck. I wouldn't trust him post byes for a second, but he might be a straight swap for Grundy at this rate. Ben Mcevoy. A straight swap for Brodie Grundy. The world has gone mad.
Neale (138) – Now that's the Lachie Neale I got to know and love. Extra forward time for a player like Neale is a disgrace, get him in the guts and watch him rack up 40 disposals every week. Get on board.
Hill (159) – What a bloody brilliant pick this has been. Hill is now averaging 97 having starting the year priced cheaper than the likes of Heeney and Steele. This performance topped the lot, doing it all without a single tackle! +6 city.
Merrett (124) – LEGEND. When I saw Merrett on 80 at HT I nearly threw in the towel. I was $2k off getting him in my team instead of Adam Treloar… Fetch me the rope. It's time for the losers.
Losers
Mumford (72) – I feel like I've been mummified having to watch this plonker run around and hope he does well. Sure he gets 40 hitouts every week, but I've never seen a man so incapable of doing anything else other than hurting people. More often than not it results in as many -3's as it does +4's. The Round 13 bye can't come quickly enough.
Riewoldt (51) – Would someone kindly explain why Riewoldt returned from injury, posted 137 and 122 on a wing and then returned to being a stay at home forward? They should have taken Roo off the ground in a coffin because this was the death of a fantasy great.
(Can't wait to get him in)
Steele (74) – I hardly have the mental strength to write this paragraph. What can I even say. A lack of time on ground was the only reason I traded Steele out after Round 2. In the next 4 rounds he averaged 78% TOG and subsequently averaged 102 points. Easy pick this week then?! Of course not. He produces his second lowest score of the season from his second lowest TOG, scraping his way to 70%. I feel sick. Steele has actually averaged 74 for me. How have I even managed that? 120 this week or he's the biggest rage trade since I traded Roughead to Steele four days ago. F*ck it all.
Hampton (45) – Thank God Hampton fluked that big ton a few weeks ago, because other than that he has been absolutely putrid. Pathetic. Pissweak. I want nothing more than to trade him to Shaw this week but I can't generate the cash. Cheers fellow rookies!
Vickers-Willis (39) – Sometimes I wonder if it will be actually worth avoiding a donut in the byes. Watching Vickers-Willis run around for your side might be even worse. At least he's making some sort of cash, which is more than I can say for Mitch Hibberd. Why did Joel Smith have to get injured…
Treloar (82) – Somebody hold me back. Treloar is a turd. A stinking, good for nothing, soul sucking turd. What price did I bring him in for you ask? $695k haha! Yes, thank you. Thanks Adam. Really appreciate it mate. After watching him for the first 3 weeks not fall below 125 I couldn't have it any longer. Go for the best they said! I didn't realise at the time I was just buying a PRETENTIOUS PRETENDER. $2k off Merrett… $2,000 off Zach Merrett. Instead I get three scores of 95, 82 and 82. Forget ANZAC day, he needed to score 200. Next week he plays GWS so I'm just going to dig a very deep hole and sit in it for a little while.
Hoskin-Elliot (53) – Finally some good news. I mean, god damn it Will we need better! See I'm in it for you guys as well. Definitely time to go this week.
Gaff (82) – There's a football saying, "Can he do it on a cold, rainy Thursday night in Stoke". Stoke is basically Hobart only 20 times worse. I have a new saying. Can Gaff do it anywhere other than a sunny, windless Sunday afternoon against a spooner at Subi? The answer is looking like a pretty solid no.
Wines (68) – Yep, definitely should have cashed in Wines in my draft league. He's notoriously a fast starter to the season but is fading away dramatically once again. Having been talked about as a potential uber premo, he's now averaging 96 and bleeding cash faster than a Printing business.
R.Gray (37) – We're being lead to believe that Robbie Gray is struggling with a groin problem, that might have been nice to know Port BEFORE people traded him in as a forward. God. Do they even think about the Fantasy coaches?! Disgraceful. 37 though… Gray owners would rather he tore his groin just so he knows what that kind of pain feels like.
Miller (81) – Listen up because I'm not going to say this often. I was wrong. It's not my fault Treloar sucks or that Spencer has weak shoulders or that Fyfe doesn't want the ball or that Steele hates me… But it is my fault for thinking Touk would be a permanent midfielder. He was locked in the guts for the first 3 rounds but is shifting back to his forward flank, in other words left right out. Pinch hitting in the mids isn't going to get him an average much above 80, so unless there are injuries at the Suns I'd part ways with Touk. Its been fun! Not really.
Parsons (27) – Good rookies are hard to come by, and even harder to find in that glorious Round 12 bye. Sadly performances like that aren't going to keep his spot in the team for long. Surely the fact that he came straight back in after suspension is a good sign, his form this weekend wasn't. At least get to 40…
JPK (58) – Second-half specialist. Not final two-thirds specialist! Kennedy will show glimpses but not until Round 13 does he activate beast mode. Coming off his Round 11 bye he will almost be a no brainer. I like to think of this weeks score as self-inflicted pain.
Kennedy-Harris (42) – I just had the bravery to turn on the bye detector and let's just say it was turned off again very quickly. Round 11 forwards are pretty popular. JKH is crossing enough boxes already, glad I missed this one.
Balic (41) – I would hate to be an AFL rookie these days, some of the abuse I saw Balic getting from champs behind their computers was unbelievable. Apparently he's a hopeless spud about to be dropped and never to return. Yes I torch blokes while knocking back beers but that's not the point here, just give the kids a bit of a chance. That being said Harley, wouldn't mind something a little more respectable next week. He has bounced back before, let's hope he can do it again! I've made a statement and benched him this week.
Myers (41) – Sometimes the Fantasy Gods play with our emotions. Myers was an easy target last week and should have been a safe player to field. 41 painful points later and many will be shifting mountains to bench him. So I'm going to do the least logical thing and something the Fantasy Gods will least expect, I'm going to trade him in and start him. Sometimes players need to be given a little faith and I'm reaching out a hand David. Don't let me regret that next week.
It's nominations time! I've already called one poll off and given the award to Rocky so I couldn't do it again…
Rockliff – He still scored 167 though. 334 to be precise. Smells like bacon.
B.Hill – There was something piggish about Bradley Hill's game. 30 kicks and 16 marks, there was a smorgasbord of +6's on offer. Get behind him.
Hall – Probably undeserving given his form, but you can't knock a 156. Triple double baby!
Duncan – Duncan owners, do you exist? Give us a shout!
Neale – Anyone who has got on board in the past 2 weeks is laughing! Vote away.
Who gets your vote?
This Game Sh*ts Me
Murphy's law. It's real. Trading Steele out was always going to result in him bouncing back to form. Trading Steele back in was always going to go tits up. Holding Roughead for a month was never going to see a rebound in scores. Trading him out definitely will. Adam Treloar would be the most consistent player in the comp, until I actually need him to be the most consistent player in the comp. Jake Spencer wouldn't have gotten injured, until Fantasy coaches needed him to be a safe and reliable option. What can go wrong, will go wrong. We accept that.
What hurts me the most is when the Fantasy Gods reach out a hand, and I just throw it back in their face(s). Losing Gawn sucked, but it gave me the chance to bring in almost any midfielder I wanted. This bloke called Rory Sloane had just posted 2 monster scores and was looking in career best form. Of course I passed on that opportunity.
Spencer then going down really hurt, but it left me the perfect opportunity to bring in a form ruckman. McEvoy was staring me right in the face, he had just scored 129 and risen $35k. Instead I brought in Mumford. Sorry what? My other option was Goldstein, not much better. McEvoy has now made it 4 tons in a row and I missed another ticket to catch up to the leading pack.
Isaac Heeney was looking good and ready for selection. I was left with a luxury trade to play with and Heeney was a perfect option. A third chance to gain some ground. That would have been too easy though. I obviously took the worse, more expensive option. Give me just one more chance? Please.
This game sh*ts me.
The Other Bits and Pieces
2159. Solid thanks mainly to the Pig but it's still not enough to make much ground. I'm still ranked in the top 2k, so it certainly could be worse. I'm starting to plan for the byes, and if you think navigating through round 11 is going to be easy then I highly suggest you think again. Taking out the premiums I don't want to be trading, I'm already left with 3 zeroes on my field. That's after passing on Heeney and chasing Yeo this week, otherwise I would have been left with 6 Round 11 forwards, a minimum of 4 donuts on my field and 5 players in need of shipping off before the byes.
Even so, I can only afford one non-premium not to be playing in Round 11 and I still have Stewart, Hibberd, Pickett and Fisher on my bench. I would love to downgrade/upgrade them, but all of them are deadwood with no value! At least Barrett is making cash. If a decent non-Rd 11 rookie comes through, I'm chasing them.
For now I'm doing SPP -> Myers and Miller -> Yeo. I couldn't afford Hampton -> Shaw and I couldn't get Heeney due to his bye. Touk would be a rookie next week (He basically is anyway) and Yeo helps my byes, plus he's a beast.
As always let me know how badly you fared this week, I fear for those who didn't get to enjoy a double pigging… Good luck next week friends!