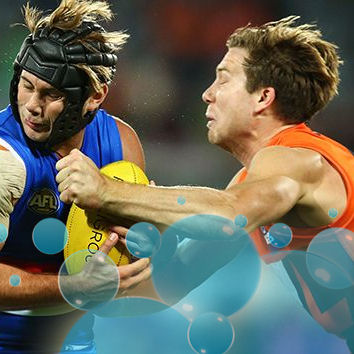 Had a tough weekend? Need to hear a demoralised Fantasy coach make you feel better? If so then you've come to the right place. Forgive me for posting on Tuesday morning, just understand that I didn't want to have anything to do with Fantasy on Sunday night. However, two decisions by the MRP have changed my tone (slightly). Let's wash-up the weekend!
Legends
Sloane (155) – I couldn't kick off the legends with anyone else could I? I've had some regrets in life, but not bringing in Sloane after Round 3 when I had the chance probably tops the lot. His 5 round average of 144 are numbers only ever matched or beaten by Rocky or Swanny. Incredible. Tags may become a concern, but he'll just tackle his way through it. LEGEND!
Mitchell (125) – Man crush alert. Owning Tom Mitchell makes the game easy. Just do it.
Steven (133) – I'm a huge fan of picking up Jack Steven this week. Sure he may have a few ups and downs, but one thing for sure is that he has a huge ceiling! I don't think he'll be $583k again, he'd be my upgrade target in midfield this week for sure. Should average at least 110 from here onwards.
Roberton (132)  – Yes, yes, yes. Just get me a team full of half back flankers and I'll be happy. Kick to kick in the backline is more prevalent than ever and Roberton owners are reaping the rewards. The Saints look to get the ball in his hands at every opportunity, how can you go wrong? What a pick.
Steele (118) – Time to commence operation Get Steele Back In You Absolute Moron. In my defence Marc Murphy has saved me, but Steele is now producing the sort of form we expected. Now well and truly in the guts, he's not spending too much time on the bench and looks set to push the top 6 forwards. I think he's going to go from strength to strength, and therefore is still value. Tackling machine!
Cripps (117) – Did you get on board last week? The boat is sailing and I'd suggest it's just about this week or never. He has absolutely smashed the record for clearances after 50 games, not that we care about that stuff in Fantasy. Gun.
Heeney (120) – I feel as though we'll look back on this moment in one of two ways. Either we're going to be wondering how we passed on the opportunity to pick Heeney for $440k after pumping him up all pre-season, or we're going to praise jesus for not giving us the opportunity to get him as he flops out a few 50's. I do have the opportunity to grab him but Steele gets the nod. Make no mistake Heeney was in the guts on the weekend and looks bloody good. Monitor.
Simpson (161)/Docherty (159) – Could I really split them? It's almost as if they were separated at birth and have been re-united at Carlton. I have a draft were I own both Doch and Simmo and I'd highly advise against anyone watching Carlton play if you don't own them. I swear to god they just look for each other at every opportunity. There must have been 5 or 6 occasions on Saturday when the Blues kicked the ball 50 metres backwards to find Docherty or Simmo and switch the play. Glorious stuff, beautiful to watch. Legends.
Ablett (162) – The resurrection is complete. Bald Jesus is back. Someone check the Ablett bloodline back to B.C. There's something going on here.
Yeo (152) – The half backs have even infiltrated our forward lines! This is a situation where Fantasy really should be flexible with the position changes, the fact that Yeo isn't available as a defender is baffling. Nevertheless, you can still enjoy his +6's in your forward line! There's going to be far less yo-yo effect when he doesn't have to find his own ball, rather it will just come to him after a McGovern intercept. Rinse and repeat. I seriously want him! My concern is that the Eagles have 3 tough home matches against the Bulldogs, Giants and Cats. Of course we all know he might as well not get on the plane over east. Tough one, I'm backing him in.
Tuohy (117) – Massive win for Tuohy owners, unless of course you dumped him after Round 3. He has more than justified his mid-price tag, now averaging 97 and carrying a B.E of 44. He's about to be at premium price! Enjoy the ride.
Hoskin-Elliot (100) – I may or may not have traded WHE last week (definitely did), but his price tag has just about peaked. He's still a fantastic scorer, better than Roughead as I found out the hard way. Legend.
Horlin-Smith (100) – This stings. I was a huge GHS fan pre-season, however his first 2 rounds didn't exactly backup my belief. His injury made him a must trade in Fantasy, now we're having to suffer through his full potential. He's about to fly past SPP's price and I'm going to have a little cry over that. It just wasn't meant to work out between us George…
Adams (148) – Taylor Adams must be the best ball winning defender of all time. No, hang on, it was just the worst DPP decision since Mundy was given forward status. Never forget. He's now outscoring Treloar and deservedly so, gun.
Pendlebury (141) – So Pendlebury wasn't injured, he just decided to not rock up and look 40 years old this week. I can't understand why some games he gets lost on the bench or up forward, then produces a performance like this. Sort it out Bucks, in my opinion this is the biggest problem on his hands right now. Surely a priority.
Duncan (117) – Duncan has not only made the final step to becoming a premium, is he now an uber premium? I think he's going to push the top 8 midfielders, he's well behind Selwood and Dangerfield in the tagging order and should continue to dominate. Awesome pick.
Jacobs (158) – I had a huge ruck dilemma last week, and captain hindsight has hit me with the force of a Mumford tackle and said WHY DIDN'T YOU PICK JACOB'S?! Silly me, how did I not see that 158 point effort coming. Does Nankervis know he has an opposition ruckman to man up on? I'm going to put it out there, if Spencer had played fully fit against Nank he may have scored 180. Maybe.
M.Crouch (122) – Make no mistake, the return of Brad Crouch to the Crows team has set Matt Crouch alight. This kid can find the footy in a similar way to Tom Mitchell, it's hard to bring him in with so many fallen premiums but I think Crouch is as good as any of them.
Laird (113) – Even in a week of turmoil, here's a man you can rely on at any ground, in any weather conditions on any given day. Adelaide are just too good and Laird will continue to dominate. Bank on it.

Click here to subscribe on iTunes. (Please leave a rating and review to help us move up the charts).
Losers
Fyfe (64) – Fyfe, you need to pull your head out of your ass. You're meant to be a brownlow medallist, here's an idea, how about actually making an effort to help your team you pathetic pretender lift your game. (Thank you MRP)
Beams (68) – Beamer, considering you're averaging 105 I'll let this one go through to the keeper. However, I'll also walk down the pitch and tell you in no uncertain terms if the next ball comes through way down leg side, the bat will be flying straight back at your face. 80's minimum.
Treloar (82) – This is pretty sad but I genuinely had to take a few deep breaths before writing this paragraph. I gave up Sloane for this?! Consistency my ass, was he tagged? Or just dreadful? So many questions, so little answers. He looks odds on to be tagged next week so I'm paying 2/1 to take some pictures of Adam down to the gun range next Sunday.
Dangerfield (76) – It's now pretty clear, starting with Dangerfield was the wrong call. He has saved his scores in the past few weeks with huge last quarters, but it wasn't to be this Round. It seems as though Geelong are taking this non-sense media crap about being too reliant on Danger seriously and are trying to take him out of the game more. Genius.
Roughead (69) – Lord, give me strength. I'm not sure how much I have left. If you asked me to spot the difference between Ty Vickery and Jarryd Roughead the only thing that would give it away is my memory of Vickery's coward punch on Dean Cox. Neither of them get on the TV touching the footy so maybe Roughy should go for a more extreme approach as well.
S.J.Reid (14) – Did anyone else fall into this Draftstars/Moneyball trap? Shitting money down the drain. Yet I'll still be back for more pain next week.
Johannisen (66) – A 16 point second half? No marks? Get out. You could find handfuls of half backs who could find more of the ball with their eyes closed. Shocker, I'd be tempted to rage trade this time.
O'Meara (60) – I should really just include the whole Hawks team. They're still a Fantasy friendly team, only now it's for the opposition. Who would have thought that O'Meara would be our Pre-season pretender! JOM racked up a whopping 14 touches, that first round draft pick is looking like a stroke of genius.
Mills (47) – Callum Mills is about to be cheaper than Marchbank, Hampton and Otten. Newman, Houston and Williamson are on their way. I can only presume that 12.5% of the competition either don't have any work mates or are in a battle to get the lowest overall rank spending their full budget.
Franklin (69) – That didn't take long, Buddy's average is back under control in the 90's. A home game against Brisbane really should mean a 140 is on the way, and just as everyone starts to offload him I'd say it's about perfectly timed. Must go big.
Fisher (40) – What have I done here? 2 weeks ago I paid the extra coin thinking I was getting a high quality rookie differential. Instead I've left myself holding a player with about as much use to me as a wooden frying pan. Joke.
Houston (44) – Houston… We have a problem. You'll only find original material here, it's certainly not like I've had to wait 6 weeks to use that corker. Here all week.
Witts (61) – Come on guys let's keep it relevant. He had done his job 2 weeks ago. Move on.
Hall (54) – This is cringeworthy. I don't even blame people for getting sucked into selecting Aaron Hall, there are times when he morphs into a perfect fantasy beast. Moment of silence for the fallen among us everybody. We're in this together.
McCarthy (58) – Shoutout to everyone who counted their eggs midway through the second quarter. Still a solid rookie score, but it goes to show never try and be captain hindsight until the four quarters have been played.
Parish (47) – As a wise man once said, with DPP comes great responsibility. Perhaps Darcy isn't quite ready for that just yet. Many draft owners will be hoping he can stop this slide!
Watson (48) – As I said earlier, let's keep it relevant. The only thing Jobe has been relevant for this season was… I won't go there (Too late).
Kennedy-Harris (27) – It's pretty hard to deny that karma comes around and goes around. If I hadn't been forced into trading Spencer last week, I probably would have brought in JKH and got a score in the 20's anyway! Thanks Spendog, always knew he was looking out for me.
Neal-Bullen (31) – How was everyone feeling at half-time? Thankfully he got down the race without incident. I'm actually genuinely upset I missed the twitter meltdown as ANB sat on a solitary point at the main break. Tragic shame that he couldn't go on with it. RIP (MAR 25 2017 – APR 30 2017).
Greenwood (51) – I said it last week and it's even more apparent now, taggers are coming back. How awesome have the past few years been never having to worry about our premiums being tagged?! Perhaps we have started taking it for granted, I reckon the headaches might be about to return. Some sleepless, sweaty nights lie ahead…
Parfitt (44) – Credit to the sniper on the roof for this shot, perfection. Hope the kid is ok, it sounds like a serious hamstring and he needs to be traded. Done his job well!
Cox (56) – I'm not sure what would be more painful, being nailed to a cross or having to watch a tree trunk take points of your premium ruckman. You're right it's not even a contest, give me the cross anyday.
Richmond – I went to find some losers from Richmond's massive loss, only to realise I literally don't know half of their team. They have a player called Oleg? I thought the commentator said OLED and I started having David Warner flashbacks. Nightmare. This could go down as one of the greatest train derailments in human history, come on Tigers let us down.
Nankervis (92) – Thanks Nank and thank you karma.

Nominations time, if you didn't score 150 don't bother rocking up to the awards.
Simpson – We all know that Simmo knows how to play +6, but 8 tackles?! Great man. His score is arguably more valuable than Doch's given his low ownership.
Docherty – A triple double is always revered, but when it comes with 28 kicks… WOW. Get voting owners!
Yeo – How many people were brave enough to hop on the Yo-yo for a fourth time? Or was this your first season and not blinded by bias? Let's see your votes… Guessing there might not be many.
Ablett – You can own one of the greatest Fantasy players of all time as a differential. I think I had a dream like this once…
Sloane – A 5 round average of 144 and I get the feeling Rory may still not break his Stubby duck. He deserves a cold one.
Who gets your vote?
This Game Sh*ts Me
As I reversed trades today and saw Jarryd Roughead in my team I gagged. That's what this game does to us, we become bullies and I certainly don't regret saying I want nothing to do with him ever again. Two bad weeks can end a career. Jack Steele. Why on EARTH did he only play 65% TOG against West Coast? I was excited to watch my boy live 3 weeks ago, the next week I traded him. It was putrid. Now all of a sudden he has decided to get off the bench and play some midfield minutes has he?! Fair enough, I should have been more patient. Of course when I am patient, it still goes to sh*t. Looking at you, Touk Miller. What really gets me though is when I spend the big bucks and get a rookie score in return. If you're going to have an off day, get to 90 and I'll understand. When Fyfey decided to throw up a couple of 90's I took it on the chin. But a 64?! Beams and Dangerfield, both rubbish. Adam Treloar, you were meant to be the chosen one! If you brought in Neal-Bullen this week, our thoughts and prayers are with you and your loved ones as you go through this tough period.
When Mumford went down the race in Q1… Just don't go there. This game stresses me. And of course it sh*ts me.
The Other Bits and Pieces
2019. Crap. Unfortunately Mumford's injury wasn't too serious and he was able to play out the game. A shame really, if that had happened after I traded him in at 7:49:30 you probably would have witnessed the mental breakdown of a man. Either way it would have been entertaining. Never fear, the Gods will get me again.
It's a nice feeling not having a forced trade (Lookout Thursday teams), so I'll likely be trading Roughead and Butler for Steele and Myers (if named). Apologies in advance to all Steele owners.
Comment, complain, question, pump me up, tell me I'm not funny… Do it all down below. Good luck with your ruck headaches everybody, hope you enjoy them!