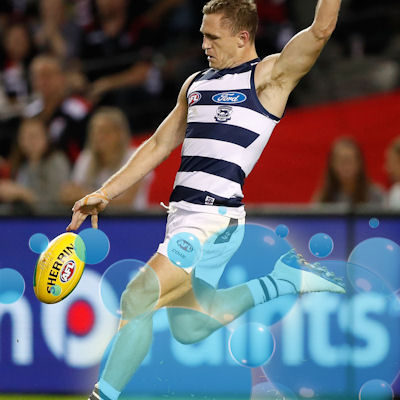 It's taken 5 Rounds this season, but the chase for a top 100 spot and my care for AFL Fantasy has finally (already) been crushed. For many this weekend was high scoring and a joy to watch, and whilst I congratulate you I'd please ask you to leave the rest of us in peace. Almost everything that happened to me was rife with misfortune and despair. Especially Monday, but more on that later… It's time to wash-up the weekend!
Legends
Ebert (149) – Is Brad Ebert the new Jarryd Roughead when it comes to draft? Capable of a match winning score one week, but who knows what you'll get for the next month. In fairness he hasn't dropped below 96 and is averaging 114, I just refuse to buy into it. Hopefully you didn't come up against him in a matchup this week!
Gray (125) – Robbie Gray has been granted forward status, however I would be waiting a couple of weeks to pull the trigger. You have a two week window in Rounds 10 and 11 to grab a couple of Port Adelaide and Gold Coast premiums (Or rookies) ahead of the byes. The problem is at this rate he may be nearly $600k by that time… Just be thankful if you have the option of getting him in, I don't even have the luxury to choose!
Barlow (127) – Same goes for Barlow. We all know he's a gun and almost certainly a top 6 forward, and it's likely he's bottoming out this week. However you will be fielding and extra rookie in Round 9, so I'd try and hold off for a few weeks if possible. There's plenty of value elsewhere…
P.Cripps (121) – Usually I don't give blokes a pump up after some poor scoring, however Cripps was on many radars pre-season until an injury interrupted his progress. You could argue that he's only hitting full match fitness now and has bottommed out at $556k. Value.
Zorko (157) – Was it too much to have three Brisbane premium midfielders? Yes. Three uber premium midfielders though? Go for your life! He must be one of the best PODs of all time, absolute legend! Safe to say the ship has sailed for now, I can only wish I was on board.
Beams (126) – I'm not actually sure what I expected from Beams. His injury concerns meant I was happy to take 105, but Beamer looks to be back to his uber premium best. Once again his second half let him down, if his fitness gets to the point of dominating a full game look out. What a man.
Dahlhaus (130) – Dahlhaus is well and truly out of the dog house now! Having been consistent but not spectacular, this monster score takes his average above 100 and vindicates those who took up a premium spot to get him in. Top 6 forward lock! He can still work on the kick to handball ratio however.
S.Martin (121) – Stef Martin just continues to do Stef Martin things. How will he fail to reach the ton? If he doesn't record 50 hitouts he'll rack up 25 disposals. He's now a complete all-rounder and an absolute lock for top 2 ruck.
Sloane (132) – North choking a lead, Wenger out banners and Sloane scoring massive tons. Some things in life are just guaranteed.
B.Crouch (119) – I don't think you can seriously consider him in Fantasy, especially considering his brother is probably a better option. Having said that, he's looking like a massive win for draft owners!
Hampton (119) – While Hampton was getting midfield time he was always worth holding, because a score like this was never far away. Ok, perhaps not a score this big. Wow! Hampton loves to tackle and that's all I need to see, he's not leaving my team anytime soon!
Laird (113) – Thank him for his service, bank the score and move on. Can't go wrong with Rory. A half backman can now average 105+, how the game has changed. For the better of course!
Otten (99) – Just give me 22 Crows! Otten is dominating up forward and has been granted a very handy DPP addition. You know he'll continue to get plenty of service, another rookie I'm not at all concerned about. Feels good.
Ablett (118) – I'm starting to see some signs that might be pointing towards an Easter miracle. Think about it. We've just celebrated the resurrection of Jesus last week, co-incidence? I think not.
J.Cameron (123) – Talk about a sneaky pick! It was also a brave and possibly suicidal pick, but Jeremy Cameron is on FIRE! This is his third ton, he's now average 102 and has increased +$121k. To think most of us picked Roughead… I'd consider moving Jezza on to Barlow or Gray as soon as their bye passes, what a pick!
Selwood (175) – Well then. I didn't see any of this game so I'm not sure what to say, I nearly had a heart attack when I saw his score. A 124 point second half is he mad?! Must have been a joy to watch. Not sure he's worth grabbing now but well done to those Cats fans who stuck by him!
Duncan (134) – As brilliant as Mitch Duncan has been this season, I just bloody wish he had done it last year when I backed him in early! He's now averaging 115 and looks like a reliable uber premium. There's just so many hot midfielders! Gun.
Tuohy (131) – The Zach's are back this week! Safe to say those who stuck by Zach Tuohy have been well and truly rewarded. This really was the year of midpricers, I just refused to buy into it after the pain we'd gone through in previous seasons. Legend.
Black (100) – Aaron Black was a legend to some but a pain in the ass to most! What a score to produce on your debut for a new team. Surely he has bought himself a few weeks in the team with this performance, lock and load. You just can't afford to miss out on a rookie like this.
Roberton (118) – I'm kicking myself because after I saw him live against the Eagles it was obvious that Roberton was key to the Saints game plan. The half backs are your defenders of choice these days, no question about it. There's absolutely no reason Roberton can't be a top 6 defender, but even if he doesn't it will be a straight swap to a bigger name regardless. Huge POD.
Steele (101) – It's strange, I traded out Steele before he produced his best form yet I'm not mad about it. It's lucky Marc Murphy has been so brilliant because Steele is producing exactly what was expected of him! He's being a tackling machine. Sure Jack tired in the last term, but the thing I loved the most about this score was his TOG. That 60% game against West Coast was what triggered me into trading him and I'm not sure why it happened, because he played 85% of the game on the weekend and looks like he'll average close to 95! Vindication.
Shuey (119) – Shuey just continues to look like the real deal, and if it was any other season he'd be at the top of many wish lists. The fact is that 20 midfielders are averaging 110+. 20. TWENTY! Pain must surely be just around the corner, or is this just the new normality? Anyway, Shuey is a good pick. If you picked a dud premium midfielder you've done a good job, there wasn't many of them!
T.Mitchell (122) – I just love Jarryd Roughead's comment post game, I wish I'd come up with it earlier. If you hid a football anywhere in Australia, Tom Mitchell would find it. Contrary to popular belief he's also a brilliant footballer and kick of the footy, it was great to see him finally put it all together in one. Just a shame it was at the expense of my Eagles. A disgustingly huge score is on the way, I can sense it. Legend!
D.Martin (125) – If Dusty maintains this form for another month then any of our Brownlow punts will be rendered useless, he just keeps ticking off 3 votes. What a gun. I would love to see Richmond win the flag just to see what Dusty could pull off on Mad Monday. I'd have him at 6/1 to get deported.
Treloar (144) – There has been one question mark over Treloar for me, and that was his ceiling. This score goes a long way to putting those fears to bed. Well, they weren't really fears, but this is only his second 140+ score of his career! Incredible when you consider how good he has been. Now once again averaging 125, Treloar could be set to go huge. Perhaps I didn't overpay 2 weeks ago!
Merrett (137) – Merrett must be my favourite draft pick (5) of all time. Now averaging 127.4 alongside Zorko and Rockliff, he's arguably the best Fantasy player in the game right now. Ok, perhaps the second. Either way picking him over Dangerfield is so far justified! I needed a 125 from Zach to win my draft matchup this week and he did it in style. That wasn't enough though. Pigs feed beyond necessary means. In the last 20 seconds he gets a cheap +6, runs deeper into the back pocket and gets another mark before the siren. The man just knows how to Fantasy. He was actually protected this game, playing only 73% TOG in the wet. I want him. I need him. But I can't get him… Congratulations to those who can.
Nankervis (131) – *Deep breath*
Losers
Murphy (97) – Murphy "should be available" to take on Sydney. SHOULD BE?! What does that mean. My god I'm stressing about this. I have enough problems to work out, and those don't include trading my best player. Murphy owners would have noticed how he had about 10 tackles broken on Friday night, perhaps the injury midway through the final quarter was karma. Even while laying zero tackles, Murph still managed 11 marks, oink like numbers! It sounds like he may be sore this weekend, so if you have the luxury too offload him I hate you but it could be a smart investment. His $644k price tag means owners have made a huge profit already.
Fisher (44) – I spent the extra dollars chasing Fisher's job security, in hindsight I probably should have made sure he could find the footy first! Fair enough Carlton were demolished but as much as I'd love to say it was a once off, they play Sydney this weekend. That's a concern yet they're 0-5! Plus it's also Carlton. So yeah, more tough times ahead. Lift please Zac.
Polson (35) – Same goes here for Polson. He's probably a talented kid, but when your team hardly touches the ball you're going to struggle. Struggling is one thing though, not scoring for 2 quarters in a row is another. Lift!
Pickett (25) – Continuing on the Carlton rookie bashing, I don't think there's much lifting to be done here.  In fact I'd probably manage more of a lift in the Gym and trust me, it wouldn't be much. He's now maxed out in cash, at under $200k… Get him out of my team. It's just a blemish I want to know nothing more about.
Berry (22) – HAHA. I mean, damn. This goes to show how desperate we can get when in need of a rookie to downgrade to. I completely understand why people brought Berry in and I feel that pain. If only EVW had played a couple of weeks earlier! But seriously, he's losing cash. What kind of midfielder has 6 disposals? Bring in Nathan Brown if you're just after some banter, he produced a seasonal best low score of 17 on the weekend. Can Jarrod match him? Find out in next weeks edition of the Berry diaries.
Liberatore (52) – It seems the only reason Liberatore is in the Doggies team is to tackle. When he only manages 3 tackles instead of 13, this happens. I want 2013 Libba back.
Hunter (67) – Thank god Lachie Hunter was never gifted forward status, he's having a horror start to the season. The evidence was there at the end of last season to suggest he was slowing down. You notice that 1st quarter he registers 50 points, not so much the rest of his game. Nasty draft pick so far, but a potential fallen premium if he can recapture his early 2016 form.
Miller (60) – This hurts on a personal level. I was there for you when nobody else was Touk. I called you the pick of the season, comforted you when Rocket threatened to throw you back in the forward line, re-assured you when you had one poor game. Two poor games is too far. What self respecting premium throws up consecutive 60's? None. He's not the premium midfielder I thought he was, and disappointingly it's not because he has lost his midfield role. It's purely form based. I'm going to stick by him but it's likely going to be my downfall this season, if he does get shifted out of the midfield my god… Please Touk Touk. 160 next week will do.
Swallow (60) – It was only a couple of flukey circumstances that prevented me from getting David Swallow in two weeks ago. Yes, that was the week after he produced his only good score. I nearly got him instead of Treloar because I thought he was a must have midpricer! Safe to say if that trigger had been pulled then it might not have been the only one that night… ANYWAY, I'm not sure what to do about this one. He isn't losing too much cash yet, perhaps you back him in to improve? Those midfield spots are precious though, you have 20 uber premiums to choose from at the moment! Gotta trade him if possible.
Greene (77) – Toby Greene still can't make his mind up whether he wants to be a gun ball winner or annoying small forward. For that reason I'll leave selecting him up to those still living in 2014. That 5 Round average of 132 still sits in the memory bank, if only a keen Fantasy coach was running an AFL recruitment team…
JPK (75) – Welcome ladies and gentlemen to the real Kennedy Curse. He genuinely can't get himself up for games until midway through the season, for that reason he firmly on my watchlist come the Bye rounds.  Fallen premium incoming.
Goldstein (77) – Buggered premium incoming. Goldy just can't get a run of fitness at the moment, rolling his ankle late against Freo. I'm not really bothered at all about his injury (Get better soon Todd, but not too soon). I'm looking at big PREUSSY! I'm not just looking at him, I'm relying on him. Once again, more on that later. North all I'm saying is Goldy could use a couple of weeks rest and Preuss can handle the number one ruck role. I'd know. It sounds like Goldy will be OK for next week but Preuss surely comes in. Please.
N.Riewoldt (72) – What was that? Forget his ankle injury midway through the final term, he still had 90% TOG and was fit for the majority of the game. It's a lot to ask for but perhaps just one or two more average scores Roo before we can all get you in? I wouldn't be worried if I was an owner, he'll be back in a big way.
Long (22) – I get the feeling it's going to be a long season… I've got more of that absolute gold up my sleeve so feel free to keep spudding it up Ben.
Yeo (73) – I didn't catch either of the Sunday games, and thank god I didn't have to endure the pain of watching the Eagles make the Hawks look like 3 time reigning premiers again. We're good at that. Did the Hawks shut down Yeo at quarter time? Having been on 38 at the first break, he proceeded to fail to score that amount for the remainder of the game. Should be good at home next week, I feel like we've been here before?
Roughead (67) – Even when the Hawks win big, Roughy still struggled. His 67 included 3 goals which is alarming. Having to play as a stay at home forward, we're not seeing the kind of numbers we'd hoped. Fear not, Roughy plays down in Tassie this weekend. His average there? 106. His average against his next 3 opponents? 98, 113, 109. Come on big Rough! I don't have the luxury of trading him but he's clearly a good upgrade to make. I'm just clutching at straws here.
Pendlebury (70) – Having started the season playing like old school Pendles, he has now regressed back into the old man, supposedly carrying an injury and out of favour with Buckley half forward Pendles. I prefer the old school Pendles myself.
Hoskin-Elliot (52) – People were a tad harsh on WHE this week. He's an outside player people, those were not +6 conditions on ANZAC day! He has done plenty for us and still averages 87.4. Not bad for a rookie priced player! Having said that loyalties must shift quickly, he gets this week to prove himself or he's gone!
Stanton (46) – No comedic material can quite match it with this score from Stanton. "ANZAC day specialist" they said. Give me a spell. Uncontested ball soft cock specialist more like it. He had 2 contested disposals in a game of wet weather football. Put it this way, I wouldn't be too worried about Myers finding a spot.
Spencer (28) – *Stares at computer*………..
There was some massive scoring this week, good luck separating these five nominees…
Treloar – Can he get his first stubby this week? Thanks to some giant Richmond neanderthal, probably not. I'll still be voting!
Selwood – Owned by just 2.8% of teams, he'll need support from draft owners! What a score…
Zorko – If you started with Zorko, Rockliff and Beams then you're absolutely laughing. Go on, rub it in with a vote.
Dahlhaus – Disposals tick. Marks tick. Tackles tick. Dahl just gets it done, this week more than ever!
Nankervis – Go ahead, enjoy it. Well done big fella.
Who gets your vote?
This Game Sh*ts Me
So far I've just bottled my rage and probable depression into GIFs, so it's probably about time I let it out. Here goes. How wrong can a trade go you say? Trading your first round pick and proceeding to start 0-4? Not bad. Henderson and pick 12 for Fevola and pick 27? Better. Jetta for Sinclair? Never mind. Trading in a player with a broken leg? Ok maybe that's about as wrong as it goes. Bringing in Jake Spencer however is up there. I don't look back on it and think Matt you absolute ****ing moron, there was some kind of logic to it. Jakey boy was meant to come in and average a solid 70-80 at R2 while I upgrade elsewhere. This week was his long awaited debut for The Addicts. A shoulder injury and 28 points later I'm left contemplating why I play this game.
However that's not what really sh*ts me. That pain should be enough for the Fantasy gods. Let me have some time to recover. Of course not. Spencer had to go down injured against the most obvious pick of the season, a player I couldn't swing into my rucks when Gawn went down, a player who I had teased all year. He ended up being the player who rucked off against Jack Watts and stuck it all right up my ass with a monstrous 56 hitouts, 7 tackles and 131 points.
It ended up being a clear 103 point differential between me and nearly every other coach in Australia. Now I'm stuck with Jake Spencer and Braydon Preuss as my 2 ruckmen, in other words I'm 3 miles up shit creek without a paddle. This Game Sh*s me.
The Other Bits and Pieces
I didn't really want to log in to the site today. Quite frankly I didn't want to write this article, I'd have rather forgotten this week ever happened and fast tracked time until bounce down next Friday. Sadly life doesn't work like that. 2175 should be a good score but let's face it, it's not. It's crap. The bigger concern for me is where my team goes from here. Having been struggling to find a trade last week, I now have about 3 weeks of trades banked up. Kennedy-Harris will join my long list of hyphens and Aaron Black is a no brainer. Pickett and Butler can go, simple trades right? They would be if I also didn't need to bring in Vickers-Willis for Hibberd who still rots on my bench. Roughead is stealing a living and he's fourth in line on the chopping block. WHE will probably overtake him next week. Powell-Pepper is just about ready to be culled but he's as safe as houses. Oh yeah, I nearly forgot I had Spencer on my bench. Wait, didn't I say Murphy was a doubt. My brain is on fire so I'm going to let it burn until Thursday and assess the carnage then.
I think I'm done, do what you need to do, vent it out, share my pain in the comments etc.
Oh, and as always good luck for next week! :)))