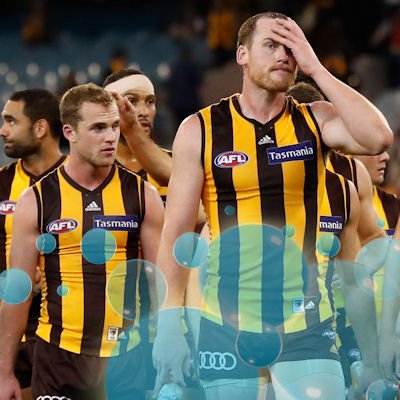 Now that's what I'm talking about! It was carnage across the board this week and nobody who enjoyed success over the first few Rounds was immune. This is more like the AFL Fantasy I know and love. Stress, tears, sore knuckles, gutless efforts and an oinking pig. Strap yourselves in, it's time for another weekend wash-up.
Legends
The legends were all the more special this week amongst the carnage that occurred elsewhere.
Rockliff (157) – And this ladies and gentlemen is why you must always start with the PIG! He is capable of being the difference between having a great week and a shocker, especially if you make him captain. Sadly I didn't get to enjoy watching Rocky feast this week, but watching his score tick over brought a tear to my eye. When at his best he averages around 90 points in the 2nd half, and he's well known for going on monthly streaks averaging 150. Lookout!
Murphy (124) – Just another weekly update on how good Marc Murphy is travelling. He continues to maintain his 100% record at going 120+, and he remains the competitions number 1 ranked player averaging 133.3. This week he managed another 7 marks to go with 7 tackles and 28 disposals, his score actually could have been bigger if not for a few contentious 15 metre calls. Yes I was watching him like a Hawk. Where does it end? It's safe to say an average of 110 is well and truly on the cards, but could he continue to go close to 115-120? You'd have to think he'll slow down, but that's pure speculation. A sneaky brownlow option also, you can get him at 126/1 with sportsbet. Worth a look.
Shuey (132) – Usually considered a solid draft option, Shuey is now pumping out scores that can't be ignored. Sam Mitchell's arrival has notably drawn some extra attention from the opposition, and Shuey is clearly the biggest benefactor. He has now averaged 138 in his two home games and could be a brilliant POD this season.
Yeo (116) – I'm going to go out on a limb and say that Elliot Yeo has finally put it all together. He's tall, athletic, a seriously good mark, in fact pretty much everything apart from a big ball winner. Having struggled to impact up forward and through the midfield, his transformation into a roaming half back has been brilliant. He may eventually move back into the midfield, but for now he's thriving. He has now taken 10+ marks in 3 of his first 4 games and tonned up in just as many. What concerns me is that he did the exact same in 2016. I am worried that teams may try to shut him down as he's so damaging with the ball, and at the end of the day he has burnt me more times than I can remember… But I still might come crawling back. The Yo is rising.
Lloyd (110) – Consistent. Reliable. Everything we lacked this weekend. Jake Lloyd was a brilliant pick to start the year, I'm beginning to regret not starting with a third defensive premo because he probably would have been given the nod. Gun.
Neale (119) – This score was well and truly overdue, and usually I wouldn't give it a mention. However that third term… THAT THIRD TERM! His 75 point third quarter was unstoppable. To be honest he was bang average again and doesn't look himself, but it was a reminder that he is capable of going 160+. Monitor.
Neal-Bullen (95) – This was the perfect way for ANB to backup his monster score last week. He will continue to make cash and looks to have a great role through the midfield. Having been on 23 nearing half time, Neal-Bullen came home like a freight train. I missed this one.
Kelly (127) – If I was Josh Kelly I'd be putting the contract discussion out of my mind completely and just work on playing a season that can earn some more 0's on that number. Of course I'm not an AFL footballer, nor am I being offered a multi million dollar contract, but IF I was… I'd be aiming for a massive season. He's value, but unlikely to feature near the top 8 mids.
Docherty (132) – I seriously can't wait to get Doch into my team, he's as reliable as they come. Not only does he consistently pump out 90+ scores, he also has a huge ceiling. Lock and load.
Matera (138) – Where has this come from? Do I believe it? Surely we must be seeing things. Matera backed up his 107 last week with a whopping 138 against Carlton. The key factor to note is that Gold Coast have beaten Hawthorn and Carlton and dominated both games. Having said that, he could be a handy stepping stone to a premium! Just be careful, he has never averaged more than 70 in his career. A poor score could be just around the corner.
Sloane (143) – Rory Sloane is an animal. I'm fuming that I didn't give him more consideration when making a midfield upgrade last week, he now carries a 3 round average of 145. Those are piggish numbers. His ownership of 5% is laughable, he looks a massive bolter this season. Adelaide are looking unstoppable and Sloane is benefitting big time. Legend!
Merrett (134) – Just another day at the office for Zach Merrett, by now we all know he's the real deal. His $700k price tag suggests as much. Oink…
Walker (121) – Adelaide's impressive form means some of their stars are producing some worldie scores. Taylor Walker is averaging 108! With the lack of forward options on offer I looked at him this week, but you just can't do it… Or can you? No, you can't.
Grundy (118) – Grundy was always a safe swap for Gawn and he proved to be just that. Mason Cox's potential return next week is a slight concern, but let's worry about that when it happens. He'll be great regardless.
S.Martin (114) – Brilliant. Currently averaging 116, Stef has done everything we expected and more. What a bargain Martin turned out to be, and only a quarter of players started with him! Tank.
Roberton (134) – Dylan Roberton is a less shiny name, but his scores warrant some attention. He's dominating off half back for the Saints, averaging 112 in his last 3 matches. Not sure you could back him now in fantasy but a brilliant draft league pickup.
Riewoldt (122) – More of the same from N.Roo, this must seriously string for his owners that traded after Round 1. If only he hadn't gone down… Roo's just an unstoppable tank on the wing. A 150+ score is on the way from Riewoldt, I just hope I get him in time!
Zorko (139) – Zorko has just been going about his business until this week, three consecutive tons now backed up with a monster 139. We all knew the potential was there, but to consistently put it together and average 120 is just awesome. What's even better for his owners is that he's owned by just 2% of the competition. Can we have 15 midfield slots thanks!

Click here to subscribe on iTunes. (Please leave a rating and review to help us move up the charts).
Losers
Hannebery (79) – Let's just face the facts, this man needs a beer. Seriously, someone grab Hanners a cold one! He looks lost out on the pitch and there's no doubting why. At ease off the pitch, at ease on the pitch I say. Fix it.
Mitchell (75) – There seems to be a consistent pattern with Sam Mitchell at the start of the year. Everyone forgets how good he is, he goes and record 75 disposals in the first 2 rounds, then teams start tagging him. It happened last year and it's happening again. An ankle injury didn't help him this week, the 7 tackles saved his score. I am a little concerned about the return of taggers…
Johannisen (79) – I was amongst many Fantasy coaches that thought JJ would build on his big finish to 2016. He still could, however the Doggies are hardly showing the form they did towards the end of last season. Solid but not good enough.
Weideman (18) – Someone needs to remind old mate Sam that the aim of playing AFL is to actually get the ball. He has averaged 16 in the past 2 weeks, actually losing $6k whilst at rookie price. Impressive stuff. Let's hope he doesn't play again next week because he could be facing a massive price slump with a BE of 38. Perhaps Melbourne will opt for 22 players next week.
Gray (74) – Robbie Gray is looking like a good chance to gain forward DPP in Round 6, and we could seriously use another forward premo! However he's hardly posting consistent scores right now, so consider this a serious warning Robbie. I'll tolerate one more poor score but from Round 6 it gets serious!
Powell-Pepper (39) – You could say that SPP owners were a little salty! Haha! To be clear that's a sh*t joke, so if you're a non-owner do me a favour and don't become the 500th moron to use it. Anyway….. If Powell-Pepper had done anything more to avoid the ball I'd have thought he was instructed to see how many don't argues he could get the commentators raving about with actually getting a touch. He hardly made an effort to get the footy, it was pathetic. Usually I'd say cash him in, but I've seen more potential coming through in Britain's Got Talent, a show which was won by a lady and her dog. Who am I kidding, I was trying to be sarcastic but that dog has got more talent that half this years crop.
Hampton (41) – I can't quite figure out Curtly, maybe it's the name. Last week he dominated with 91, was a tackling machine and looked to be a safe keeper until the byes. One week later and I want him gone. I think we need to stand by him whilst his role remains in the middle, but he's on notice after this performance.
Shaw (75) – Heath Shaw is now down to $523k, and the only question I'm asking myself is do I ever really want to bring him into my team?! He could be a massive bargain in a few weeks, but I'm sleeping so well without the thought of Herpes Heath in my squad. If he drops under $500k it almost becomes a no brainer.
Treloar (93) – This makes me feel violently ill. I had my choice of ANY midfielder (Aside from Merrett) to bring in last week and many options crossed my mind. Sloane for his high ceiling. Neale was good value and due a big score. But how could I go past Treloar? I had to sit through every Collingwood game this season and watch him dominate, surely you couldn't go wrong in getting him in. At least he'll be consistent! I switched to his score at three quarter time and nearly projectile vomitted. Don't get me wrong he'll probably rebound next week and his owners will let him off this score with his 120 average, but I've been robbed. $695k was probably too expensive. 120 or bust on ANZAC day Adam.
Preuss (57) – Big PREUSSY wasn't so big on Friday. Goldy took back the number one reigns, and it makes a lot of sense. Previously North had faced the Giants, and with Goldy not 100% having big Mummy crashing into him isn't a great idea, so Preuss shouldered most of the load. On Friday they came up against the Dogs who had Tom Campbell leading the ruck. Clearly Goldy's first class service takes the lead. North have said the two ruckmen will share different loads depending on who they face, basically starting Preuss as your R2 is a big risk. At the end of the day though, he was a rookie and some scored a lot worse!
Miller (66) – Don't do me like this Touk. I've been his biggest fan all year, and his first half was just standard ball magnet stuff. In the second half I could hardly tell he was playing, resting up forward. You'd have to think that was a one off, but he needs to bounce back next week. Come on Rocket. Please.
Swallow (47) – WOW. This was a bullet dodged for me, I had Swallow in my team for the majority of the week before O'Meara was out. I considered him a safe 95 average, now I don't know what to think. He should bounce back, but that was ugly. His midfield time was well down, you'd have to think he pulled up sore from the previous week. Don't trade him whatever you do! Just find a rag to bite down on.
Barlow (44) – Sheeeesh. Can we just remanence on the days where Barlow was called Mr Dream Team. Those were the days. No one will ever average 110 in their debut AFL season ever again EVER. EVER! But that was 2010 and this is 2017. Move on.
Petrevski-Seton (44) – Just when you think you've found a rookie who won't spud up, they turn into a glass hammer. Bloody useless. The double barrels are really hit and miss this season, choose wisely.
Pickett (39) – I'm not sure what's more pointless, owning Pickett or a picket fence. You probably shouldn't have either but sometimes circumstances out of your control force your hand. His head is not only on the chopping block, it's nailed down to it.
Stewart (29) – If owning Pickett was pointless then I don't know what that makes Stewart. He kicked a goal and still only managed 29 points. I'm running out of superlatives to explain how shocking his Fantasy scoring is. He's being mentored by Matthew Scarlett and the resemblance is uncanny. We could have nearly started Zac Dawson instead, it's that bad.
Heppell (66) – Is Dyson getting withdrawals? Is 4 years of drug fuelled banter too much? No is the likely answer to both of those questions. Heppell's great work in Round 1 has almost been undone by his last 3 games, apparently he could only manage 1 tackle on the weekend. Sure he was playing away to Adelaide in an absolute massacre, but I don't see why that means you can't lay hands on an opposition player. I feel for those who chased him after Round 1, I'd call you stupid but I went crawling after Murphy. My day is coming… But it is not this day.
Watson (54) – I don't feel for anyone who brought in Jobe. Seriously. He was never going to be near the top 8 mids, he was already around $550k and probably priced fairly close to what he will average. He should be good on ANZAC day so stay strong if you started him. If you didn't start him then feel free to rage trade away. Before you ask, yes it matters how many weeks you've owned him. Sometimes a message needs to be sent, under-performers will not be tolerated! Brownlow medallist or not. Whoops…
Long (37) – Another rookie and another diabolical score. I'm going to have to start searching for some more synonyms because there's that many crap rookies this year I'm starting to repeat myself to the point of losing my mind. It's going to be a long season……. Swish.
Berry (38) – Improvement! Baby steps sure, but hey, next week he'll be in the 40's! The sky is the limit!
Nankervis (72) – Being just about the only person in the Country without Nankervis in my team, this gets me up and about. Nank is now nearly topped out in price and just holding up a spot, adding another problem to the list of shit that needs to be fixed in the next 2 weeks. Can we have our 3 bye round trades early thanks? Hint, if I was a Nank owner I'd take a close look at Spencer…
D.Martin (63) – This is making me bipolar. Am I meant to love you or hate you Dusty? I'd suggest that we might be able to pick him up cheap in a couple of weeks, but the chances are he'll take the piss with his 127 BE. I'm going to save myself the despair for at least a few more weeks.
Caddy (57) – I'm ashamed to say that I was actually a big fan of Caddy pre-season. That was of course until he rocked up in the JLT and reminded us that a change of guernsey does not mean a sudden change in ability. Spare a thought for those stuck with him in their draft leagues. I wouldn't wish that upon my worst enemy.
Roughead (56) – Wow, that was Rough… Wink. Roughy is a legend of the game. He's a legendary bloke. Considering what he has gone through in the past year, it's astonishing to see him back playing AFL. However as much as it pains me to say this, he's not coming good anytime soon. Sadly that pain pales into insignificance when you consider the pain half the competition had to endure watching him lumber around on Easter Monday. That was bloody awful. It's partly down to the Hawks suddenly becoming a hybrid of Fremantle's forward movement and Carlton's skill level, therefore making it tough for a big key forward. However there was numerous occasions when Roughy had the chance to outmark his opponent, and he didn't even get near the ball. You'd need three hands to count the number of times he ran under the flight of the footy. This is looking like a mistake that needs fixing as soon as possible, I just hope you have the funds to upgrade him. Unlike me.
There are some weeks I just need to take over the award and this Round was one of them. Very honourable mention to Sloane who is making a fool out of nearly everyone. Let's be honest, there's nothing better in Fantasy than when a pig goes big. Only now there is… It's when a pig owned by 19% of the competition goes big! Rockliff's 157 was not only a monster Fantasy score, it was probably the best game of his career. His 33 disposals included 21 contested and 15 clearances at 81% efficiency. Of course we don't care about all that stuff, the 8 marks and 11 tackles was what made his score standout. Sure many of us may not have captained him this week, but there's always next week… Unless of course you don't own him!
? #AFLFantasy pic.twitter.com/48yANQEEGk

— DT Talk (@DTTALK) April 16, 2017
This Game Sh*ts Me
What is the key to success in AFL Fantasy? It's certainly not making a few good selections. Make all the brilliant picks you want, the game is really about avoiding the trash. It only takes one or two individuals who think they're above the rest to drag you down into the depths of mediocrity. I've seen screen doors on submarines with more use to my Fantasy team than some of this seasons rookies. I had five scores under 60 this week, that's nearly a quarter of my team. Powell-Pepper spent more minutes on the pine than his score. Roughead presumably kept sticking up one hand in marking contests because the other joined his head up his ass. I look towards next week and I'm in a position where I can't even make an upgrade, so it'll be more of the same for me. Last week we were flying, this week I can't see any light at the end of the tunnel. This game sh*ts me.
The Other Bits and Pieces
2017. Horrible, yet recoverable. A few poor bench calls was the difference between me scoring closer to 2100, hopefully that can be fixed up next week. The important thing is to have as many rookies as possible making cash on your bench, because we're going to need to get upgrading real soon. Looking ahead to potential downgrades this week…… Yep that'll sum it up beautifully. I'll wait until Thursday and see what I can do, hopefully there's a bit of fresh meat.
I figure there should be some entertaining stories this week, get raging in the comments! Until next week, good luck recovering.