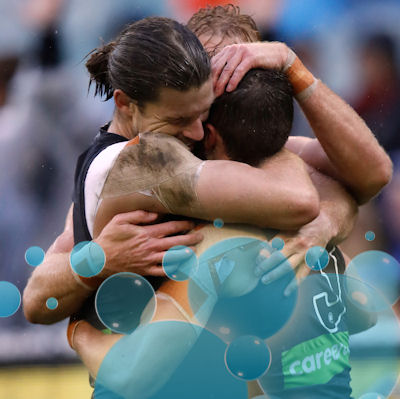 Another weekend down and our premiums are still yet to fail. How easy is this! This week we have over 20 legends with scores of 120+, in fact in the midfield alone there's 23 players averaging 110+. All smooth sailing, right?  Unfortunately we can't all be kissed, and there was some shocking scores posted thanks to either injury or a severe ability impairment. It's time for the weekend wash-up!
Legends
Adams (137) – This might be the kiss of death, but Taylor Adams hamstrings look pretty good at the moment. Funny that. He's averaging a lazy 129 and is simply a must have. Cue an injury next week.
Treloar (134) – I'm starting to accept that I'm going to need some sort of lottery win to afford Treloar. Midway through the first quarter I thought he might actually be a chance to post an average score, foolish behaviour. It's early days but he looks more than capable of producing a season average of 120+, rare territory.
Grundy (133) – When Mason Cox isn't in the team, Grundy is a machine. He has averaged 128 since Cox was dropped and a season average of 110+ is well and truly on the cards. He's the obvious Gawn replacement and a top 2 ruck for sure.
Newman (93) – As we learnt the hard way this week, bringing in fresh rookies and playing them your ground can be a risky move. Luckily Newman is a jet and has gone bang from game 1. Don't underestimate how big these scores are, legend!

Click here to subscribe on iTunes.
Preuss (105) – BIG PREUSSY! You legend. Make no mistake, Goldstein was playing second fiddle on Saturday. Preuss started in at the first centre bounce of the game and went on to record 26 hitouts. If this continues for another few weeks then Preuss could be anything. Of course he could go back to playing forward, in other words not playing at all. All we need is 60's from the big man and that looks a huge possibility. He's on my ground next week.
D.Martin (156) – So about my whole Dusty might struggle brain fade last week… Forget it. The man doesn't care for personal safety, so why not respond to a fractured cheekbone with 15 clearances and 21 contested possessions. He's looking like a lock for a top 8 mid spot, not something many had predicted. If only we could select 18 mids!
Selwood (137) – Joel Selwood has never had a problem starting for ending the season, it's those middle 10 rounds that cause headaches. He's looking like a great pick now but I swear I've seen this five times before. I'll reserve my judgement.
Neal-Bullen (141) – So, remember that time I was wrong? Not Dusty struggling wrong, more like Donald Trump in the oval office wrong. Last week I laughed at everyone who brought in Neal-Bullen… 141 points and $60k later, I may have changed my tune a little. I didn't see enough of the game to tell you whether he can replicate such scores, but an average of mid 80's seems more than plausible. His negative Break-Even means he's in for some more steep price rises, well done to those who gambled!
Jones (131) – Nathan Jones is doing some pretty un-Nathan Jones things. So yeah, that's pretty cool. Moving on I guess.
Hunt (129) – Is this Jayden Hunt business real? I mean he's got incredible pace and can be a deadly weapon, but a Fantasy star?! Having averaged in the 50's last season I'm sceptical, but this score has my attention. A draft league steal.
Oliver (111) – Red hair. Hand-me-down robes. You must be a Fantasy legend. I'll say no more.
Sloane (139) – Rory has a ceiling like not many others, however he's also capable of some shockers. 68, 152, 139. I don't know what to make of those scores, he should be a top 8 mid but I can never trust him! Tackling machine.
Wines (124) – On the subject of machines, Wines is unstoppable. This is ton number 10 in a row, awesome pick. He's a sneaky brownlow chance at this rate!
Mundy (144) – David Mundy has proven there's still some life in his old legs, only those legs are only 31 years old! Perhaps we've written him off early, especially in our draft leagues.
Macrae (116) – It's Round 3 and we still haven't hit crisis mode yet, so Macrae's safe, reliable scores continue to go unnoticed. They won't for long. He's averaging 108 and has clearly been the best pick of the Doggies forwards so far.
Riewoldt (137) – God I miss having this bloke in my team. He was my favourite pick all of last season and it doesn't look like we'll get a chance to pick him up on the cheap this year. I'm not yet sure how we're going to afford everyone this season but Riewoldt is going to be in my team before Round 22. Count on it.
Montagna (135) – I wrote about Montagna in the Deck and his hot early season form is no surprise at all. He's at $586k and a viable defensive option if you're after an upgrade this week. His 2% ownership is just a bonus.
S.Martin (126) – I don't have to keep repeating myself do I? Stef is back to his best and he looks to be a must have. If you don't have him I presume you had Gawn, so that's an easy straight swap! Stefan Martin, a Fantasy legend. It still doesn't sound right.
Beams (124) – Dayne Beams a Fantasy legend sounds more like it, how good is it to have him back to his best! Beamer is a keeper.
Barrett (91) – A rookie 90 is worth the same as a premium scoring 130. He's still not winning a huge amount of the ball but any rookie who tackles like Barrett does is worth starting! I thought he might get dropped last week, so this was a massive relief.
Murphy (145) – You beautiful, beautiful man. That's right, I'm not salty about his score this week. Wow it feels good to finally be on the right side of a Murphy/Gibbs score!!! I said last week that it was about time we stood up and accepted what was right in front of our eyes, and that is that Murphy is back to his best. I was lucky enough to see the second half of the Essendon Carlton game and it certainly wasn't because of the football… Murph was everywhere and I can't see how he will slow up. LEGEND!
Gibbs (136) – Gibbs wasn't too shabby either, he's not too relevant in Fantasy this season but a great draft pick for sure!
Kreuzer (127) – Kruezer isn't messing about, it's 120's or bust! Considering that Stef and Grundy are clearly the top 2 rucks I don't think it's plausible to bring in Kruze now, but he looks like a great pick so far!  11 tackles from a ruckman is a beautiful sight.
Goddard (126) – Who told Goddard he could suddenly be good at Fantasy again?! It would seem that the returning Bombers have done wonders for Goddard's form, this is his second 120+ score of the season already. Let's not get carried away, I wouldn't go anywhere near him… But a great draft pick so far.
Watson (119) + Heppell (115) – Essendon had a poor Fantasy game by their standards, yet their midfield guns still fired. I'd have to say the new Guns and Roses strategy is working fairly well… Watson and Heppell are both on fire but I wouldn't go chasing their scores now. Yet another boat missed.
Swallow (120) – I have to admit I didn't see this coming. David Swallow is a gun and was always capable of being a solid scorer, but 34 disposals and 120 points?! Those are huge numbers. Here's a stat, Swallow has scored 1 less point than Jaeger O'Meara, even after missing the first game. No pressure JOM!
Ablett (138) – You can't hold a champion down for long. You may have noticed a massive differential between Garry's first half and his second, that was because Hawthorn had the brains to tag him and keep him quiet. When they had to chase the game, Bald Jesus made his grand return with a 102 point second half. 102!!! Ablett is priced under $600k and we'd be stupid not to seriously consider him. Of course I haven't heard anybody consider him, so we're clearly all stupid. Might be missing a trick here…
Losers
Gawn (32) – I take it all back. The peace of mind I've had over the first two Rounds has been brilliant, and I didn't want this demon to come out. Demon. Melbourne Demons. MAX. GAWN. That's all it takes to trigger me. It took three rounds for the first major casualty of season 2017 and wow did it hit hard. To all the smug bastards to didn't select the best ruckman in the competition, well done champion. Jog on. This is a space for all us smart coaches who have been undone by one piece of soft tissue. Gawn is going under the knife and must be traded in all formats, but the big killer is his price drop. $46k?! That's half a years pay! If they have special formulas for guns returning from injuries then why shouldn't we have more leniant price changes for injuries?
Anyway….. What's done is done. The most important issue is what do we do know. I wish we could go to the Winchester, have a pint and wait for this to all blow over. Sadly that's not an option, and neither is continuing to eat a bucket of ice-cream asking why me. Not that I've ever done that before… If you don't have Stef then you can now also move on, as that should be the easiest trade decision of all time. However if Grundy is the man you need to chase then welcome to my dilemma. I'll go into depth about my plan later in the article, but for now I'd just suggest that if you can reach Grundy, don't hesitate. Don't over complicate! If you can't then I'd take a good look at Preuss, but then you'll also notice that you'd be relying on Braydon Preuss. Fantasy is stressful.
Shaw (77) – Headache Heath is starting to become even more than that, not only is he posting poor scores like this but he's now doing it on a consistent basis. We always wanted consistency from him, but perhaps he misunderstood. I'll be honest when I saw him on 35 at quarter time I thought this was the game he'd post 140. I can't really explain his start to the season nor can I tell you whether he's going to bounce back or not, either way his price is plummeting and I'm keeping a close eye on it…
Goldstein (60) – Goldstyne has gone from being the number one ruckman in the competition to playing second fiddle to Braydon Preuss within 2 years. I don't think I can use the great Preuss name in vein anymore, but make no mistake Goldy was playing as a second ruck on the weekend. He managed just 10 hitouts compared to Preuss' 26. He started the game forward and spent most of his time there. He's clearly not 100% fit, but for how long? Sadly his relevance is mainly how he will affect Preuss rather than his own role, for our sake let's hope he continues to take a back seat for the next month!
Higgins (62) – In answer to my own question last week, it was a trap. If you selected Higgins I'd suggest you find a mirror, take a long hard look and ask yourself why you thought you were 'above' being burnt by Shaun. It's what he does best. We've all been there, hopefully not more than twice…
Tyson (60) – Another year, another Tyson tease. You can expect a few more monster scores from him this season, sadly there will be a few more howlers to join them. Gladly, there won't be any more mention of Dom Tyson in these articles.
Weideman (14) – Sorry Sam? Did you lose a limb? Apparently he played 83% TOG so it's an impressive effort if that was the case. If not, then I've got no idea what the hell you were doing. Clever if you're wanting the best spectator seat in the house I suppose.
Vince (47) – Sheesh. Bernard confirmed what most of us suspected, his few days of Fantasy relevance are well and truly over. Melbourne's midfield is now packed so he'll be playing down back from now on. Bad news for those who gambled on him early in draft leagues, perhaps look to offload him after his next decent score.
Stewart (35) – I've come to the conclusion that Tom Stewart hates footballs. He wants absolutely nothing to do with them. He's just on the pitch to mark his man and occasionally throw in the odd spoil if he has to.  When you're scoring 35 points with 20% disposal efficiency you're probably going to have a tough week watching the review tape. This could be another back rookie on the chopping block! Luckily Geelong continue to win, I'd just love to see some of his pre-season desire for a +6! If only teams could have a Fantasy coach to go throw and review their performance…
Thurlow (41) – I don't really know what to say about this one. Thurlow has now lost $21k and is averaging 40. Technically this was an upturn in form! Let's be realistic here, if you're not from Tasmania then you probably haven't given him a second thought.
Tuohy (69) – I really hope Tuohy doesn't end up ruining my newfound faith in Zach's. Amazingly almost every top team I search for in the rankings has Tuohy, I suppose the midprice mayhem is still working so far.
Eddy (35) – The fact that Port Adelaide only allowed Eddy onto the ground for 51% of the game says a lot to me. Even though he has a cool name and kicks sausages, they don't trust him. In fairness, never trust a bloke with two first names. Surely gone this week.
Neale (88) – Freo lose, Neale sucks. Freo win, Neale still sucks. I can't explain why Neale has taken a step backwards at the start of the season, but I refuse to believe it's because of Fyfe. He's still recording 30+ disposals, however Neale has laid just 8 tackles this season and made just one on the weekend. If he could only take a leaf out of Treloar's book of hugs. You have to hold him, but he's quickly becoming a fallen premo and could be under $600k soon. Watchlist.
Dahlhaus (88) – If I'm honest Dahl's house is pretty bloody average at the moment. Sure he's reliable and will remain around 90-95, but is that really what we wanted? Put it this way, he started at the same price as Dyson Heppell and Andrew Gaff. Marc Murphy was $80k cheaper. I'm struggling to come to terms with that fact. 31 disposals with just 1 mark, 3 tackles and 11 kicks is not good Fantasy!
Billings (47) – You see some of the midpriced teams up the top and think, why the hell didn't I back in my gut? How about you go and take a look at the poor bloke who started with Jack Billings. Christ. That would be a sobering experience.
O'Meara (62) – Jaeger we need to talk. Do you have feet? You play football so I'm going to guess the answer is yes. Well HOW ABOUT YOU USE THEM CHAMP. He's averaging 7 kicks per game…… I'm not going to say anymore as I'm confident he's going to start killing it. He'll still come good so don't do anything stupid like trading him. However if you see him walking around Melbourne feel free to give him a good spray, he needs it.
Balic (35) – Bal-ick, Bal-ich, frankly I don't care. Apparently his wrist is still a minor problem. Was it pre-game nerves? If you know, you know. Just incase this was the case I'll give him one more week to prove himself on my ground. Yes, he was on my ground… Blinding score. Literally, I couldn't look at it.
Berry (36) – Speaking of blinders, how about Jarrod Berry's debut! Part of me wishes I could have got this warning out in last week's article. He has never been a good Fantasy scorer. I nearly melted and brought him in but one look at the prospectus was enough of a turn off. In the U18 Championships he averaged 12 disposals per game, his best effort was recorded in the U18 TAC Cup where he averaged 16.8 disposals per game. Basically, he's not a big ball winner.
Amazingly he had some teammates record worse scores. I need you guys to split these next 2 players. Jack Frost (9) joined the elite Scott Lycett club in managing to score single digits in a full game of AFL. Unfortunately he wasn't being fielded in a draft final, was he Scott? It takes a lot to beat that effort, but Hipwood (10) gave it a crack. His stat line is one of my favourite ever. 1 kick. 1 handball. 1 hitout. 1 tackle. 0% disposal efficiency. 85% TOG. He was actually on a donut at half time, it's a shame he couldn't go all the way…
Miles (29) – What do I say about this score? Miles' performance was about as useful as pedals on a wheelchair. The Hawks will have to perform a culling and surely Miles is on the chopping block, you can't get an armchair ride just because you're young. Sadly we won't know whether he plays or not if he sits on an extended bench. I guess he can sit on the bench regardless but wow, this was bad. If he was on your ground… *Shudders*
Talking Point
For all those trivial complaints directed at AFL Fantasy over the years, not one has had any merit. Until this week. Round 4 is locked out before teams are finalised on Friday. Sure we might have finally gotten ourselves an excuse to not be with family on Easter Friday, but was it really worth it? Why there isn't another partial lockout I have absolutely no idea, but all that matters is we won't know the final Sunday or Monday teams before lockout. Wow. Prepare for some possible pain later in the week.
It's Nominations time and once again we're not left short on options…
Treloar – I guess if he keeps scoring like this it's only a matter of time before Treloar wins a stubby! Incredible consistency.
Grundy – Not only did he score 133, but he saved many owners from some massive headaches this week. Huge.
D.Martin – Dusty's game was absolutely immense. Of his 40 disposals 33 were kicks, including 15 clearances and 2 goals. Doesn't get much better than that.
Neal-Bullen – Wowee that was a response. 141 are you mad?! I still can't get over that score, massive. He's a Fantasy player.
Murphy – My new love Murph gets my personal vote for sure, he's the highest scoring player after Round 3 and he cost under $500k. Madness.
Who gets your vote?
This Game Sh*ts Me
I think it's fair to say that as much as we'd like to think all our picks are well justified, this game is mostly down to skill and your own team selections. Most of us ignored the majority of the 'roses'. Most of us blindly selected O'Meara. However there is certainly a luck portion to it, and Max Gawn personified it on the weekend.
It was a battle between Gawn and Grundy for many, some even selecting both. What was an even matchup heading into the weekend, has become the difference between being ranked in the top 1000 and being ranked closer to 10000. Not only did Grundy outscore Gawn by a whopping 101 points, it's the cash loss that hurts the most. There has been a $61k turnaround between the pair thanks to one hamstring ping. Now I'm left in the position like many others where I simply can't get Grundy in and I'm stuffed as to who the hell I select with Stef already in my team. A mid tier ruck is simply not an option in my book, Grundy must be in our teams at some stage. Which leaves me with barely any option but to bring on big Preussy. I have gone from Max Gawn to Braydon Preuss in the space of 2 days and 25% of us are pretty much waving goodbye to the Car for yet another year. This game sh*ts me.
The Other Bits and Pieces
2188, which was a very respectable score considering I had 2 players amount for 67 points. Avoiding those shockers is vital to a good overall ranking, however sometimes there's not much we can do about it.
As for what I'm doing trades wise this week, I don't like it at all. Having grabbed Murphy last week I would have loved to fix up my final rookies, however Big Max said no. $35k is the magic number to get Grundy, and Roughead -> Neal-Bullen leaves me with $33k. If Miles gets dropped (Not that we will know by lockout) then dropping him won't cut it. Pickett or Stewart to a basement price rookie is my only hope, and I'm extremely doubtful that we'll have another $150k rookie named this week. There's no under-performers that need to be culled either, I'm backing in Roughead and O'Meara.
Since Grundy is out of the question, Gawn to a ruck rook allows me to ditch Hibberd from D8 and upgrade to Jake Lloyd. I think he's in a similar mould to all the best scoring defenders and should average close to 100 this season. Fielding 4 backline rookies scares the shit out of me every week so there will be some extra peace of mind. Not to mention Preuss is dominating right now. I'd take 60's from him as a rookie, the fact that he can pump out monster scores is a nice bonus.
As always let me know how badly the Fantasy Gods have done you over this week, I'm sure there's some good stories out there. I'm worried about this whole lockout situation, cross your fingers for the upcoming week… Good luck.