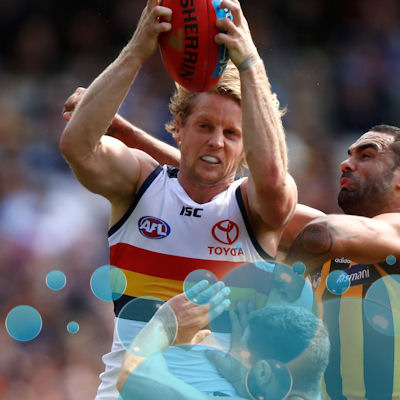 Another weekend down, and still not many reasons to take a venture out to the 'shed'. I'm getting bored. This must be the best start to a Fantasy season I can remember, we've bolted out of the gates. Of course as anybody who watches 3 horse races per year knows, the moron who bolts out over the first half mile inevitably ends up coming last. Have we gone out too hard too early? Should we be blaming our awesome premiums for giving us false expectations? Damn them to hell. Never fear, when all looked too good to be true our mid-pricers were here. Ladies and Gents it's time to wash-up!
Legends
Hoskin-Elliot (124) – Double barrel BOOM. I've had some pretty wild Fantasy dreams in my time but I don't think I could have ever imagined Hoskin-Elliot averaging 110 over the first 2 rounds. Last weeks trades could have been the turning point of many coaches seasons, those who brought WHE in and those who didn't. Of course then there's us geniuses who started with him that are just sitting back and laughing. None of us selected him for his scoring potential but I'd say his job security is fairly safe now… Legend.
Treloar (127) – Our premiums haven't put a foot wrong so far, and those who started with gun midfields are getting the rewards. Treloar is a ball magnet and will be a must have for all serious coaches when it comes to upgrading their teams. As good as he has been, amazingly I'm not wishing I had started him. That's how good the rest have been! Gun.
Bontempelli (126) – I just wanted to mention my favourite player in the comp. Usually all we really care about is disposals and tackles but this is an exception. Sure the Bont is capable of racking up 30+ disposals as his 91 point second half proved, but it's the way he does it. Every disposal is clinical, every movement effective. He also has an awesome nickname. Not sure he'll be a top 8 midfielder this season but it won't be long…
Franklin (127) – It will be a long time before we get a player capable of doing the things that Buddy does. Those 2 long bombs from 60 in the final quarter gets you off your seat in the comfort of your living room, even if he's not in your Fantasy team! His score could have been even bigger if it wasn't for his poor kicking first half. Franklin looks back to his best this season, and we should all know what he's capable of… Top 4 forward for sure.
Lloyd (113) – Jake Lloyd is in the same mould as Sam Docherty, Rory Laird, Kade Simpson, Heath Shaw etc. He just racks up uncontested disposals off half back, and it's glorious fantasy viewing. I can see him being a consistent scorer averaging in the high 90's, making him a top 6 defender in my books. Great pick.
Sloane (152) – Usually I don't give players a mention after a shocking score in the previous week, but I suppose I can make an exception for a 150! Now that's how you recover. Rory the tackling machine was back to his best on the weekend with a whopping 15 tackles. His owners will be breathing a sigh of relief, unless of course you culled him after Round 1… Always back in your premiums.
T.Mitchell (125) – Tom Mitchell just did Tom Mitchell things. 38 disposals, 7 tackles, and another brilliant score. He will almost certainly average 115+ this season, what a beast! I just look forward to when he starts pumping out 160's…
Merrett (140) – Is that an oink I hear? Zach Merrett is owned by just 4% of Fantasy coaches, a sickening reality when you think about the fact he could genuinely average 120-125. If teams don't start tagging him, I guarantee he will. The fact that he relies on uncontested ball more than Danger and Rocky has me thinking teams might come after him to shut down his influence, on the weekend he had 27 uncontested disposals and 9 uncontested marks. I guess until then we'll have to just sit back and start our 3 year saving plan to afford bringing him in.
Rockliff (123) – Playing forward my ass. Those who started without Rocky haven't really been punished yet because a lot of our value picks are firing on all cylinders. Let's just wait a few rounds for the carnage to strike and we'll start to appreciate Rocky punching out 120's in his sleep. A monster score is just around the corner, don't bring him in at your own risk!
S.Martin (121) – This is a big win. Stef is dominating in his favoured lone ruck role and he's back to his 110 average best. Having started the season priced at an average ~87, Martin is on track to be the Premium ruckman of choice from Round 1. Admittedly he was up against Shaun McKernan but it's great to see nonetheless.
Beams (113) – Sadly Beams blew up once again in the final quarter, but he's still pumping out tons. Give him another month and he may start turning these 100's into 140's. Beamer is back baby!
Shuey (144) – If you had him in your draft league you would have been a SHOE in for the win… Yep that sounded a lot better in my head.
Gaff (115) – The one chance I get to pick a relevant Eagle and I blow it. Thank god for his 4 point 2nd term or this would have been another 140+ point monster. We've missed the boat here and it was staring us straight in the face! What a legend and a real contender for most disposals this season.
Dangerfield (139) – Did we really expect anything else? 25 contested disposals and 3 contested marks just backup the fact that Dangerfield is simply unstoppable and an easy captaincy pick. There's not much else I can do but say good luck to those who don't own him.
Higgins (119) – Is this really happening? Has Higgins finally become the player we thought he would be 5 years ago, or will this just be another trap.
Preuss (105) – Am I seeing things? Surely there's a typo here somewhere. Having been dropped after Round 1 and named as an emergency, Preuss was a late in for the injury plagued Todd Goldstein. What happened next feels like a dream. The big man scored 105 including 42 hitouts!!! If this Goldstein injury is even slightly serious, dropping a premium ruck and playing Preuss as a rookie is a legitimate option on the back of this performance. Of course it's unlikely he'll get many chances to be the number 1 ruck but if he does, he can score well!
Murphy (125) – We've done it again. We've actually gone and done it again. This was the Fantasy Gods giving us a second chance. At least last season I can tell myself that Gibbs was probably playing for a contract and that was hard to predict. Murphy is the club captain for god sake. I tip my hat to you if you took the gamble, and if you're a repeat offender like me hang your head in shame. What a start!
Tyson (146) – Am I really meant to believe this from Tyson? He teases us so much and ends up delivering very little. Owned by 0.15% of the competition, he could be the ultimate POD if he cashes in on his potential. Then again this score was against Carlton, so perhaps we should just draw a line through it. NEAFL rule is in play.
Oliver (135) – The similarities between Clayton Oliver and Ollie Wines are astounding. Both were ready made for AFL in their debut seasons, and both started their second season on fire. Wines averaged 74 in his debut season (Oliver 68) due to limited TOG. In Round 1 2014, Wines scored 136 and averaged 117 over the first 4 rounds, including 3 tons. He was solid for the next 2 months before averaging just 67 in the final 5 rounds of the season. He only managed 3 tons after Round 4 and ended with a season average of 91.
Oliver has also had a brilliant start to his second season, 122 and 135 makes him the fourth highest scorer of any player. With Jordan Lewis out there is even more weight on his shoulders, I'm not sure whether that will help or hinder him yet but I don't see it affecting him. I wouldn't be surprised to see Oliver fare similar to Wines late in the season, being just 19 it's nearly impossible for him to maintain this level for 22 games. However, he may not have to. With a BE of just 13 and Gawn stating he's his number 1 hitout option, there's no reason Oliver can't skyrocket into the $600k's. If he does, a straight swap to an underpriced premium would be on the cards. A perfect short term Fantasy option and he comes in for me this week. What a beast, in a good way of course.
Salem (127) – The Demons are providing some massive scores! And to think we were told pigs couldn't fly. The thing I'm worried about is that when pigs try to fly, it usually results in a pretty ugly crash landing. Will that be the case for some of these Dees? Salem is the very definition of a midpricer, currently sitting at $427k. If he maintains this level his price will go through the roof, but there's a catch. It only takes one 60 and suddenly his price rises come to a halt. Then you sit there and realise you have Christian Salem in your AFL Fantasy team with no easy trade to make. A breakout season looms for sure, and if you've been watching the Demons and love his role then by all means back him in. However, if you're unsure I wouldn't take the risk. I don't know if he's ready to become a consistent 90+ player yet, and that's what you'd need.
Wines (115) – Make that 9 tons in a row for Ollie. Wines is looking unstoppable right now, 6 of those tons have been 110+. Sure none of them have exceeded 120, but he's consistent and playing to an uber premium level. Perhaps he's not great value in Fantasy due to the unknown factor, but he was a draft steal!
Fyfe (116) – Tick. This should have been the easiest selection of all time. Just imagine if Freo could get the ball forward to him when he's resting inside 50! There's not much point in imaging that but you get my point, he's a jet and should comfortably go 110+ this season. I think there's some huge scores to come from the Knyfe. Nyfe? Knife? Let's just go with Nat Fyfe.
Houston (99) – BOOYAKASHA! A rookie who knows how to play junk time is a rookie I want in my side ASAP. Houston got involved in some filthy junk time action, taking his score from a more than respectable 81 to an eye popping 99. He's still just a $215k forward and surely a must have this week, he'll fare far better than the small forwards. If there's any Port fans about let me know about his JS, but I'm guessing on the back of his teams and his own form it shouldn't be a concern.
Losers
Martin (86) – The news coming out today is that Dusty has suffered a fractured cheekbone. That's not ideal for somebody who has gone to the next level by winning more contested footy. He should continue to play, but can he reach the heights we thought he could just last week? I'm second guessing that… His owners will have a tough call if he doesn't perform this week.
Phillips (58) – I'm sure at Half Time Round 1 I wasn't the only one thinking we might have missed a gem in Tom Phillips. Of course by Round 2 I'm not giving him a second thought, so let's at least spare a thought for those who started him. 1 thought = 1 prayer.
Sidebottom (64) – This is why we can't have good things. Sidey dominated last week for 124 and looked to be a brilliant POD, playing as more of a midfielder than a winger. This week he managed just 23 points from the 6th minute mark of the second quarter. In fact Dylan Grimes outscored him from that point onwards. Dylan Grimes. Just let that sink in.
Mills (55) – Thus we truly begin the midprice capitulation. There is a simple rule in Fantasy. If a gun rookie underperforms in their first season, they are set for a second year breakout. If they overperform, they are in for second year blues. I've just made that up and you could probably find multiple examples proving otherwise (a few of them are in this article) but asking for an average of 90 from a second year defender is harsh. Having said that, we could have expected something a little better than an average of 60. Might as well throw a rookie on the ground and save yourself $250,000.
Jones (53) – On a positive note, those contemplating trading Mills to Jones didn't lose out. They were both in a pissing contest to see who could be worse, and it was a battle for the ages. As was first feared Zak Jones was moved back to defence just like he did in the second half against Port. Good to see it's working out well for you Johnny, now that you're at 0-2 you might as well and move him to full back. Never trust a Horse I say and it's working for me so far.
Tippett (13) – Only Drafters will understand. Not only have you lost a valuable gun ruckman/forward, you have also just copped a door to the face on the way out. I would know, the same door has whacked me.
Crouch (80) – I was going to let Matt Crouch off this one but you know what, mediocre isn't good enough. Especially when you consider that it was often a head to head between Crouch and Gaff. I had them as similar projections pre-season and who knows, they might be. Probably not though, and now you're 100 points and $60k in debt.
Taranto (54) – Mediocre. Isn't. Good. Enough. You can get rookies costing a full $100,000 less to score better than that. Do you know what $100k can buy you? Jack Steele to just about anyone. Hold your fire Matt…
Hall (75) – Aaron Aaron Aaron… More A's than an Asian school report and perhaps that's the path he should have taken, because that was one of the worst games of football I have ever seen played. 2 tackles. ONE contested disposal. In fairness his 2 inside 50's probably accounted for a quarter of his teams entries, but when 95% of your disposals are uncontested you'd think you could hit the target most of the time. You'd be wrong. He had the WORST efficiency on the ground of both teams, going at 52%. The axe is dropping… And so it should after that… I can't talk about this anymore sorry.
Rich (48) – Am I the only idiot who picked Daniel Rich in draft? I had to mention his first name just incase nobody knew who I was talking about. With first round picks like this it's no wonder Brisbane have had some tough times. I'm sure this will be the last occasion I waste your time talking about him.
Stanton (66) – Brent Stanton for DPP, lock it in. There's just one tiny problem. You actually have to be half capable of scoring as a defender. You'd see more contested footy in a game of AFL 9's. Pass.
Sheed (49) – Breakout? What breakout. I can't see Sheed holding his spot on the back of that performance, we might be waiting another year on this bloke. Disappointing.
Steele (54) – The moment many of you have been waiting for, Mr Steele. There hasn't been this much steel talk since 9/11. I'd love to talk about his game but there's just one problem, there wasn't a game to talk about. I was at the match live and I honestly could not have told you Jack Steele was playing for the St Kilda footy club. I did occasionally get a glimpse of this shocking man bun but I quickly had to look elsewhere. He sat half of the first half on the bench. When he was on the ground he was half arsed and halfhearted. That's far too many halves for my liking. His first half managed to scrape together 13 points. THIRTEEEEEN. Genuine question, why was he selected? Sure he got a run through the middle after Jack Steven went down but if this is the opportunity he gets with Armitage out, I'm done. I'm no expert but I'd suggest it's pretty hard to score many Fantasy points sitting on your ass. EDIT: Jack Steven's injury throws a spanner in the works… He will probably kill it this week meaning he's not a priority trade.
Stewart (43) – What's the level below mediocre? I could think of a few choice words to say about Tom Stewart's performances but do you know what, he's playing. I'd love to say enjoy your spot at D8, but I've got Mitch Hibberd who's unlikely to ever play AFL again taking up that honour. Emergency it is.
Horlin-Smith (59) – R.I.P to the double barrels. Similar situation to Steele this, although he didn't cost you 450 grand. Horlin-Smith only ever plays around 60% game time, in fact he spent 60% of the first quarter on the bench. Yep, sixty-percent. He can be as good as he wants when on the ground, if you're only playing 60-70 minutes you can get acquainted with my new friend Axe. He swings hard.
Neal-Bullen (60) – There's a lot of things that make me cringe. Fingernails on a chalkboard. The sound of sandpapering. Johannisen's hair. St Kilda fans thinking they might win a Premiership. Amongst them is the thought of anybody who traded in Neal-Bullen at $290k. Sure he still has a low BE and I might be made to eat these words, but we all saw on the weekend exactly why not a single one of us had mentioned him ALL pre-season. It's quite the premium to pay for a bloke producing a rookie score. I don't think it's quite at a Taylor Hunt level bad, but it could be a needless problem that needs fixing even by next Thursday. Let's wait and see…
Tuohy (69) – The smart arses with their midpriced mayhem squads have been brought back to Earth with a massive thud. There is a good reason why guns and rookies is the most reliable strategy, and that's because you can leave it to the cheap rookies to spud up. At $450k it's just no good. You're in for a new yo-yo ride with Zach. Usually I'd say never trust a Zach but Merrett has saved Tuohy this time.
Hannan (32) – That was bad. Like real bad. Like Fremantle going forward bad. Rodney Eade tactically bad. It was bad.
Viney (80) – Correct me if I'm wrong but wasn't Viney supposed to become an uber premium this season? In fairness if any Demons fan was willing to back him in, they probably got on half the team and are ranked in the top 100. He should come good, and when he does he will be discounted.
Simpson (53) – Why is it that every season I select Kade Simpson, whether it be Draft or Fantasy, he morphs into a dodgeball player. His last 5 season averages are as follows; 94, 85, 92, 85, 101, __. I always seem to pick the bad year, so if you're an owner I'd be concerned. His big ton last week saves him but one more shocker and he has to go.
Pickett (49) – If I had to list every positive about Jarred Picket… Let me see. He's playing. Carlton are so bad that he will probably keep playing. Aaaaand that's about it. He's gone for me as soon as a decent rookie becomes available. They don't play Fremantle until Round 9 so that's a long wait.
Kreuzer (70) – Wow our value picks hurt us this week. Tuohy, Steele, Jones, and now Kruezer all dominated Round 1 and came crashing straight back to Earth. I'd stand by Kreuzer as he was up against Max Gawn, but don't go getting carried away with what the Toyota Cruiser can average. What isn't average is my nickname game. I've got a name for everyone.
Ryder (58) – Another victim! This was a painful week for those chasing value, they got their madness alright. Alarmingly Ryder actually played a brilliant game against Sandilands, almost matching him for hitouts to advantage. Sadly this isn't supercoach and 7 disposals + 1 mark doesn't do us any good.
Lewis (68) – Talk about hero to zero. After a great first game where I pumped him up, Lewis added salt into his 68 point wound by fracturing Cripps' jaw and earning himself a 3 week holiday. Never again.
Goldstein (0) – I should almost name him as a legend thanks to the Preuss incident, but there is still 12,341 coaches who need our support. Hopefully they all tied him up with Preuss as an emergency, especially in Draft. Goldy has too many niggles to seriously consider ahead of Gawn, Grundy or Martin. It seems as though we're down to a big 3.
Ablett (69) – Silly me. Gary Ablett has been so bad that I've forgotten his existence entirely. Seriously if you didn't have the pain of sitting through GWS v GC, never watch it because it will taint your memories of Gazza forever. No longer Jesus, he's just a grumpy old bald man. Hopefully Rocket sticks a rocket up him.
Nominations time! Just let me make sure I grab the right envelope…
S.Martin – Guess who's back, back again. Stef is back, tell a friend (who didn't pick him).
Merrett – 4% of the competition are laughing at us, and they can continue to do so with a vote here. Damn you whoever you are.
Dangerfield – I'm guessing most of us recieved 278 points from Danger, always a handy boost while we're still carrying our rookies.
Oliver – If you actually started with Oliver then I presume he'll be a lock for your vote. Let's just see how many of you there actually was…
Hoskin-Elliot – Surely a clear winner? Do I even need to run the poll? I'm going to congratulate him here and now, you've always been my boy Will. Congrats on the stubby.
This Game Sh*ts Me
Every year we get sucked in. Paying overs for absolute spuds because we saw potential, rather than picking the blatantly obvious. Callum Mills is going to suddenly become a ball winner. Zach Tuohy will become a consistent fantasy player. David Swallow won't get injured again, he's 'due' a good run. Jack Steele is a good footballer. Marc Murphy is definitely not in the exact same situation as Bryce Gibbs was in 2016 where he averaged 105 and we ignored him. Jobe Watson must be nearly 40 years old by now and therefore he won't return to his 100 average form. All these quotes look completely ridiculous, but it's what we told ourselves for weeks on end. I'd say we don't have a career in list management and recruiting but then I took a look at Carlton's past decade, so maybe there's hope.
It's a very sad state of affairs when I'm convincing myself that Steele scoring so poorly is ok because I'll get to hear Calvin cry live on air. Or kill someone. Both would be equally entertaining but it won't fill the empty void in our hearts caused by these 50's and 60's. We have to live with these demons for the next 21 weeks, and that's why this game sh*ts me.
The Other Bits and Pieces
2154. All that rambling aside it's going very well for me so far. I'm averaging nearly 2200 after Round 2 and that doesn't even put me in the top 500. Our advice is helping too many people!!! On a more serious note, I think some patience is required with these midpricers. Are you really going to throw out months of pre-season research and evidence on the back of one poor game? Well yes of course you are, I am. Steele is gone for me so I can bring in Houston, I'm making the best rookies a priority for me this season. This allows me to bump up GHS to Clayton Oliver. Oliver in for Steele, I like.
Of course plans may have to change come team selection on Thursday, but for the most part I thought our rookies were more than serviceable this week. Be warned, things may seem easy now but one week the Fantasy gods are going to strike down upon our arrogance, and I look forward to the day they do.
Good luck with your trading this week legends, as always I'm here to listen to your sob stories in the comments.